Canva Billion Dollar Growth Will Change Graphic Design Forever
In this article, you'll discover about Canva's history, what is Canva, and its future roadmap. Don't miss out on the benefits of their juicy features. Let's dive in!
What Is Canva?
Canva Pty Limited, commonly referred to as Canva, is a graphic design platform that allows users to create social media graphics, presentations, posters, and other visual content.
Canva Pty Limited is a holding company that was founded in Australia, by Melanie Perkins, Cliff Obrecht, and Cameron Adams in 2012.
If you subscribe to Canva Pro, you will see "Canva Pty Limited" in your credit card bill or bank statement, charging you $12.99 per month.
Canva Pty Limited is not the same as Canvas which is a Learning Management System created by Instructure, Inc..
Canva started as a simple tool to create yearbook designs. The idea of Canva was born from the observation that designing should be simple and accessible to everyone, not just professionals.
Canva exists so that anyone, even those without any graphic design experience, can create stunning visuals with ease.
Canva, today a household name in the world of design and creating graphics online, is used by millions of people worldwide.
Canva Origins and Growth Milestones
Share this Image On Your Site
Please include attribution to funnelgraphic.com with this graphic.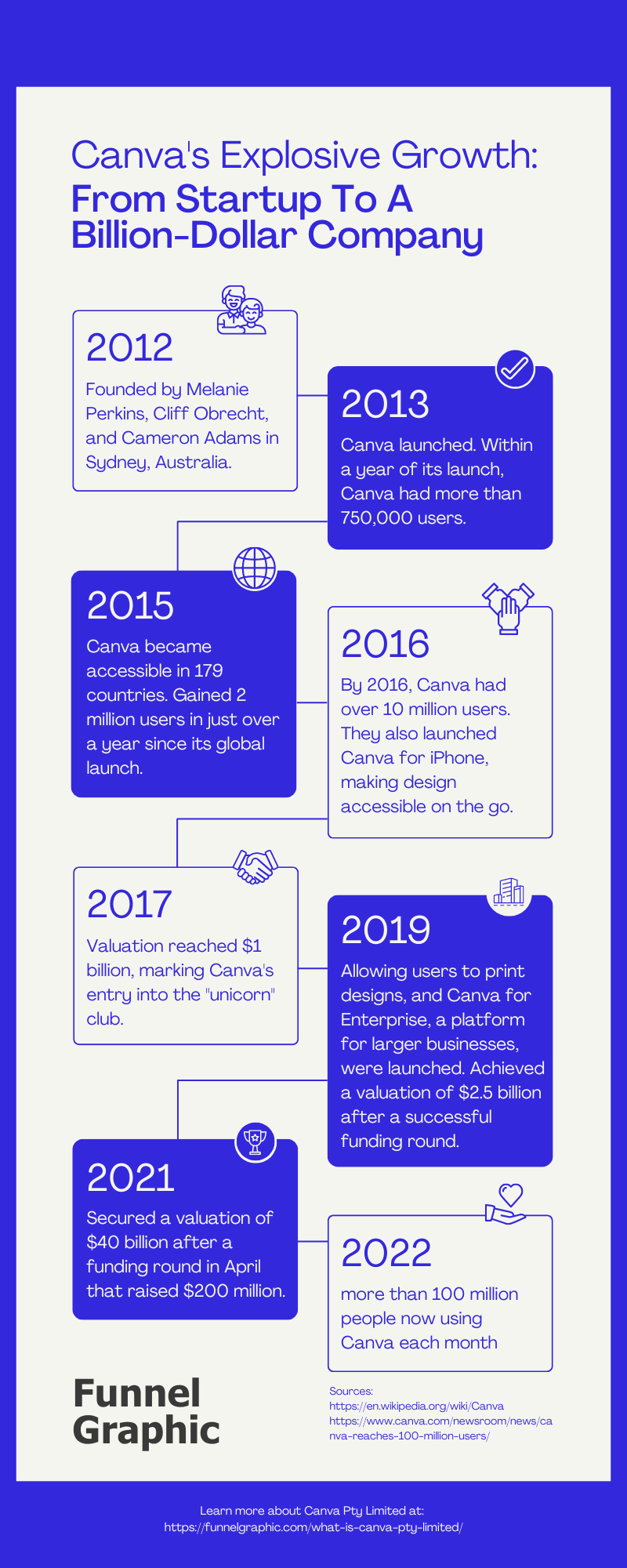 Here's a detailed look into the origins and growth of Canva Pty Ltd.
Humble Beginnings: From Idea to Inception
2007: The Canva journey unofficially began in 2007 when Melanie Perkins, a student at the University of Western Australia, launched her first startup called "Fusion Books" with co-founder Cliff Obrecht.
Fusion Books aimed to allow students to design and print their customized school yearbooks. The idea was birthed out of a university project and became quite successful in Australia.
2009: The success of Fusion Books wasn't limited to Australia. By 2009, the platform expanded its services to France and New Zealand.
Taking the Leap: Canva is Born
2012: With the success of Fusion Books under her belt, Perkins envisaged a broader platform that made graphic design accessible to everyone, not just yearbook creators.
Teaming up with former Google executive Cameron Adams, Perkins and Obrecht started building what would become Canva. They relocated to Silicon Valley to gain better access to resources and investors.
2013: After months of development and planning, the trio managed to secure an initial seed investment of $3 million. This was pivotal for the foundation and growth of Canva.
A Global Sensation: Rapid Expansion and Growth
2014: Canva was officially launched to the public in 2014, marking its entry into the global design platform scene. Its user-friendly interface, coupled with a vast array of templates and design tools, made it an instant hit among users.
2015: In just a year, Canva gained over 2 million users. The rapid adoption showcased the platform's potential to disrupt traditional graphic design tools.
2016: Recognizing the shifting trend towards mobile, Canva introduced its iPhone app, making on-the-go design even easier. This expansion into the mobile app market further propelled its popularity.
2017: Canva had grown exponentially both in terms of users and its product offerings. This growth was recognized by investors, and after a successful funding round, Canva was valued at a staggering $1 billion.
Becoming a Tech Giant
2018 – 2021: Over the next few years, Canva continued to innovate and expand. They launched Canva for Enterprise, introduced video editing capabilities, Magic Write, and expanded their global presence with offices around the world.
By 2021, following several more rounds of funding, Canva's valuation skyrocketed to an impressive $15 billion.
Throughout its history, Canva has remained true to its mission: to empower everyone in the world to design. From a university project to a global tech powerhouse, Canva's journey is a testament to the power of a great idea, coupled with determination and the right resources.
Canva Design Core Features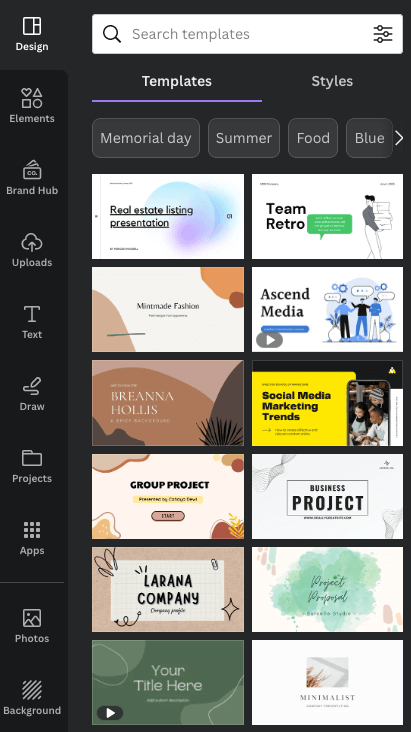 To understand the magic behind Canva design, let's deep dive into its captivating features:
Design Tools
It's like having an entire magic studio in your pocket! With easy drag-and-drop features, color wheels, and font selections, even those without a design bone in their body can become artists.
Templates and Graphics
Stuck for inspiration? Canva offers thousands of templates – from social media posts to presentations. Whether it's a vintage wedding invite or a trendy Instagram story, there's a template for every occasion.
Collaboration and Team Features
Working on a team project? Canva lets members collaborate in real-time, making design brainstorming sessions a breeze. Think of it as Google Docs, but way cooler and for designs!
The Success Behind Canva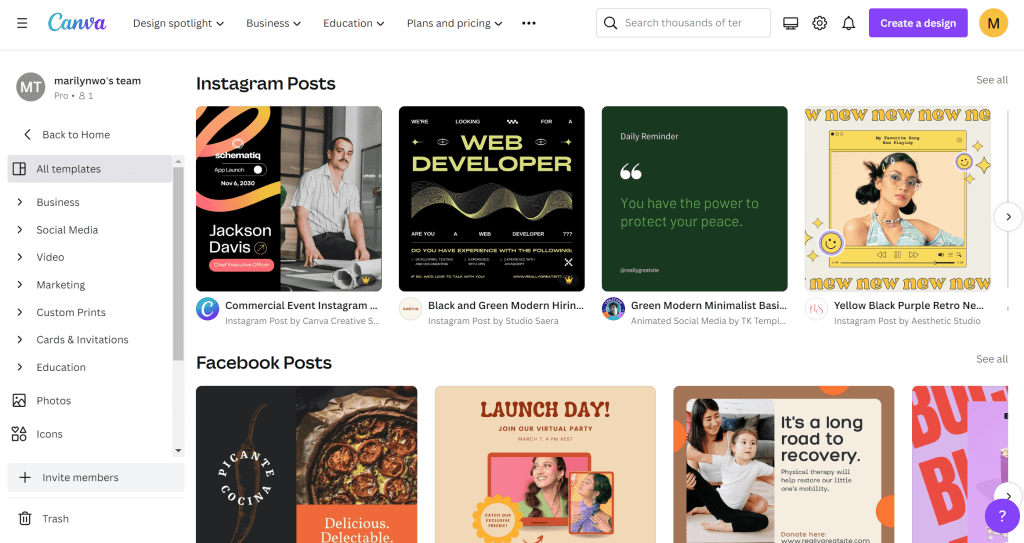 But what exactly rocketed Canva to its zenith of popularity?
User-Friendly Interface
Ever felt like you're decoding alien tech when using design software? Not with Canva! Its intuitive interface ensures that anyone can design, from kids to grandparents.
Diverse Template Collection
With a vast and ever-growing library of designs, Canva ensures that users always find what they're looking for, making design ruts a thing of the past.
Accessible Everywhere
On the go? Canva's got your back. With a mobile app and cloud storage, your designs are accessible anytime, anywhere. Forgot your laptop at home? No worries, just whip out your phone!
Future of Canva

While the future is inherently uncertain, based on Canva's trajectory, here are some potential directions:
Expansion of Features: Expect more AI integrations and possibly tools for AR and VR.
Global Reach: Enhanced localization and more global partnerships.
Education and Training: Expansion of Canva's educational offerings.
Business Solutions: Enhanced enterprise tools and industry-specific solutions.
Sustainability and Social Responsibility: Greater emphasis on sustainable operations.
Acquisitions and Investments: Canva may venture into new domains via acquisitions.
How Canva Benefits Creators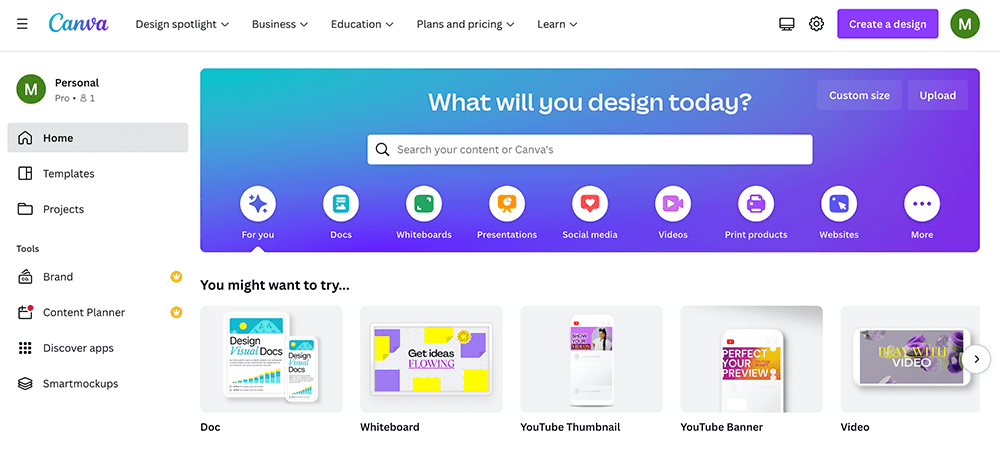 Canva has become indispensable for creators like you. Here's why:
User-Friendly Interface: Designed for simplicity.
Diverse Template Library: Ready-made templates for varied needs.
Customization Freedom: Flexibility in design customization.
Accessible Stock Images and Elements: A vast library of design assets.
Collaboration Made Easy: Real-time collaboration features.
Versatile Export Options: Multiple formats for exporting designs.
Continuous Learning and Growth: Canva's Design School and tutorials.
Affordability: Competitive pricing for premium features.
Integration Capabilities: Seamless integration with other platforms.
Cloud-Based Convenience: Access designs anytime, anywhere.
Pricing and Plans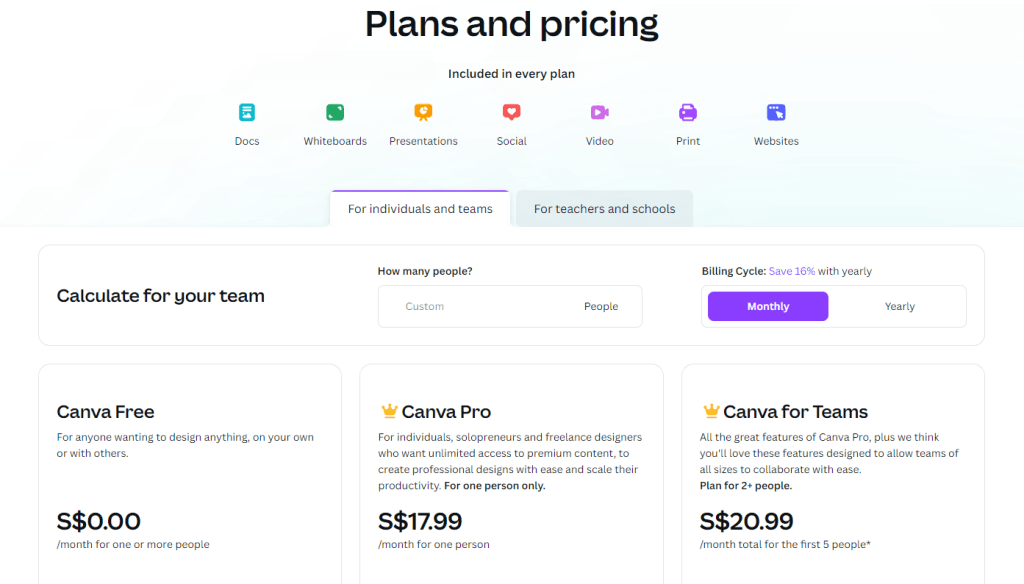 Alright, so what's the catch? How much does all this goodness cost?
Free Version
Amazingly, Canva offers a robust free version. This includes thousands of templates and basic tools that can help anyone kickstart their design journey.
Pro and Enterprise Plans
For the design-savvy or businesses needing advanced features, Canva Pro ($12.99/month or $119.99/year) and Enterprise offer premium templates, stock photos, and brand kits. It's like having a designer on retainer but without the hefty price tag!
If you are a teacher or student, you may just get a 100% discount by applying for Canva for Education.
Final Thoughts: Canva Pty Limited
In the vast sea of graphic design tools, Canva shines as a beacon for both amateurs and professionals. With its blend of simplicity, versatility, and affordability, Canva has revolutionized the way we approach design. So, next time you're in a design dilemma, why not give Canva a whirl?
Canva Pty Limited: Frequently Asked Questions
Where Is Canva Pty Ltd Located?
Canva Pty Ltd is headquartered in Sydney, Australia.
What Does It Mean When It Says Paid On Canva?
When it says "Paid" on Canva, it refers to certain premium features, templates, elements, or images that are not available in the free version of Canva. Users need to purchase these elements or subscribe to one of Canva's premium plans, such as Canva Pro, to access and use them without watermarks or restrictions.
What Is The Address Of Canva Pty Ltd Australia?
The address of Canva Pty Ltd Australia is 110 Kippax St, Surry Hills, NSW, Australia 2010. Any complaints can be made by emailing privacy@canva.com. If you need support and help, you can live chat with the Canva Help Center.
What Is Canva Mostly Used For?
Canva is primarily used for graphic design and content creation. Its versatile platform caters to a variety of design needs. Here are some of the most common uses:
Social Media Graphics: Users often create graphics for platforms like Facebook, Instagram, Twitter, and Pinterest, including posts, covers, and story designs.
Presentations: Canva offers a wide variety of templates for presentations, making it easy for users to design slides for work, school, or other events.
Posters and Flyers: For both digital and print, users can design posters and flyers for events, promotions, or informational purposes.
Business Cards: Entrepreneurs and professionals use Canva to design and print business cards.
Logos: Startups and businesses can create simple logos using Canva's tools.
Infographics: For visually representing data or information, users turn to Canva's infographic templates.
Invitations: From birthdays and weddings to corporate events, Canva has templates for various invitations.
Video Editing: Canva introduced video editing features, allowing users to create and edit short video clips and presentations.
Documents: Users can design reports, letterheads, resumes, and more.
Branding Materials: Beyond logos, Canva can be used to create other branding materials like letterheads, banners, and promotional materials.
Educational Resources: Teachers and students use Canva to create visual aids, worksheets, and educational presentations.
Merchandise Design: Designing graphics for t-shirts, mugs, and other merchandise items.
Print Products: Canva also offers printing services for various designs, allowing users to get physical copies of their creations.
While these are some of the primary uses, the platform's flexibility means that it caters to a broad spectrum of design needs, making it a go-to tool for both professionals and casual users.
Is Canva Free To Use?
Yes, Canva is free to use. The platform offers a wide range of templates, design elements, and tools in its free version that allows users to create various graphics and designs.
However, Canva also provides a premium version called "Canva Pro" and other paid plans that come with additional features, assets, and capabilities. These premium versions offer more extensive template libraries, exclusive design elements, enhanced collaboration tools, and other advanced features.
While many users find the free version sufficient for their needs, the premium plans cater to those seeking more advanced design capabilities or professional use.
Is Canva Still Popular?
Canva remains immensely popular. Since its inception, Canva has consistently expanded its user base, features, and global presence. A few reasons for its sustained popularity include:
User-Friendly Interface: Canva's intuitive drag-and-drop design platform makes it easy for both beginners and professionals to create designs.
Versatility: With templates ranging from presentations and social media graphics to posters and business cards, Canva caters to a wide array of design needs.
Frequent Updates: Canva regularly updates its platform with new templates, design elements, and features, ensuring it stays relevant to current design trends and user needs.
Affordability: Canva's free tier offers a robust set of features, and its premium plans are competitively priced, making design accessible to many.
Educational Content: Canva's Design School offers tutorials and courses, further endearing the platform to users looking to improve their design skills.
Global Presence: Canva has localized its platform for numerous languages and regions, ensuring its appeal to a global audience.
Collaborative Features: Canva's real-time collaboration tools make it a choice platform for teams.
Positive Reviews and Testimonials: Many users and organizations continue to praise Canva for its capabilities, further cementing its reputation in the design community.
While Canva is popular, like any tool or platform, its relevance can be subject to changing trends, emerging competitors, and evolving user needs.
However, given its track record and continuous improvements, it's safe to say that Canva remains a favored tool among bloggers, creators, coaches, and graphic designers.
What Is The Disadvantage Of Using Canva?
While Canva offers a user-friendly platform with a wide range of design tools and templates, there are some disadvantages or limitations to using it, especially when compared to professional design software. Here are some disadvantages of Canva:
Limited Advanced Design Features: Compared to professional design software like Adobe Illustrator or Photoshop, Canva lacks certain advanced tools and functionalities.
Customization Constraints: While Canva offers many templates, sometimes customization can be limited, making it challenging to achieve a very specific design vision.
Quality of Free Assets: Not all images or design elements in Canva's free version are of the highest quality or resolution.
Ownership and Originality: Because many of Canva's templates are widely accessible, designs might not always feel entirely unique or original.
Size and Format Limitations: There are limits and constraints to Canva design sizes and formats for both uploads and exports.
Performance Issues: On occasion, especially with heavy designs or slower internet connections, the web-based platform might lag or crash.
Offline Access: As primarily a web-based platform, Canva requires an internet connection. There's limited capability to work offline, unlike some desktop-based software.
Typography Limitations: While Canva has a decent font library, it might not have certain specialized fonts, and its typographic controls aren't as extensive as those in professional design software. And you can only use your own fonts in Canva Pro.
Color Accuracy: For businesses and professionals who need precise color matching (like Pantone colors), Canva might not be the best choice.
Print Limitations: While Canva offers printing services, professionals might find its print options somewhat limited compared to specialized print design tools.
Learning Curve Misconception: Because Canva simplifies the design process, users might think they're gaining comprehensive design skills, while in reality, there's much more to graphic design than just using a tool.
It's essential to understand that Canva is designed to be an accessible platform for everyone, from beginners to professionals.
While it might not replace specialized design software for certain tasks, it offers an efficient and easy way to create good-quality designs for a wide range of purposes.
What Big Companies Use Canva?
Canva has been adopted by various businesses and organizations worldwide, both big and small. The platform's versatility makes it attractive to a range of industries and professions. Here are some big companies that use Canva:
Educational Institutions: Universities and schools, such as the University of Western Australia, have used Canva for presentations and promotional materials.
Non-Profits and Charities: Organizations like the American Cancer Society and the HubSpot Academy have been mentioned in relation to Canva, especially as the platform offers special pricing and resources for non-profits.
Large Corporations: Various departments in big companies, especially marketing and social media teams, utilize Canva for quick graphics, social media posts, and presentations. Companies in tech, hospitality, finance, and other sectors find it useful for certain design tasks.
Start-ups and Tech Companies: Given the need for rapid content creation in the tech and startup space, many startups use Canva for pitching, promotional materials, and more.
Media and Publications: Online publications and content creators might use Canva to design infographics, social media graphics, and other visual content.
It's essential to note that while big companies might use Canva, they often do so in conjunction with other professional design software. Canva might be employed for quick designs or specific tasks, while software like Adobe Creative Cloud might be used for more intricate design jobs.
Log In to Your Canva Account: First, sign in to the Canva account associated with the subscription you want to cancel.
Navigate to Account Settings: Once logged in, click on the profile icon or your name, typically located at the top-right corner of the screen. From the drop-down menu, select "Account settings" or a similar option.
Billing & Plans: Within the account settings, find and click on the "Billing & Plans" section.
Manage Subscriptions: In the "Billing & Plans" section, you should see details of your current subscription. Look for an option like "Manage Subscription," "Cancel Subscription," or similar.
Follow the Prompts: Once you've clicked to manage or cancel your subscription, follow the on-screen instructions. You'll likely be asked for a reason for cancellation and may be presented with offers to stay.
Confirm Cancellation: Ensure you confirm the cancellation to finalize the process. Usually, you'll receive an email confirming the cancellation of your subscription.
Check for Refunds: If you've canceled shortly after being billed, check the refund policy or contact Canva's customer service to inquire about potential refunds.
Remember, Canva's platform and interface might undergo changes, so the exact steps or terminology may vary slightly. If you encounter difficulties or can't find the cancellation option, consider reaching out to Canva's support or help center for more direct assistance.
Sources:
1. https://en.wikipedia.org/wiki/Canva
2. https://www.canva.com/newsroom/news/canva-reaches-100-million-users/