3 Easy Steps To Create A Team On Canva for Free
You're in the right place to discover all you need to know about the best ways to easily create a team on Canva. Ready to discover the simple steps to create a team on Canva? Let's get started with this step-by-step guide.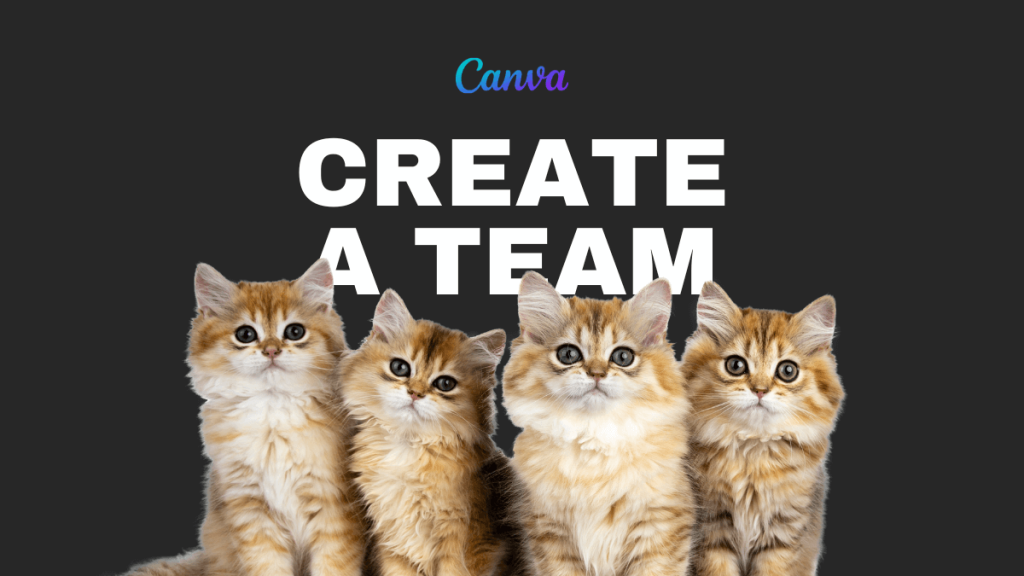 A Step-by-Step Guide To Create A Team On Canva
The easiest way to create a team on Canva is to go to Account Settings in the Canva dashboard.
Then, go to Billing & Plans, scroll to the bottom, and click on the Create A New Team button. Next, add your Team Name and click on the Create New Team button.
Whether you're using a free account or have a Canva Pro subscription, the process of creating a new team on this graphic design platform is relatively straightforward.
As for a Canva Pro account, users get access to a wider range of Canva Pro features that can elevate your team's design process.
Here are the steps on how to create a team in Canva on desktop:
Step 1: Account Settings
Log into your Canva account on the homepage and go to the Canva dashboard.
On the top of the page, in the right-hand corner, click on Account Settings with the gear icon. Or you can click on your profile picture and select Account Settings from the drop-down menu.
You will be brought to Your Account page with your profile details.
Step 2: Create A New Team
Next, on the left-side menu, select the Billing & Plans option.
On the right side, you will be shown another page with your billing and subscription details. Scroll all the way to the bottom you will find the Team option whether you are on the Canva Free version or the Upgraded Canva Pro version.
Click on the Create A New Team button.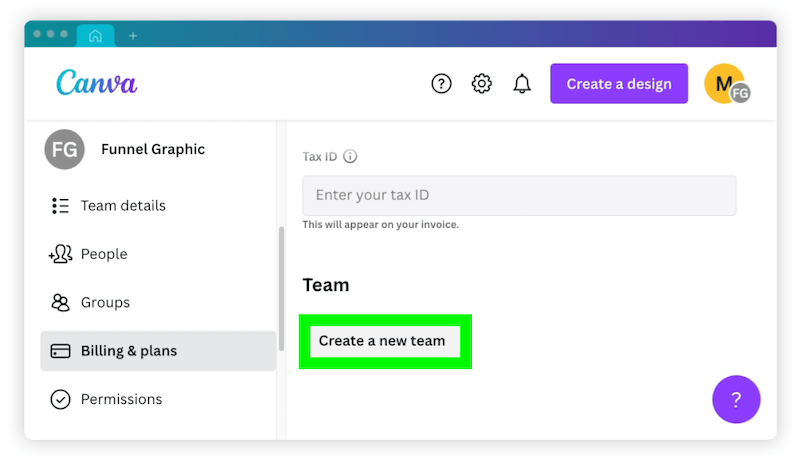 If you are using a mobile device, there will be a Teams option on the settings page. Click on that to add a team.
Back on the desktop version, a pop-up will appear, enter your team's name and click on the Create A New Team button.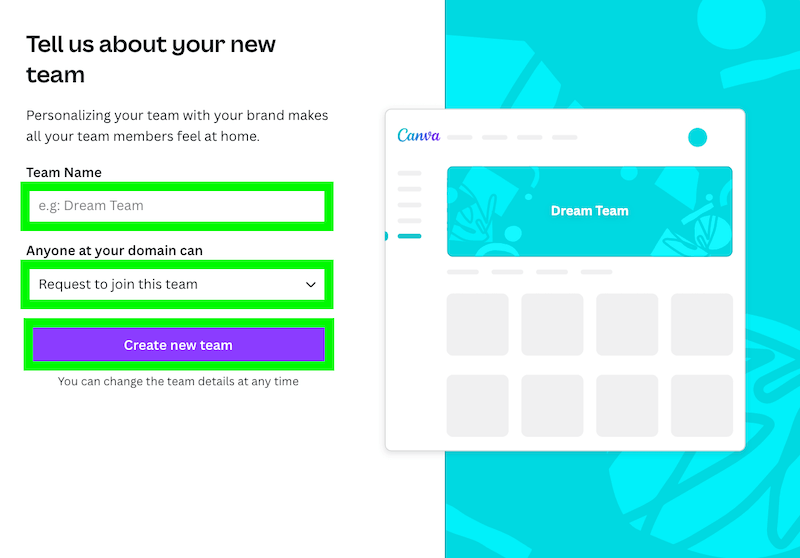 After creating your team, a pop-up will appear to welcome you to the team. Click the Let's Go button and you will be redirected to the Canva dashboard.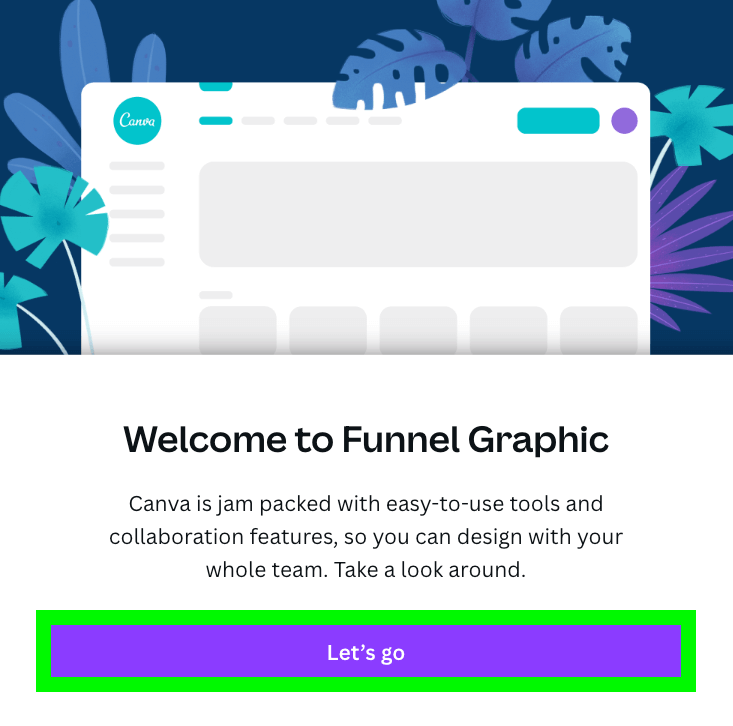 Step 3: Add New Member
With your new team set up, you'll want to invite team members to join.
On the Canva dashboard, go to the left-side menu, scroll to the bottom, and select the + Invite Members button. That's the team invite link option.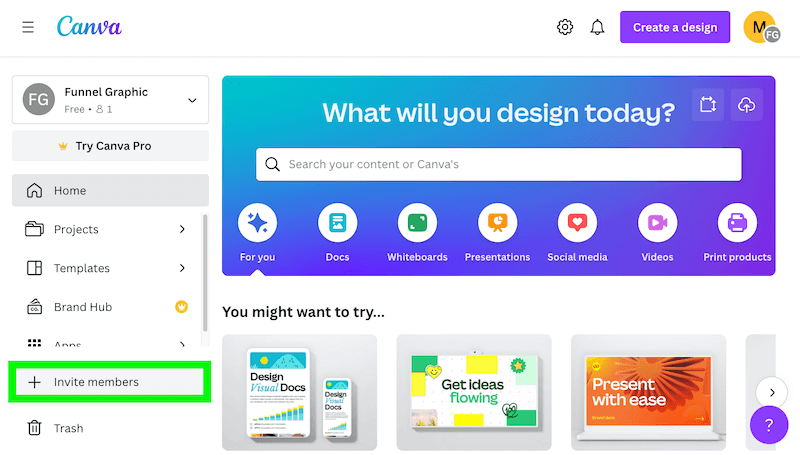 A pop-up appears for you to invite your team members. You can either click on the Get Invite Link button to share with your team members or you can enter their individual email addresses into the fields provided.
Once done, click on the Send Invitations button to send the invite link to your team members.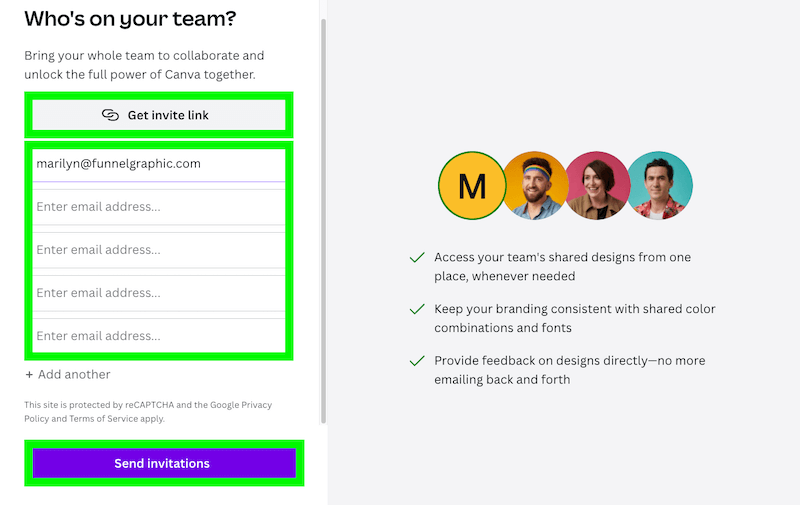 Your team members will receive an automatic email from Canva to accept the invitation.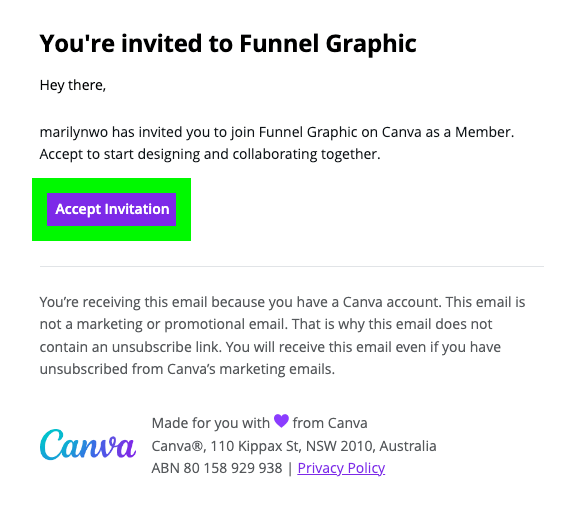 Why Create a Team on Canva?
Now you know how to create a team on Canva, let's look at why the Canva Teams feature is such a great choice for both small teams and teams of all sizes.
The team features enable real-time collaboration tools, streamlining design workflows. This is especially advantageous for teams handling specific projects that require seamless integrations and a consistent brand kit.
Now, with Canva for teams, you can share brand logos, color palettes, Canva templates, and even design elements.
Furthermore, if you're on a Canva Pro account, your team can leverage new features that offer a more professional design experience, pushing your projects to the next level.
Create A Team On Canva: FAQs
How Do I Create A Free Team On Canva?
You've made a great choice in wanting to utilize Canva's team features! Here's a simple guide on how to create a free team on Canva:
Log Into Your Account: Open the Canva website on your preferred device and log into your Canva account.
Go to the Home Page: Once logged in, you'll land on your Canva dashboard.
Access Account Settings: On the top of the page, locate the gear icon, which takes you to the account settings.
Navigate to the "Teams" Section: Scroll down and find the team option.
Click on "Create A New Team": You'll be prompted to input your team's name. After doing so, confirm your choice.
Invite Team Members: Although you've created your team, it's now time to bring others aboard. Look for the "Invite Members" option, and from there, you can share a team invite link or manually input email addresses to send out invitations.
Voila! You've successfully created a free team on Canva.
How Do I Add A Team To My Canva Project?
Here's how to add a team to your Canva project:
Open Your Design: First, make sure you're logged into Canva and open the particular design you want to collaborate on.
Click on the "Share" Button: Located at the top right corner of your screen, you'll find the "Share" button.
Choose "Share a link to edit": This option allows team members to make changes to your design.
Select Your Team: Under the "Share with" section, type in your team's name or the email addresses of the team members you'd like to collaborate with.
Set Permissions: Decide whether team members can edit or just view the design. Choose the "Can edit" or "Can view" option accordingly.
Send Invites: Click on the "Send" or "Copy Link" button. Your team members will receive an invitation to access and collaborate on the design.
And there you have it! Your team can now work together on your Canva project.
Can You Have A Team On Canva Pro?
Yes — You can have a team on Canva Pro as well as enhanced team features. With Canva Pro, not only can you have a team, but you also get to enjoy additional perks:
Brand Kit Access: Store and share logos, color palettes, and fonts consistently across your team.
Advanced Template Access: Dive into a vast collection of premium templates that your entire team can utilize.
Real-time Collaboration: Team members can work on designs simultaneously, viewing changes in real-time.
Folder Organization: Keep your designs organized with folders, ensuring easy access and collaboration for all team members.
Priority Support: Faster response times ensure your team always stays on track.
Can You Have Teams On Canva Free?
Yes — you can have teams on Canva free version! With the Canva Free version, users can create a team, invite members, and collaborate on design projects.
While you may not have access to some of the advanced collaboration tools and features exclusive to Canva Pro, the basic functionality to work together and share designs is very much a part of the Canva Free experience.
To set up a team, log into your account, access the account settings, and click on the team option to start the process of creating and inviting members to your team.
Do You Have To Pay For Team Members On Canva?
If you're using Canva Free, you can invite team members to collaborate without any additional cost.
However, with Canva Pro, the subscription model is based on a per-user pricing structure. Each team member you add to your Canva Pro account will incur an additional charge.
How Do I Share My Content Planner With My Team On Canva?
Sharing your Content Planner with your team on Canva is a straightforward process. Here's how you can do it:
Log Into Canva: First and foremost, make sure you're logged into your Canva account.
Access Your Content Planner: On the left-hand side of your Canva dashboard, select Apps and click on the "Content Planner" option.
Click on the "Share Content Planner" Button: You'll find this button at the top right of your screen with an icon that has two people and a + sign.
Select Channels: Select which social media channels you'd like to share. Click the Continue button.
Set Permissions: Decide if you want the team members to edit or just view the content. Choose between the "Can Schedule" or "Can View" options.
Share: Lastly, click the Share Content Planner button to share your content planner.
Can I Create Two Teams In Canva?
Yes — you can create multiple teams in Canva. Whether you have different projects, or businesses, or simply want to segregate your personal and professional designs, Canva allows you to create and manage several teams under a single account.
After logging into your Canva account, navigate to the "Account Settings" and then to the "Teams" section. Here, you can create a new team and manage your existing ones, ensuring that each team has its own set of members, designs, and brand kits.
How To Join A Team On Canva?
Here's how you can join someone's Canva team:
Invitation: The team owner or an authorized member will send you an invitation, usually through an email or a direct link.
Open The Invitation: If it's an email, open it and click on the "Join the team" button or link provided.
Log In or Sign Up: If you're not logged into Canva, you'll be prompted to log in or create a new Canva account if you don't already have one.
Access The Team: Once logged in, you'll automatically be added to the team and can start collaborating on designs.
If you've received a direct link, clicking on it will take you to Canva where, after logging in, you'll join the team immediately.
What Is A Canva Team Account?
A Canva team account refers to a collaborative space within Canva where multiple users can work together on design projects.
Instead of working individually and sharing designs one by one, a Canva team account provides a shared workspace where all team members can access, edit, comment on, and share designs.
This fosters real-time collaboration and ensures that everyone is aligned with a common goal. With a Canva for teams account, users can:
Share access to a common brand kit, which includes logos, color palettes, and fonts, ensuring brand consistency.
Collaborate on designs in real-time, offering feedback and making edits simultaneously.
Organize designs into shared folders for easy access and better organization.
Assign design tasks to specific team members, streamlining the design process.
Can Canva Team Members See My Designs?
In a Canva team setting, designs saved in the shared team space are visible to all team members. However, designs you've created under your personal Canva profile, outside of the team workspace, remain private to you unless you choose to share them with your team or specific team members.
Always be mindful of where you're saving and uploading your designs to ensure you maintain the desired level of privacy.
How Do I Manage Team Members In Canva?
Here's how you can manage team members in Canva:
Access Your Team: Log into your Canva account and click on the team's name located on the left sidebar.
Go to Team Members: Once you're in the team workspace, click on the "Members" or "Team members" tab. Here, you'll see a list of all individuals who are part of the team.
Manage Members:

Add Members: Click on the "Invite members" button and input the email addresses of those you want to invite.
Change Roles: Next to each member's name, there might be a dropdown or an option to change their role (Admin, Member, Template Designer, etc.). Click and select the desired role.
Remove Members: If you want to remove someone from the team, find their name on the list, click on the corresponding option (often represented by three dots or an icon), and select "Remove from team".
Only team admins or owners have permission to add, remove, or change the roles of team members.
How Do Teams Work On Canva?
Teams in Canva are designed to foster collaboration, making it easier for multiple users to work together on various design projects. Here's how teams work on Canva:
Shared Workspace: Once a team is created, it gets its own workspace separate from your personal Canva space. All designs created within this workspace are accessible to every team member.
Brand Kit Access: Teams can set up a brand kit, which includes company logos, color palettes, and designated fonts. This ensures brand consistency across all designs.
Collaboration in Real-time: Team members can collaborate on a single design simultaneously. They can make edits, leave comments, and view changes in real-time.
Design Organization: Designs can be organized into folders, making it easier for team members to locate specific projects.
Role Assignments: Team admins can assign different roles to members, such as admin, member, or template designer. Each role comes with its own set of permissions.
Sharing and Commenting: Team members can easily share designs within the team, comment for feedback, and make revisions accordingly.
Integration with Other Tools: Canva allows for seamless integrations with various tools and platforms, enhancing the team's design process.
Templates and Design Assets: Teams can create and share templates, ensuring that frequently used designs are readily accessible for all members.