4 Easy Ways to Find And Install Pantone Color In Illustrator
You won't be able to find Pantone Color books anymore if you are using the latest Adobe Illustrator version, v28.0 onwards. The good news is, there is a way to do that.
In this guide, you will learn how to get Pantone colors in Illustrator from an older Illustrator version to the latest one.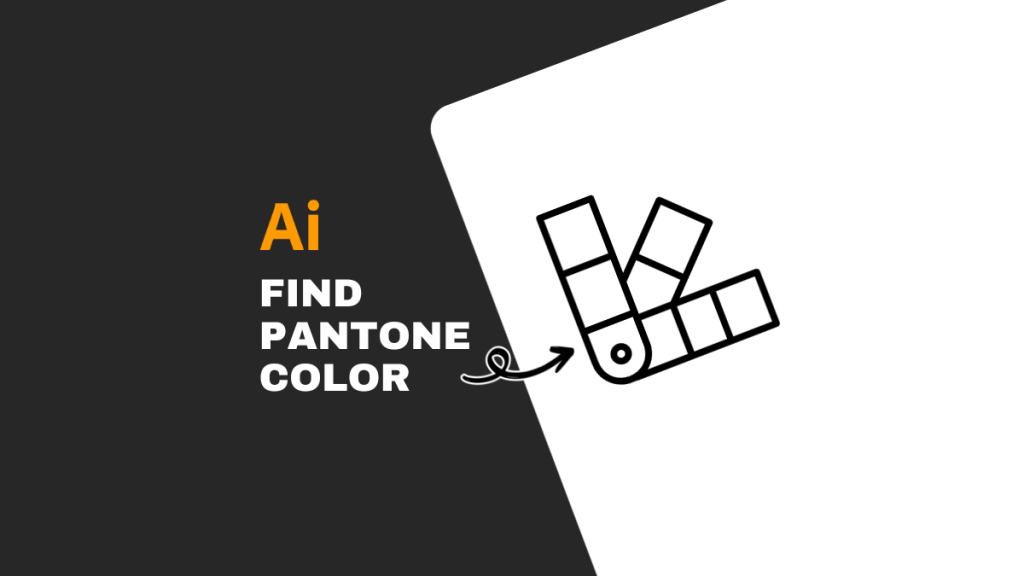 By default, any Illustrator file will either be in the RGB or CMYK color mode. Any CMYK or RGB color depends on your monitor or printer depending on your RGB and CMYK values. But there isn't any "Pantone colour mode".
Pantone came up with the Pantone Matching System (PMS) to standardize and maintain color consistency or match colors when a design enters the preview and production stage, regardless of the equipment used to produce the color.
Pantone is not part of Adobe and it's a separate entity altogether.
Where To Find And Install Pantone Colors in Illustrator 2024?
Pantone color books have been removed from Adobe Illustrator between 2022 and 2023. I know, you used to be able to find them via Window > Swatch Libraries > Other Library… But now they have disappeared.

If you are using Adobe Illustrator v28.0, you will not be able to find any Pantone color books.
Before you can do that, you will have to install Pantone color files to your latest Illustrator version. Without those files, you won't be able to find the colors within your Illustrator app.
Note: I'm using MacBook Pro macOS Ventura Version 13.5 with Adobe Illustrator 2023 Version 28.0.
Here are the steps:
Step 1: Install Older Illustrator Version
The first step is to launch Adobe Creative Cloud app on your computer.
Navigate to the All Apps section.
Go to the Installed section and you will most likely find only one Illustrator version. Go to the right-hand side of the column and select the three dots.
Select the Other Versions option in the drop-down menu.
A pop-up will show all the current and past versions available for download.
Go to the earlier version and select the Install button on the right-hand side.
Wait for a few minutes for the installation to complete.
In this example, I've installed Illustrator v27.0, one of the earlier Adobe Illustrator 2023 versions.
Step 2: Copy Pantone Files
Go to your Applications folder in Mac or Downloads folder in Windows.
Select the Illustrator version folder you've just installed. Select the Presets folder. Then, select the language folder and then, select the Swatches folder. Next, select the Color Books folder.
In my example, I have selected Adobe Illustrator 2023 > Presets > en_US > Swatches > Color Books.
You will see at least 5 Pantone files:
PANTONE+ CMYK Coated
PANTONE+ CMYK Uncoated
PANTONE+ Metallic Coated
PANTONE+ Solid Coated
PANTONE+ Solid Uncoated
Select these 5 files and copy them by doing a right-click with your cursor, and selecting Copy in the drop-down menu.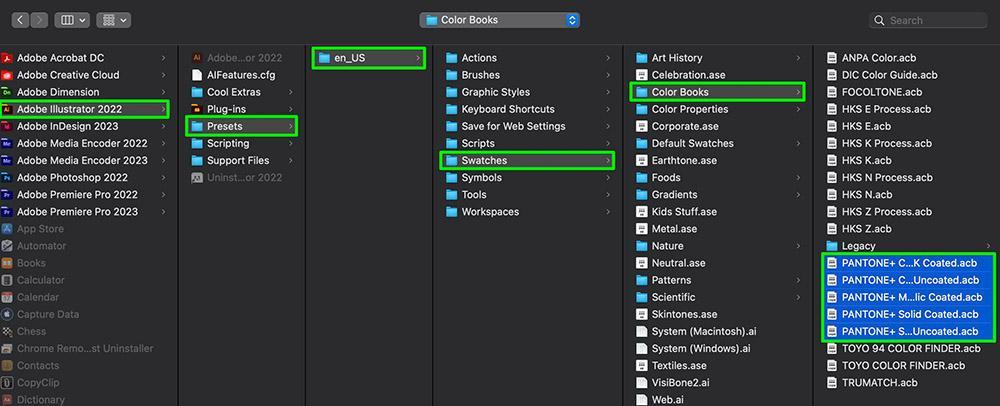 Step 3: Paste Pantone Files
With the Pantone color files in your clipboard, go to the Applications or Downloads folder, and select the latest Adobe Illustrator folder. In my example, that would be the Adobe Illustrator 2024 folder.
Then similar to Step 2, go to Adobe Illustrator 2024 > Presets > en_US > Swatches > Color Books.
Paste the Pantone files you've just copied into this folder.
Quit Illustrator and reopen it.
In the next section, you will learn various methods on how to find the Pantone Color you want in Illustrator.
How to Find Pantone Color in Illustrator
The best way to find the Pantone Color of your object in Adobe Illustrator is to first open your object in Illustrator. Then, click on one area of your object to select it. Next, go to the top menu and select Window > Swatches.
In the Color Swatches, you will see a color square bar selected. Bring your cursor over it and you will see the Pantone color code of your object area, for example Pantone P Process Black C.
Here are the various methods to find Pantone color, or you can also convert CMYK to Pantone in Illustrator:
Method 1: Top Menu
At the Top Menu, select Window, scroll down to select Swatch Libraries, then select Color Books, and select any of the Pantone color guides:
Window > Swatch Libraries > Color Books > Pantone Color Books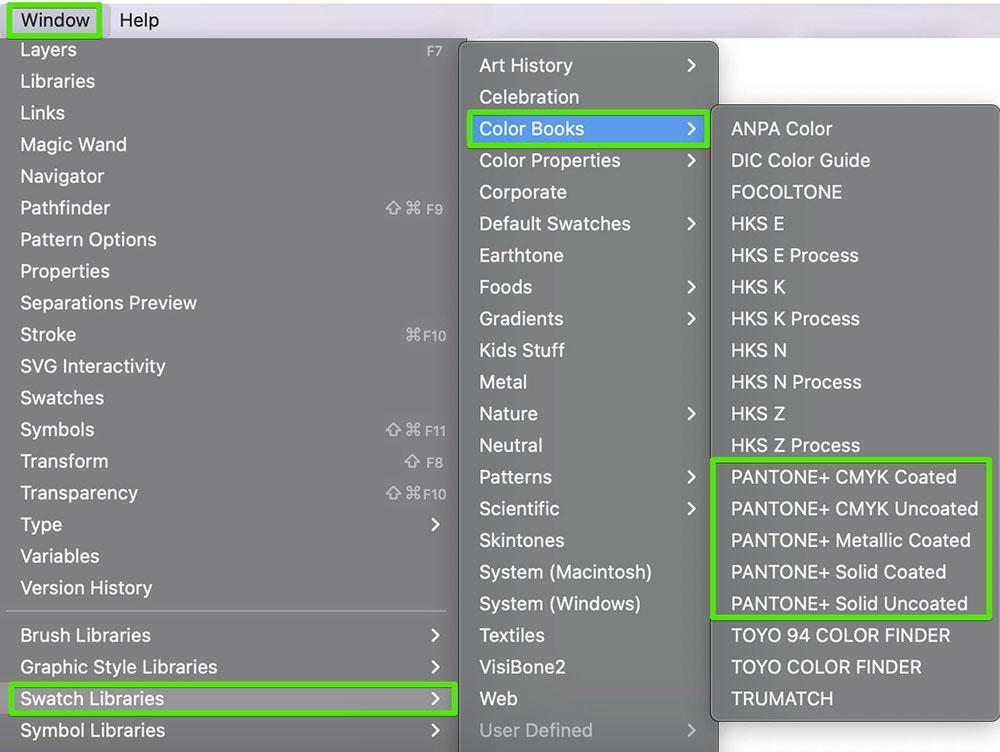 Note: This will work whether or not your artboard is visible or hidden.
Method 2: the Swatches Panel
Open the Swatches Panel by going to the Top Menu, and select Window > Swatches. This opens up the Swatches Panel.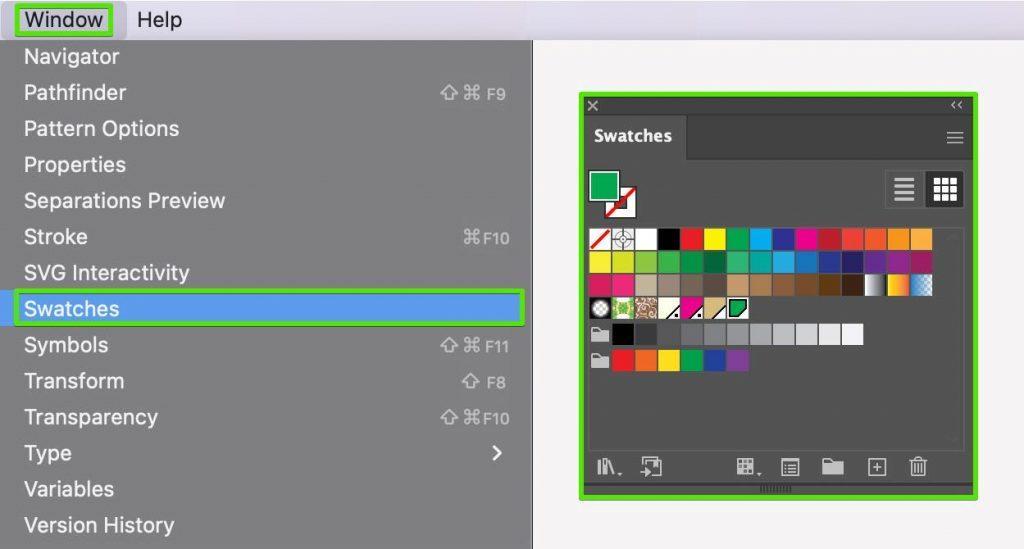 Then, on the Swatches Panel, you will see an icon with 3 lines in the top right-hand corner. That is the Swatches options menu. Select that and a dropdown menu appears. Select open swatch library > color books. This is where Illustrator stores different color libraries including the Pantone color libraries. Select any of the Pantone Color Books based on the Pantone color system.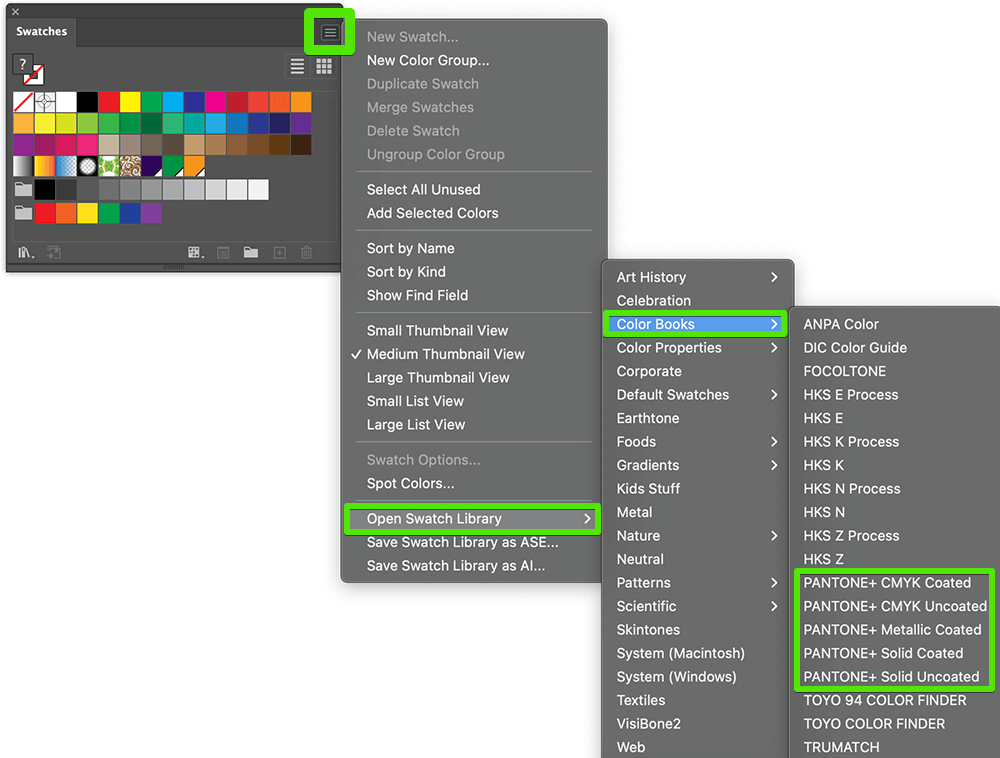 Method 3: the Swatch Libraries Menu
First, open the Swatches Panel by selecting Window > Swatches from the Top Menu. Then, select the Swatch Libraries menu in the bottom left corner of the panel.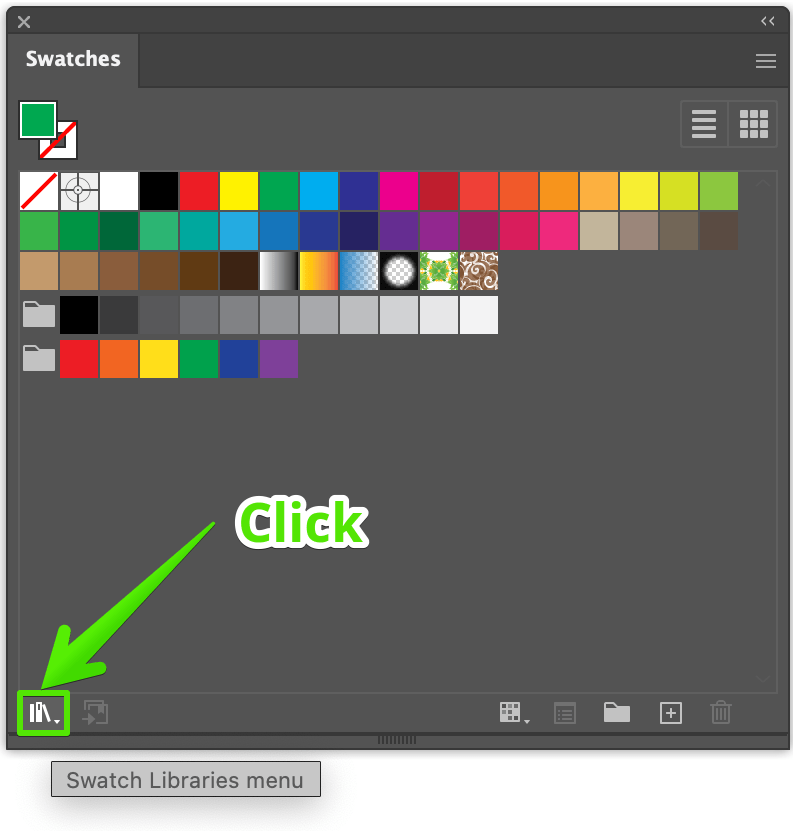 This opens up a dropdown menu where you can select Color Books, which opens up another dropdown menu. Select your desired Pantone Color Book.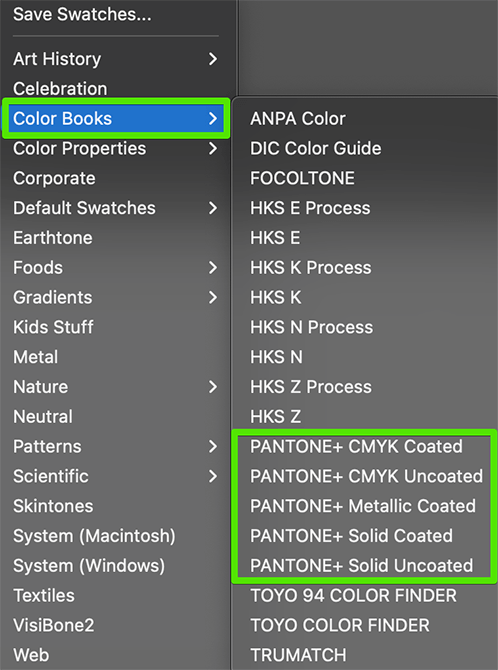 Method 4: Use the Search Function
This could be one of the best ways to find Pantone Color in Illustrator. Simply select Help on the Top Menu. Enter "Pantone" in the search bar. Then select any of the options and the dropdown menu opens up to show you where you can find the item in the menu.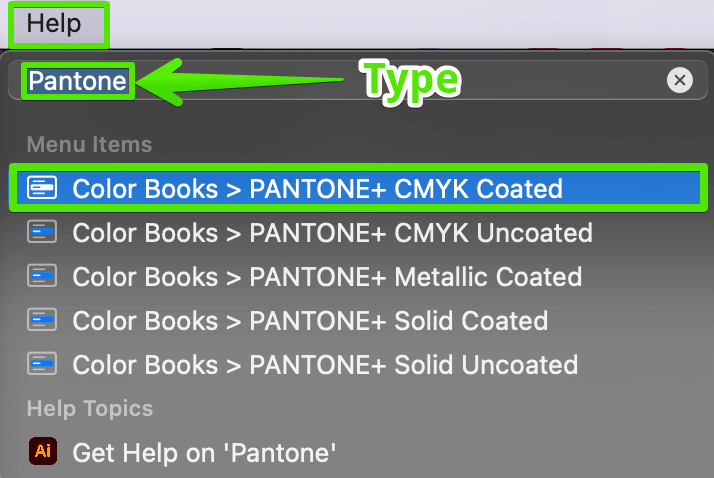 FAQ on Pantone Color In Illustrator
How to Use Pantone Colors in Adobe Illustrator
In this FAQ, I will run through how you can apply Pantone colors to your vector graphic. If you are using Illustrator version 28.0, you will have to copy Pantone files to the latest Illustrator folder first.
After you have found the Pantone Color Books, select any of the following options which are still available up to Illustrator version 27.0:
PANTONE+ CMYK Coated
PANTONE+ CMYK Uncoated
PANTONE+ Metallic Coated
PANTONE+ Solid Coated
PANTONE+ Solid Uncoated
My projects usually require Pantone Solid Coated and Pantone Solid Uncoated. You will select any of the books based on your printer's requirements. For any options selected, a new color swatch window with a set of Pantone palettes opens up.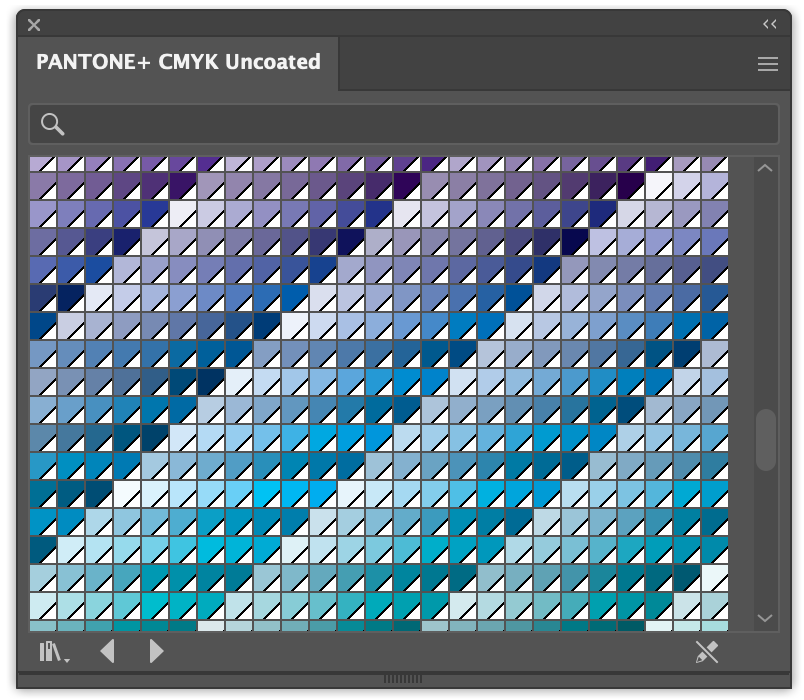 Suppose you need other colors from other Pantone Color Books. In that case, you can choose the Swatch Libraries Menu of the Pantone swatch panel, then, select Color Books from the dropdown menu and select another Pantone Color Book.
You will now see two Pantone Swatch Panels.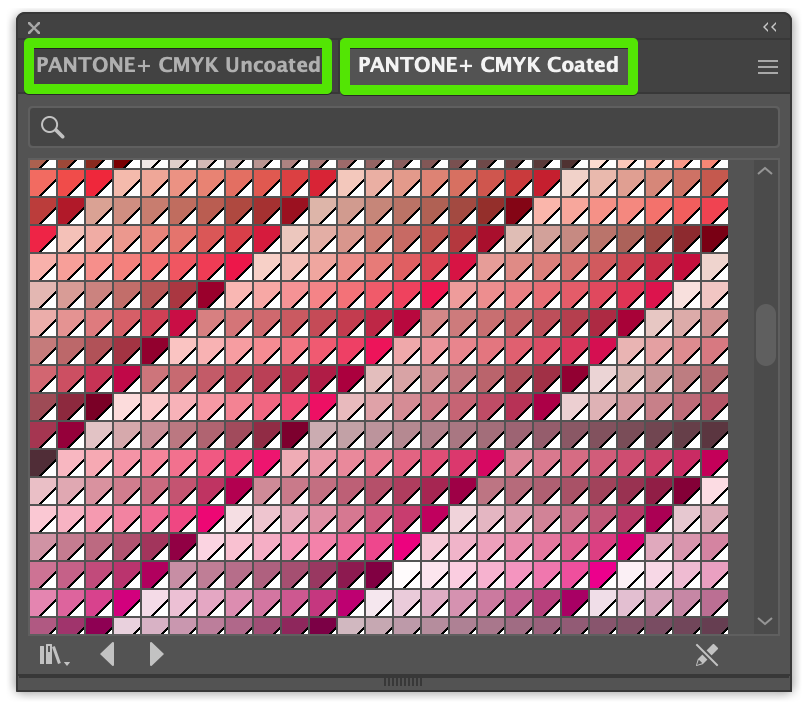 If you have a specific Pantone color code, enter that into the search bar on the Pantone swatch palette.
This will filter the color you are looking for out of the various colors you see on the Pantone color palette. Otherwise, you can browse all the color options you see in the Pantone swatches.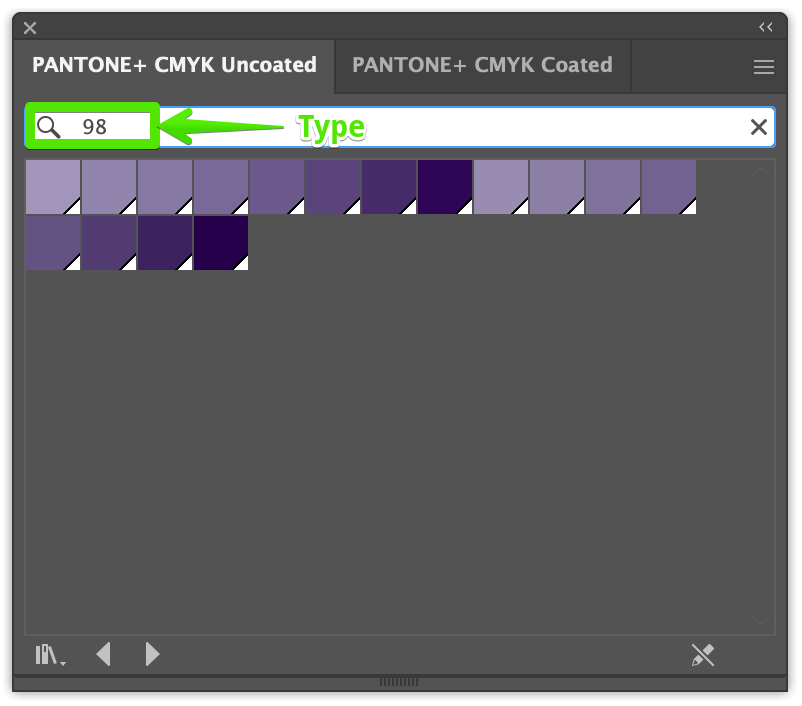 You can use the color you desire by selecting your artwork and choosing the Pantone Color directly from the Pantone palette.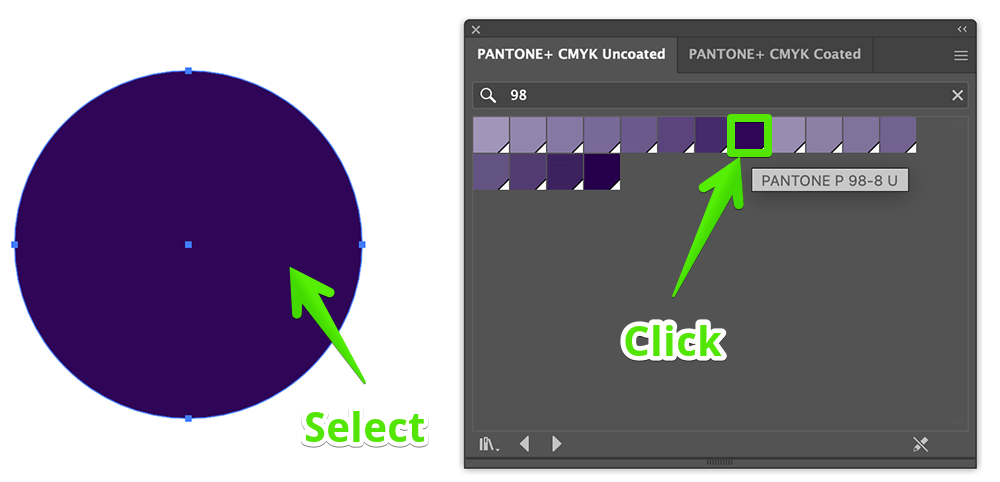 Your artwork will change into the selected color and the selected Pantone color will appear in the Swatches Panel to be saved for future use.
You can also save the color in the Swatches panel first by selecting the color on the Pantone color swatches.
The selected color will appear in the Swatches Panel, and you can select your artwork and select the Pantone color from the Swatches Panel.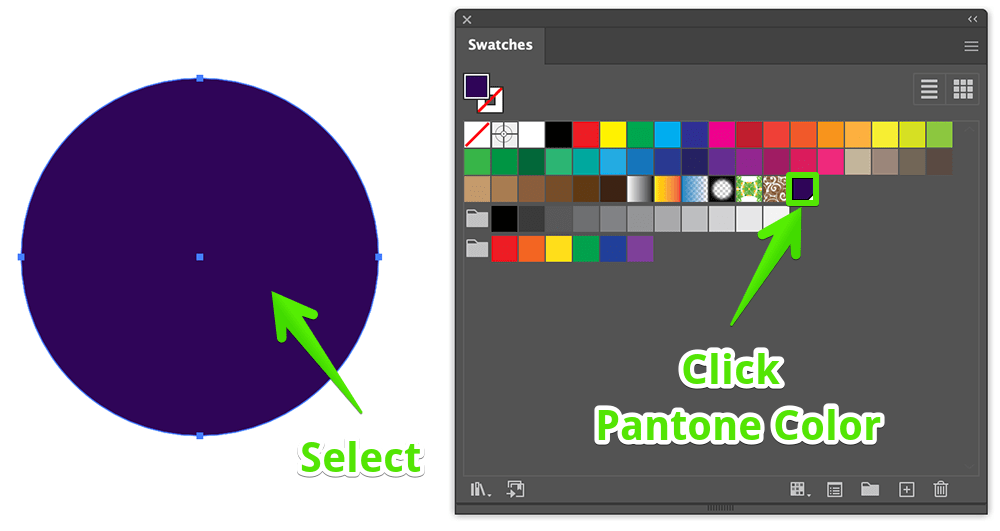 Why Can't I Find A Pantone Color In Illustrator?
If you can't find a Pantone color in Illustrator, that may be because you have updated your Adobe Illustrator to the latest version. According to Adobe, "pre-loaded Color libraries, also known as Pantone Color books, will be phased out of Adobe programs like Adobe Illustrator, Adobe InDesign, and Adobe Photoshop in software updates released after August 16, 2022."
After November 2022, the only Pantone Color books that will remain are:
Pantone + CMYK Coated
Pantone + CMYK Uncoated
Pantone + Metallic Coated
How To Find Pantone Color In Illustrator Updated After November 2022
Even without all the Pantone Color Books available in Illustrator, you can still find Pantone Colors in Illustrator. To do that, you will need to install a plugin called Pantone Connect via Adobe Creative Cloud.
Pantone Connect is free only for limited functions:
Search
Pick any 15,000 Colors
See Pantone Color Reference Number
Measure
Up to 10 Palettes
Unlimited Share
If you need anything else such as extracting colors, analyzing colors, and converting them, you will have to pay US$20.99 per month or US$125.99 per year.
How Do I Use Pantone Connect?
To use Pantone Connect, first, you will have to quit all Adobe programs. Next, your desktop has to be logged in to Creative Cloud. Click on the Creative Cloud icon on the top menu bar if you are on a Mac, or open your Creative Cloud platform if you are on Windows. Then, select Stock & Marketplace.
Under Search, All Plugins on the left sidebar, type in Pantone Connect to search for the plugin. Then, click the button that says "Get" on the Pantone Connect box. This will start the installation process.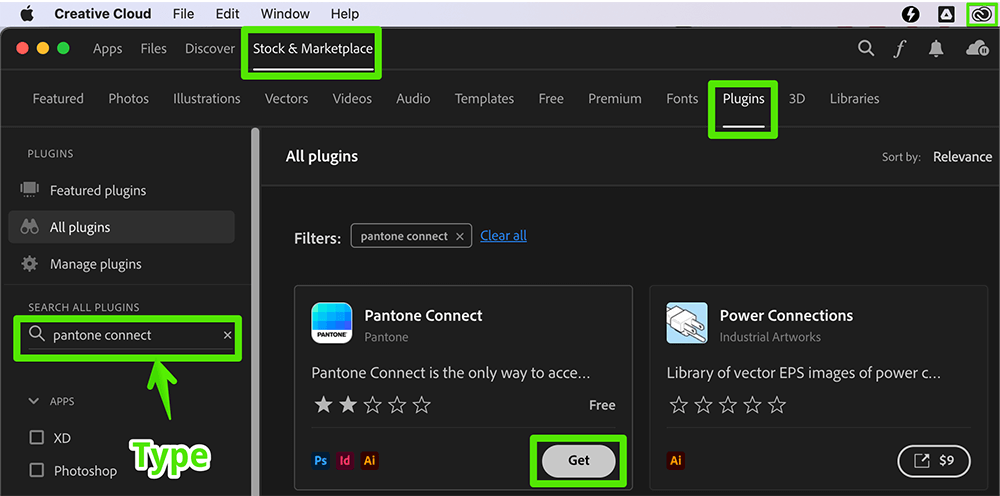 Reopen your Adobe Illustrator. Select Window > Extensions and you will see Pantone Connect as an option.

Select Pantone Connect and the Pantone Connect window opens up. Sign up for an account and you are ready to use it.