2 Easy Ways To Print From Canva
In this article, you'll learn everything you need to know about how to print from Canva at home or with a professional printer.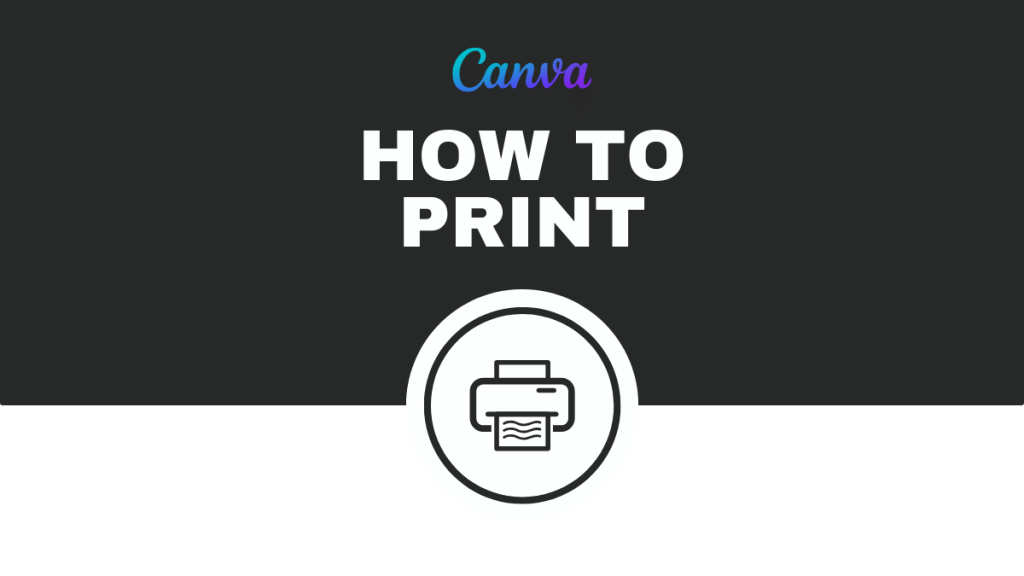 Ways To Print From Canva
The best way to print from Canva is to select File > Download and select PDF Print File Type. Download and save the PDF file to a folder on your computer or phone. Then, open the PDF file with your internet browser and select the print button to print with a connected printer.
Before you use any method to print from Canva, you will have to prepare your designs to add guidelines for trimming. Here are the steps:
Prepare Canva Design Before Print
Step 1: Margins
Click on File > View Settings and select Show Margins.
You will see a dashed line frame on your design. This is just a guideline for you to keep important elements like text, within this guideline. It will not show up on your printed copy.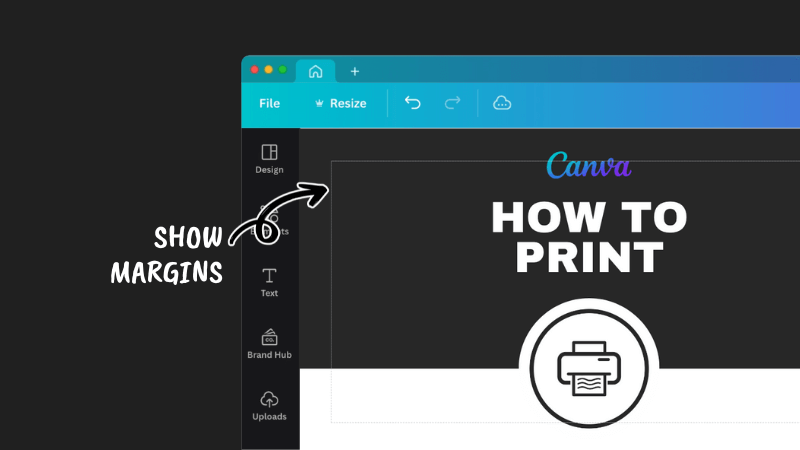 Go ahead to adjust your design and move anything inside this margin guideline to prevent it from getting trimmed off during printing.
Step 2: Print Bleed
Next, click on File > View Settings again and select Show Print Bleed.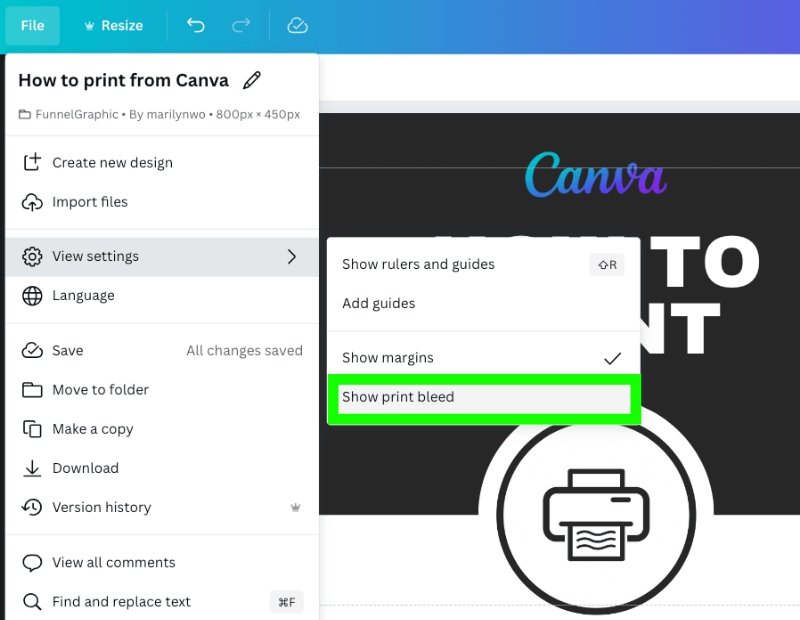 You will now see another set of guidelines with a dashed or dotted line frame around the outside of your original design. These guidelines show the boundary or edge of your design.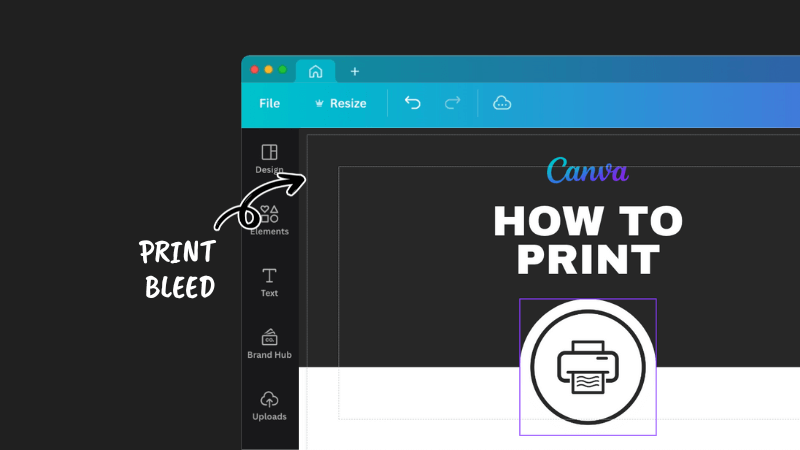 If your design includes a background color that isn't white extending to the edge of your canvas, you will see a white gap between your design and the area outside the bleed guidelines.
Step 3: Extend Elements
Adjust your background or design element to intentionally extend out to cover the white gap. The printer will always print your design on a larger-sized paper than your required size. Once printed, the printer will trim the paper using the bleed guidelines.
If you don't extend your background beyond your original size to the bleed area, you may see white lines around your design after it's printed.
This is a video you can follow along:
Here are the various ways and steps on how to print on Canva:
Method 1: Print With Canva
How do you print from Canva? Here's one method to print professionally with Canva. Canva's printing services offer the best quality prints with so much convenience. Here's how you can use the service:
Step 1: Select Print Medium and Correct Size
Click the Share button on the top right-hand corner of your canvas.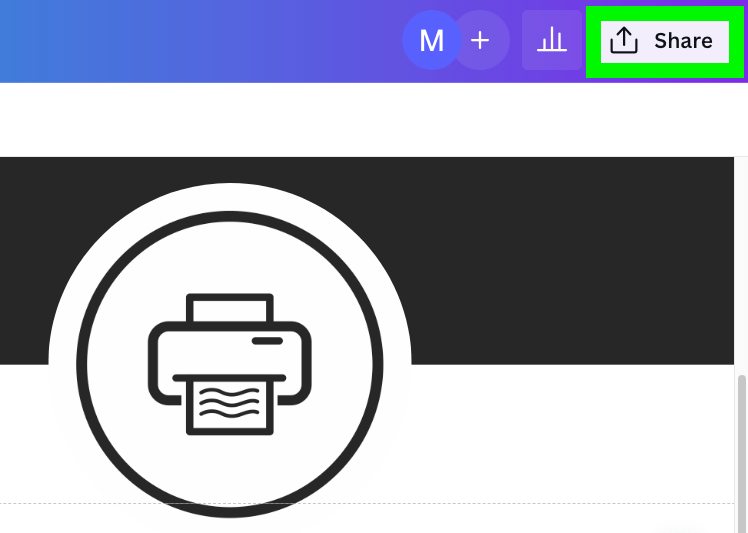 In the dropdown menu, select the Print Your Design option.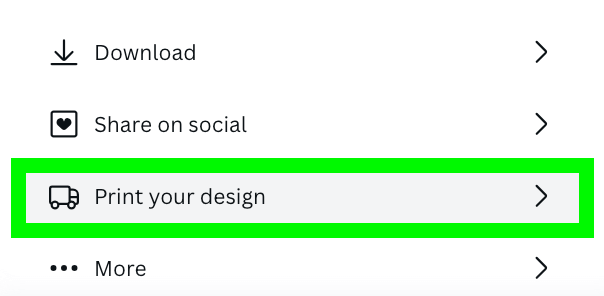 In the dropdown panel, select any of the 30 items you'd like your design to be printed on.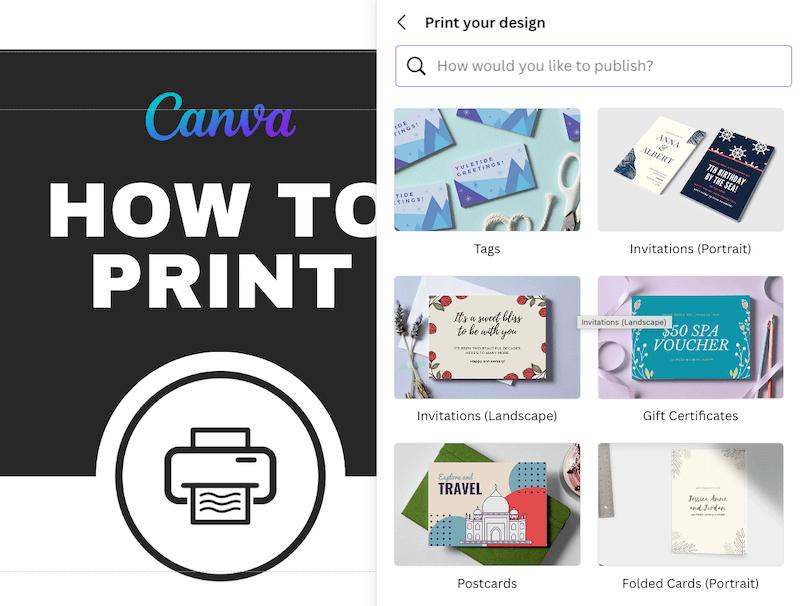 In this example, I've selected the Posters (Landscape) option.
Step 2: Resize Design To Fit
If your design is not in the size that Canva can print, another panel will appear to help you resize your design.
Click the Resize Design button for that to work.
Once you've resized your design, Canva helps you automatically place your design on a new canvas with the new size.
Step 3: Adjust Print Specifications
A new panel on the right side pops up that says "Quality posters delivered to your doorstep".
If your file size is too large, there are given options to adjust your final design. You will find options like standard paper size, custom size, and the option to print business cards.
Here, you can also select high-quality printing options and customize print settings.
You will see the cost of printing at the bottom of the panel.
Once you are ready, click the Continue button.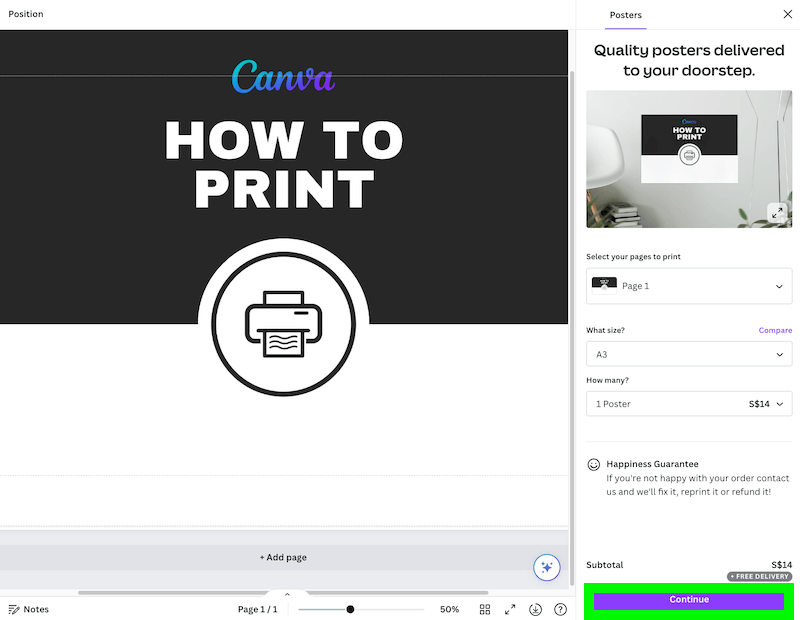 Step 4: Checkout And Print
A new panel pops up for you to do a final check. You can download your design in PDF to check before sending it to print.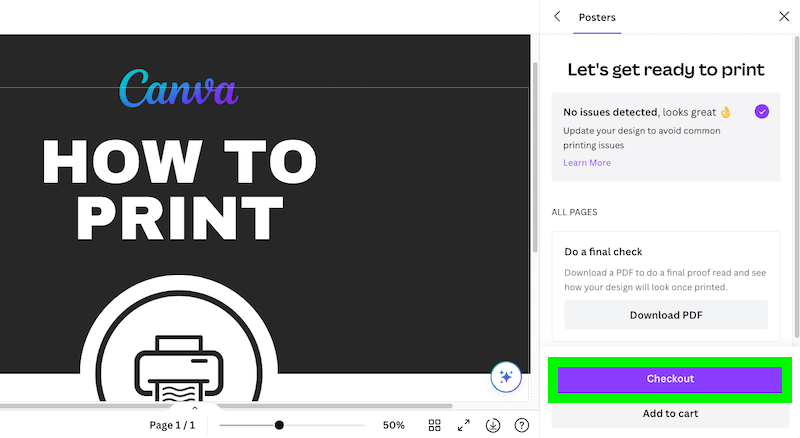 Next, select the Checkout button to make payment and have it printed and delivered to you.
Method 2: Print At Home Or Professional Printer
In this method, you will learn how to print your Canva designs with your home printer or professional printer. You won't find a printer function or a button to print them at home, but there is a simple workaround. Here's how to do it:
Step 1: Select PDF Print
Once your design is ready, click the Share button on the top right-hand corner.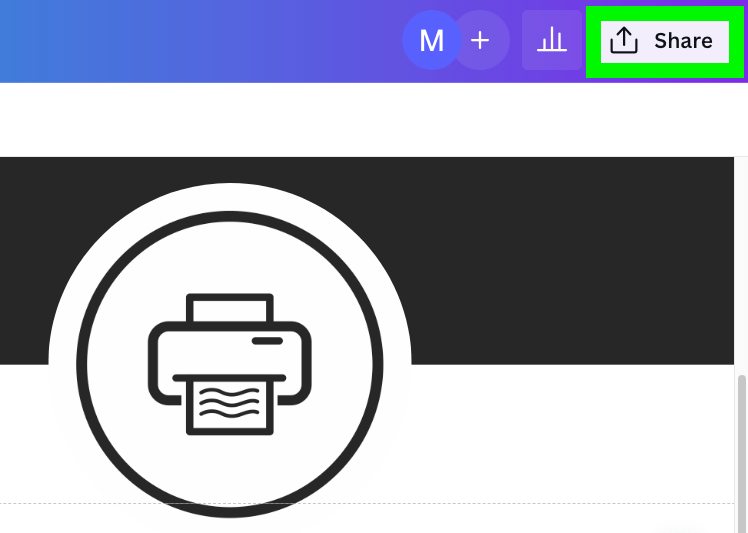 Select the Download option.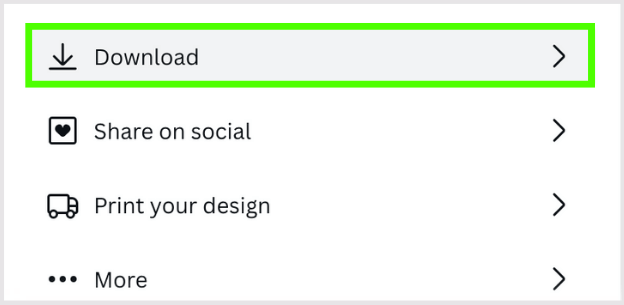 Then, in the File Type dropdown menu, select PDF Print. This step prepares your file for printing.
Select the Crop Marks And Bleed Option.
In the Color Profile dropdown menu, select CMYK. This option is only available for Canva Pro users. If you don't wish to be a Canva Pro user, you will have to use the default RGB color profile.
Select the Flatten PDF option to make sure all elements are converted to one layer to prevent any element from shifting. Then, click on the Download button.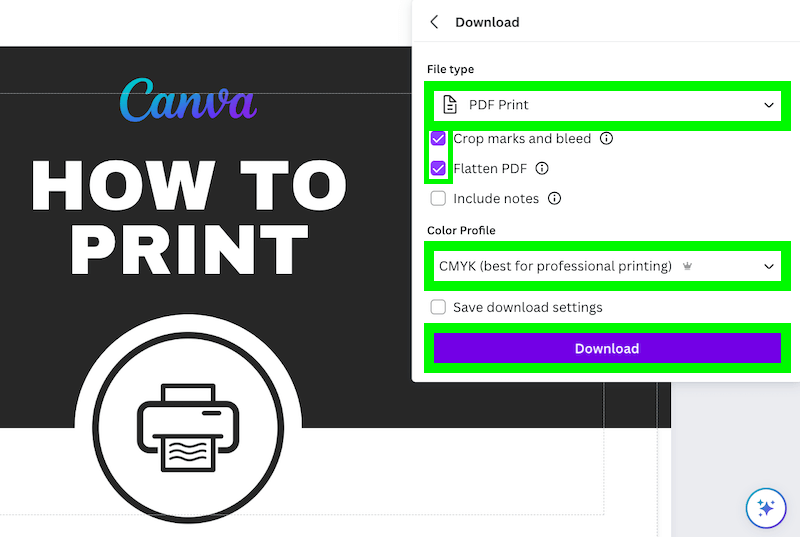 Step 2: Download Design
In this step, select a location to save your PDF on your computer and click the Save button in the pop-up dialog.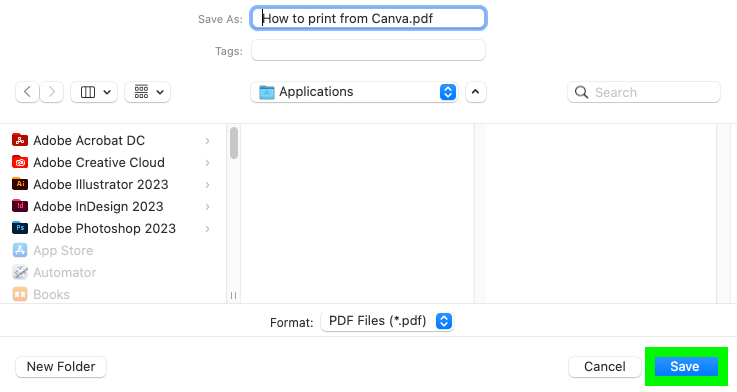 If you have a Canva Pro subscription, you will have access to more file types.
Step 3: Print PDF
If you have a PDF viewer, such as Adobe Acrobat on your computer, open it up and use it to open the PDF. If not, you can also open your PDF file with your internet browser.
In this example, I chose to open my PDF file with my internet browser.
Next, click on the icon that shows a printer in the top right-hand corner, and print with your personal printer or professional printer connected to your computer.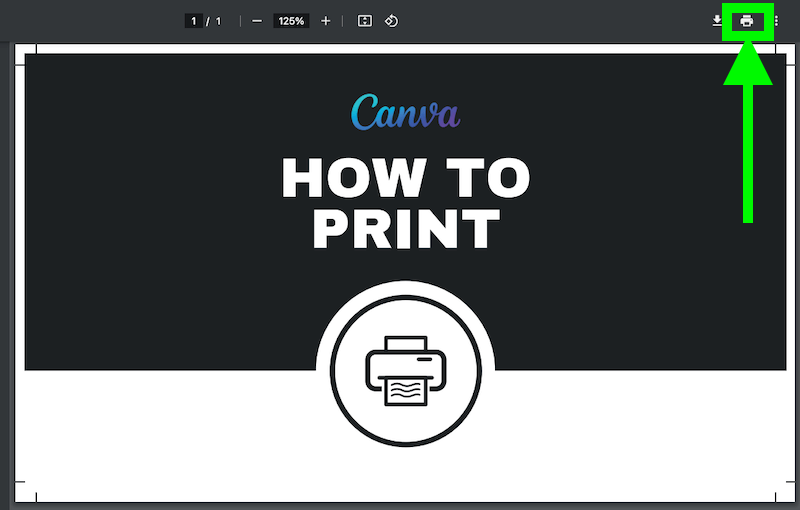 Ensure that the print color and color settings match your design's color mode.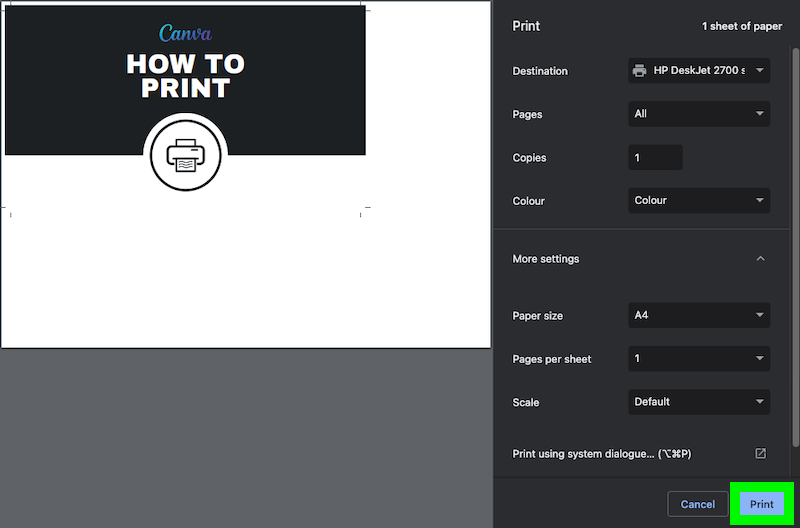 If you prefer to print with a professional printer, you can do that by sending this PDF file to them and having it printed.
Final Thoughts
Printing from Canva is a streamlined process that allows for creativity and quality. Whether printing through Canva's printing services, at home, or through a professional print shop, following this step-by-step process will result in high-quality prints. Happy designing and printing!
Note: The free version of Canva also supports these functions but with limited access to premium elements and features like CMYK colors. You can also print from a mobile device through Canva's mobile apps or send your print-ready files to commercial printers.
Printing From Canva: FAQs
Can You Print From Canva To A Printer?
Yes and No — It depends if you wish to print with Canva's printer or with your personal printer.
Yes — You can print from Canva to a printer that is supplied by Canva. Click the Share button on the top right-hand corner and select the Print Your Design option. Follow the steps to print with Canva.
No — You can't print Canva designs directly from your personal or professional printer. You need to download the file in the correct format, usually a PDF print option, and then print it using your preferred printing method.
It provides flexibility whether you want to print it from your home printer, commercial printer, or professional printing shops.
Can I Print Things From Canva For Free?
Yes — Canva offers a free version that allows you to create designs and download them to your device. You can download the designs in a suitable file format such as PDF, which is a popular option for high-quality prints.
You can then print the designs using your own printer or take them to any local printing service. Note that some premium elements may require a payment or a Canva Pro subscription.
How Do I Print Canvas In Canva?
Printing a canvas in Canva is a straightforward process, similar to how to print on Canva. Here's a step-by-step guide:
Finalize Your Design: Ensure all the important design elements are in place, including the correct size, color palette, and edge of the paper settings.
Download Your Design: Click the 'Download' button and choose the file format you want, such as a PDF file for high print quality. Consider selecting the "show print bleed" option to avoid white gaps at the edge of the page.
Open the File: Open the downloaded file on your computer.
Print the File: Click the print button on your viewing software and select your preferred print settings, such as color mode and custom size, according to your need. Then, click the 'Print' button to print on your personal or professional printer.
Optional Professional Printing: Alternatively, you can take the downloaded file to professional printing shops for printing.
Can You Print Canva Designs At Staples?
Yes — Canva designs can be printed at Staples or any other commercial printer that offers printing services. Ensure that you save your final design in a print-ready file format like PDF, maintaining the right size and print quality.
Take the file to Staples, either on a mobile device or physical storage, and ask them to print it according to your specifications.
Can I Print Design From Canva And Sell?
Yes — you can print designs from Canva and sell them, provided that you comply with Canva's licensing agreements. If you're using the free version of Canva, you must ensure that all the elements you're using in your design are labeled for commercial use.
With a Canva Pro subscription, you generally have more flexibility in using designs for commercial purposes. Always consult Canva's terms and conditions to make sure you're using the content correctly.
Is It Legal To Use Designs From Canva?
Yes — it's legal to use designs from Canva as long as you follow their licensing agreements. Canva offers a wide variety of free and premium elements. When using Canva for personal use or commercial purposes, you must ensure that you adhere to their terms of use.
This might include considering the licensing of specific images, whether you're allowed to use them for commercial purposes, or other conditions tied to the file type or design element.
Can I Use Designs From Canva For My Business?
Yes — Canva is an excellent graphic design tool for businesses of all sizes. You can create professional designs for social media, marketing materials, presentations, and more. Canva offers free and paid options with access to a broad range of templates and design elements.
If you're using any premium elements, make sure to comply with the licensing terms. For commercial use, a Canva Pro subscription might be the best option, as it often provides more flexibility and access to premium elements tailored for business needs.
How Do I Share A Canva Design With Someone To Print?
Here are the steps to share a Canva design with someone to print:
Step 1: Complete Your Canva Design
Finalize your Canva project, making sure all the design elements are in place and everything is the correct size.
Step 2: Click the 'Share' Button
In the top right corner of the Canva editor, click the share button. A drop-down menu will appear with various options.
Step 3: Choose the Right Option
You can either share the link directly or invite someone via email. Simply input their email and send the invitation.
Step 4: Downloading Options
The person you share with can access the file and download it in the required file format suitable for printing, such as a PDF print option. Make sure to select the right settings for print quality.
Is Canva Design Good For Printing?
Yes — Canva Offers High-Quality Printing Options.
Canva designs are suitable for high-quality printing. You can create print-ready files using Canva's printing services or download the design to print with your own printer.
Customizing Print Settings
You can adjust the color profile, choose the best printing method, and select the right file type. Canva offers options for CMYK colors, standard paper sizes, and other settings that ensure the best quality prints.
Professional Printing Options
Canva's printing services offer various printing options, from home printer to professional printer choices. You can utilize Canva's print button to place a print order with ease.
How To Print Digital Art At Staples?
Here's how to print digital art at Staples:
Step 1: Save Your Digital Art in the Right Format
Ensure your file is in a compatible file format such as PDF or JPEG for printing.
Step 2: Visit Staples' Online Platform
Navigate to Staples' website and locate their printing section.
Step 3: Upload Your File
Select the appropriate printing option and upload your file. You can customize the print settings, such as the size, paper type, and color settings.
Step 4: Choose In-Store Pickup or Delivery
Staples offers options for in-store pickup or delivery to your address. Select the best option for your needs.
Step 5: Confirm and Print
Review your print order, confirm the details, and proceed with the payment. Staples will take care of the printing process and ensure high-quality prints.