3 Easy Steps To Get 100% Canva Student Discount
If you can get a Canva Student Discount, how do you get it? This article will show you what makes you eligible for the Canva student discount, keep on reading!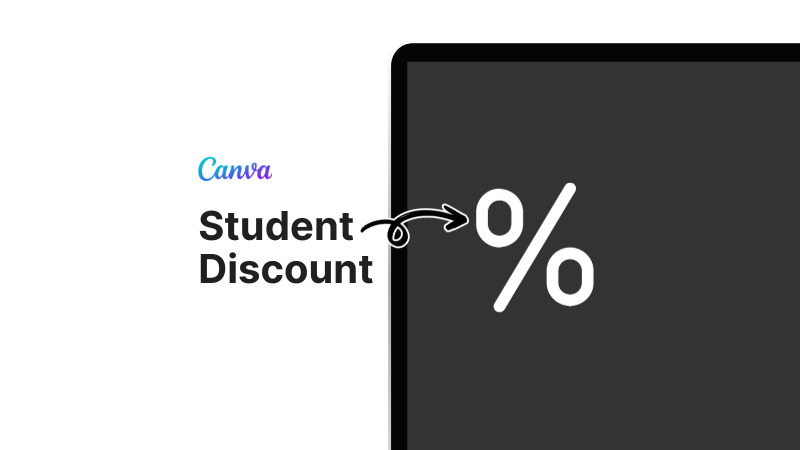 Easy Steps To Get a Canva Student Discount
The best way to get a 100% free Canva student discount is to sign up at Canva Education website and verify that you are teaching at eligible schools with an educational email domain.
Teachers get immediate approval to use all Canva Pro premium features and invite students to use Canva for free.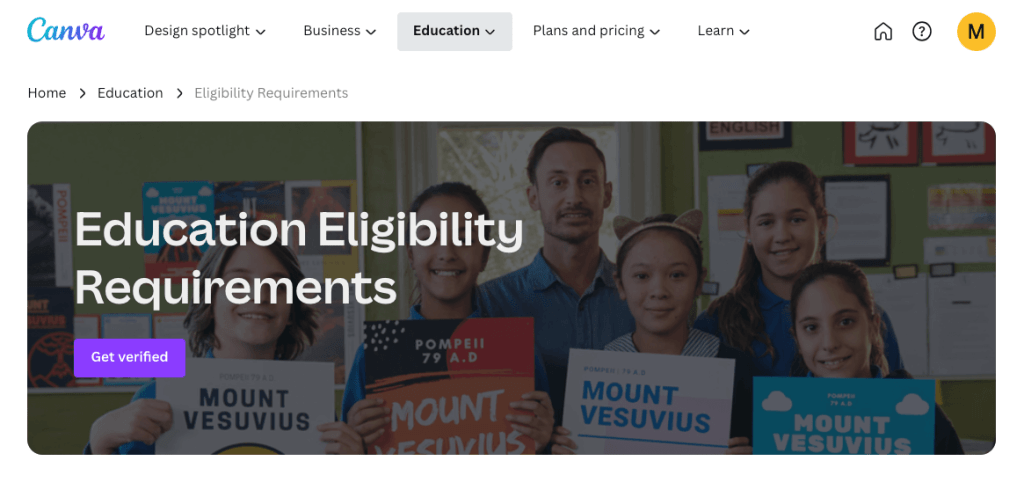 As a student, you will be eligible for this exclusive student discount only if your teacher is already verified with Canva for Education and invites you.
You may wish to send these instructions to your teacher if he or she is not yet verified. Or follow the steps below if you are a teacher and wish to get verified.
Step 1: Sign Up For Canva
The first step is to go to the Canva for Education sign up page. Whether you have an existing account with Canva doesn't matter, select any method you like to log into your account or start a new account.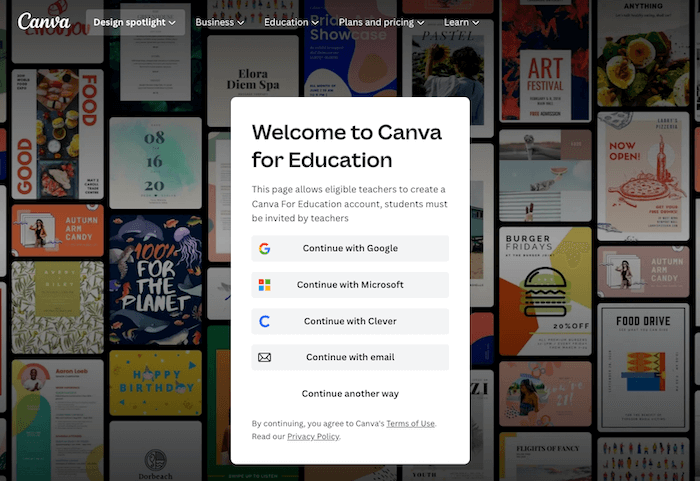 Canva will know if you have an existing account or not. If you don't, it will automatically create a new one for you with your credentials.
In this example, I selected "Continue with email" and this comes up to tell me that I can use any of my existing account emails or any email address not used for Canva before. Then, select the Continue button.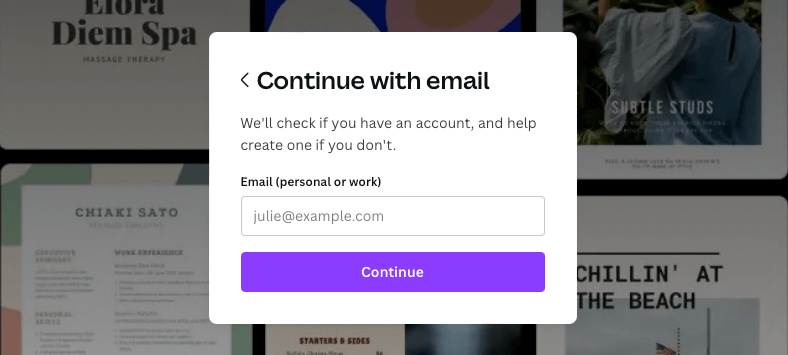 Step 2: Fill Out Form
After Step 1, you will be redirected to a page with a pop-up with the title that says "Claim Canva for Education for free".
Select the Get started button at the bottom of the pop-up.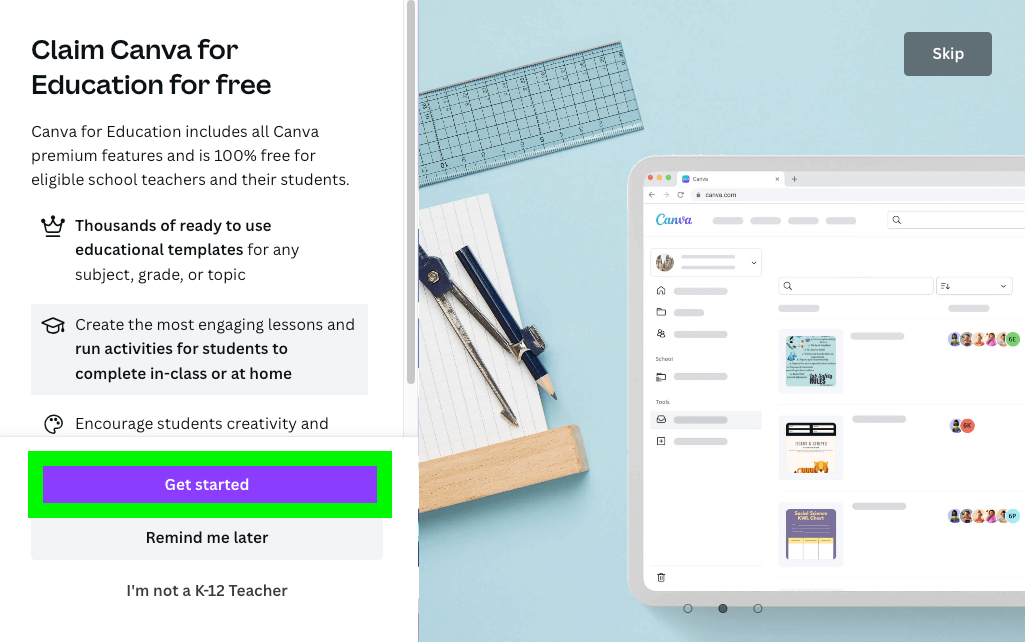 Next, fill out the form that follows with your First Name, Last Name, School Name, School Address and School Website (optional).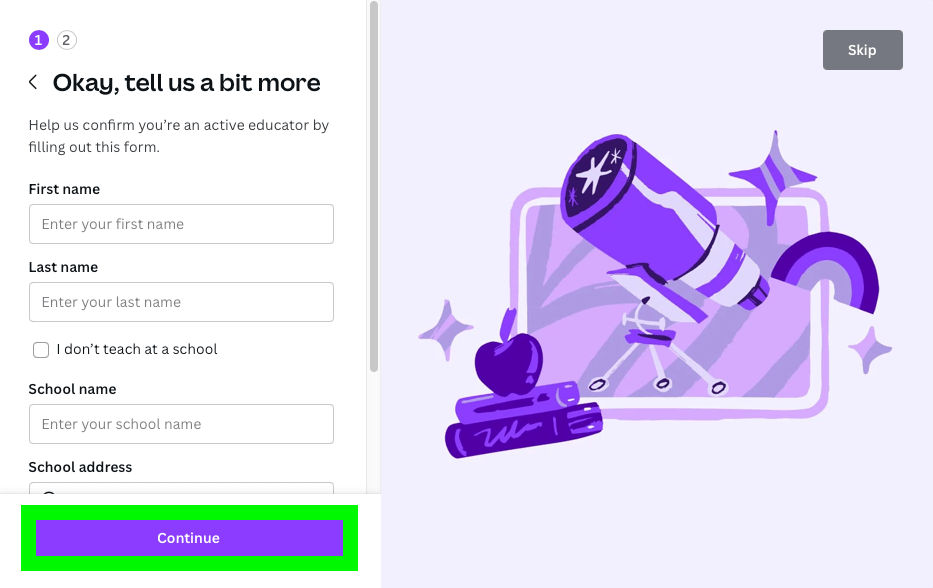 Step 3: Submit Documents
In this step, the pop-up will have a prompt to ask you to upload employment proof as a teacher. They only accept any of the documents:
School ID Card
School Employment Status
K-12 Teaching Certification
Once ready with any of these, just drop it in the dotted-lined box, then select the Submit button.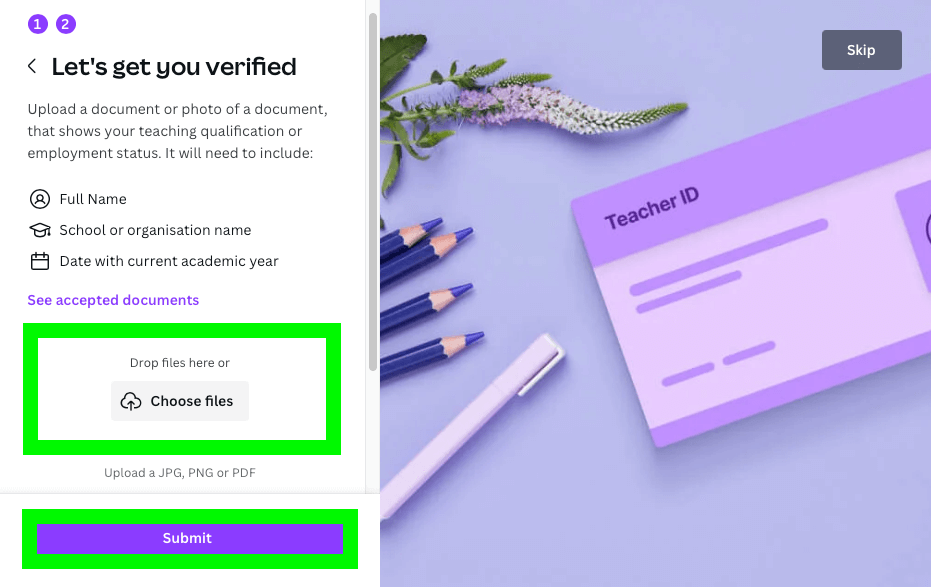 You'll be verified to gain access immediately, or it may take at most a few days to inform you on your status.
Canva For Education Eligibility Criteria
Eligible teachers in K-12 (primary or secondary) schools and institutions can also access Canva for Education for free.
This includes certified K-12 teachers from formally accredited schools, school librarians, learning support assistants, and curriculum specialists.
School districts, departments of education, and government-recognized technical or vocational schools are also included in this eligibility.
Additionally, educators with specific certifications, such as Google Certified Educators, Google Certified Trainers, and Microsoft Innovative Educators, can benefit from Canva for Education.
This free access extends to students and teachers worldwide, as it isn't restricted to any country.
What Is Canva for Education?
Canva for Education is a free offering by Canva specifically designed for K-12 (primary and secondary) teachers and their students.
This platform provides access to a wide range of educational tools and collaborative features, making it an ideal solution for both educators and learners.
Integration with Platforms
Google Classroom
Canva for Education seamlessly integrates with popular educational platforms such as Google Classroom.
This integration allows teachers to easily share their Canva-created designs, assignments, and resources with their students through the Google Classroom environment.
By connecting their Canva and Google accounts, educators can save time while enhancing their students' experience.
Microsoft Teams
Microsoft Teams is another platform with which Canva for Education can be integrated.
Teachers and lecturers can collaborate on designs and assignments in real-time, share resources, and provide feedback to their students directly within the Microsoft Teams application.
This integration streamlines communication and collaboration between students, educators, and school staff, cultivating a more efficient learning environment.
What Is The Canva Pro Plan?
Canva Pro is a versatile online design platform that offers users premium features to enhance their design projects.
Aimed at individuals and teams, Canva Pro caters to both casual and professional designers for various purposes, from creating social media graphics to presentations and marketing materials.
One of the key benefits of Canva Pro is access to an extensive library of premium templates. These templates include frames and pre-made materials that are designed by experts and make it easy for users to create eye-catching and professional designs quickly.
Furthermore, with Canva Pro, users have access to a whopping 100GB of cloud storage, allowing them to save, access, and manage their designs anywhere, anytime.
A valuable feature provided by the Canva Pro Plan is Magic Resize. This tool allows users to effortlessly resize their designs for different formats and platforms, saving both time and effort.
Alongside this, Canva Pro also offers animations that help in creating engaging and dynamic content for various audiences.
For professional teams, Canva Pro offers approval workflows and a brand kit. The approval workflows streamline collaboration and ensure consistent designs.
While the brand kit stores your branding assets such as colors, logos, and fonts, promoting a unified visual identity across all your projects.
Another notable feature included in the Pro Plan is the background remover that allows users to easily eliminate backgrounds from images, which is especially useful for creating clean, custom-made, and professional visuals for marketing and social media.
Although there is no specific Canva student discount, features like free trials and exclusive offers for education and non-profit organizations indeed make Canva an attractive choice for students and teachers alike.
The Canva Pro plan, with its extended capabilities, caters to a wider audience seeking well-rounded and efficient design solutions.
Canva Design Tools and Resources
With Canva, students can access a wide array of design tools and resources to boost their creativity and productivity.
They offer a comprehensive selection including templates, images, fonts, graphics, and more, to cater to various project needs such as documents, posters, and videos.
Canva also provides valuable collaboration features, which can greatly benefit students working on group projects or presentations.
Templates
Canva offers an extensive library of free templates that cater to various design projects, such as Canva recipe card templates for food blogs.
This allows students to jumpstart their creative process without the need for extensive design experience.
These templates are highly customizable, enabling users to adjust elements such as color schemes, font sizes, and images to suit their specific requirements.
Moreover, with Canva's discount for students, they can get 50% off on Canva Pro, providing access to an even wider range of premium templates.
Stock Photos
In addition to templates, Canva provides a vast selection of stock photos, which can be integrated into various projects to enhance their visual appeal.
Students can browse through countless high-quality images to find the perfect match for their designs. With the Canva Pro subscription, users gain access to an even larger collection of premium stock photos.
Furthermore, non-profit organizations can apply for free Canva Pro access, which also includes these additional resources.
Canva Student Discount FAQs
Does Canva Provide Student Discounts?
Yes, the only Canva student discount that is clearly given to students is through the Canva for Education program. Students can only have free access to Canva Pro if teachers who have already been verified invite them to join their Canva team or classroom accounts.
Is Canva Pro Free For Students For a Lifetime?
Yes, Canva Pro is free for students for a lifetime, as long as the students and teachers meet the eligibility criteria set by Canva. This is the only Canva student discount so far.
How Do I Use Canva Premium For Free Students?
There are several ways to use Canva Premium for free as students. One way is to sign up for Canva's Education program, which provides free access to Canva Pro for eligible students and teachers.
Another way is to use a free trial of Canva Pro, which is available for up to 30 days. Additionally, some universities and colleges may offer Canva Pro as part of their student subscription services. Note that eligibility criteria may apply for each of these Canva student discount options.
Can I Get Canva Pro For Free?
Yes, you can get Canva Pro for free by using a free trial of Canva Pro, which is available for up to 30 days. If you are a teacher or student, you can sign up for Canva's Education program, which provides free lifetime access to Canva Pro.
If you are representing a nonprofit organization, you can apply for free Canva Pro on the Canva for Nonprofits webpage.
Do note that eligibility criteria may apply for each of these Canva student discount options.
What Is The Difference Between Canva Edu And Pro?
The differences between Canva Edu (Canva Education) and Canva Pro is the eligibility criteria and application process. Canva Edu is a program designed for educational institutions and provides free access to Canva Pro for eligible students and teachers.
On the other hand, Canva Pro is a paid subscription service that provides additional features and benefits beyond the free version of Canva. Other than these, both offer the same tools, functions, and experience.
How Much Is Canva Pro After a Free Trial?
Canva Pro is a paid subscription service that offers a free trial for up to 30 days. After the free trial period ends, users are required to pay a monthly or annual fee to continue using Canva Pro.
The monthly fee for Canva Pro is US$12.95 per month, while the annual fee is US$119.40 per year, which is equivalent to US$9.95 per month. However, the Canva Pro pricing may vary depending on your location and currency.
How Much Is The Cheapest Canva Pro?
The cheapest Canva Pro subscription plan is the annual plan, which costs US$119.40 per year or US$9.95 per month. This plan provides access to all of Canva Pro's features and is billed annually based on your location and currency.
Can You Cancel Canva Pro Before Free Trial Ends?
Yes, you can cancel your Canva Pro subscription before the end of the free trial period without being charged. To do that, go to your account settings and select the "Billing & Teams" option.
From there, click on "Cancel Subscription" and follow the prompts to confirm the cancellation. Once the subscription is canceled, you will still have access to Canva Pro for the remainder of the free trial period.
If the subscription is not canceled before the end of the free trial period, you will be automatically charged for the next billing cycle, monthly or yearly.
Will I Lose My Designs If I Cancel Canva Pro?
No, you will not lose your designs if you cancel your Canva Pro subscription. The designs will still be accessible in your Canva free account, but some of the features that are exclusive to Canva Pro may no longer be available.
Also, if you have used any premium elements in your designs that were only available through Canva Pro, those premium elements may be downgraded to free elements once the subscription is canceled.
It is recommended to download any designs that have premium elements before canceling the subscription to avoid any loss of work.