Can I Use Canva Without Paying?
Are You Thinking: Can I Use Canva Without Paying?
Canva is a fantastic design tool for graphic design that allows Canva users to create social media graphics, presentations, posters, and more. But "Can I use Canva without paying?" you might wonder.
Yes — You can use Canva free for 30 days or use the Canva free version with limitations.
You've come to the right place! In this article, you'll learn everything you need to know about using Canva without paying, including Canva free trial, Canva Pro, and other aspects. How do you know this is the best, most complete guide?
I've been a graphic designer since 2005 and used Canva since 2012, and Canva is one of my absolute favorite platforms I love using to create marketing assets quickly. I've spent a lot of time on Canva, and I'm ready to share all my Canva tips and hacks with you.
Ready to discover more about using Canva without paying? Let's get started.
Can I Use Canva Without Paying?
Canva is free forever for anyone and you have free access to most of its tools and functions. However, Canva also has premium features, elements, photos, and media that you can access only if you pay for a monthly subscription of US$14.99 per month.
How To Use Canva For Free?
Here's a step-by-step how to use Canva free tutorial to begin your design journey without spending a penny:
1. Sign Up For Canva Free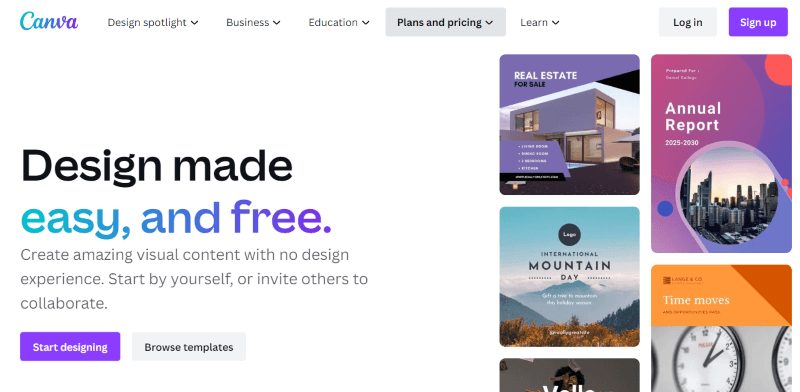 By default, once you sign up for Canva, you can use Canva for free as long as you want. You don't have to enter any credit card details to do so. You can use any of Canva features so long they are accessible.
If you come across any item with a yellow crown inside Canva, it means that you can only use it if you sign up for the Canva Pro account.
2. Keep Signing Up For Canva Pro Free Trial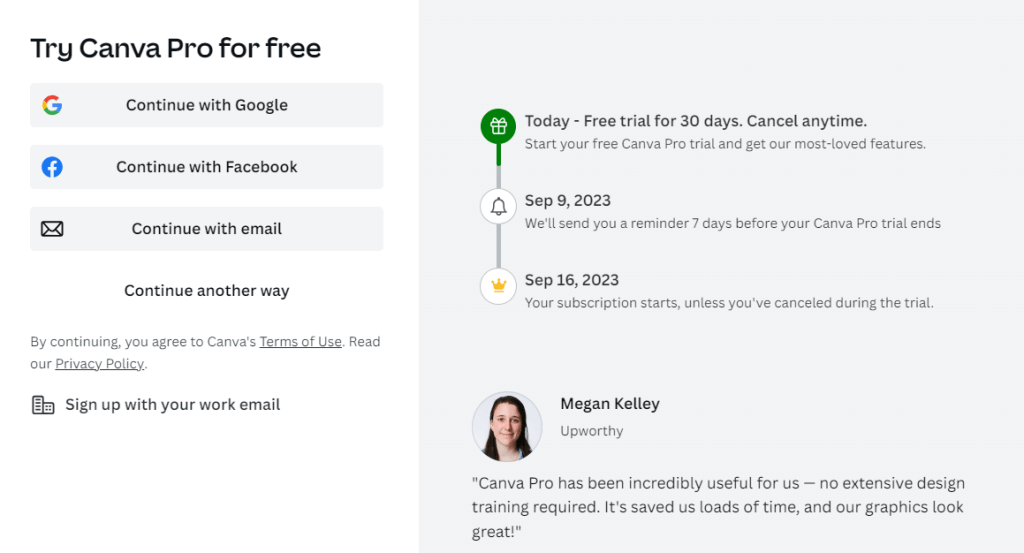 If you have been using the Canva free version and wish to use the Pro or premium features without paying, one way is to sign up for the Canva Pro free trial.
In this case, you will have to enter your credit card details into Canva's payment gateway or connect your PayPal account to Canva. You will not be charged for the first 30 days from the time you sign up.
After 30 days if you were to continue the subscription, you will be charged monthly or yearly depending on the billing you've selected. If you don't wish to be billed, here's what you can do which I've tried before.
Before the 30 days expiry date, cancel your Canva Pro account. You will not lose your access to the premium features. You can still use the until the end of the 30 days.
When the expiry date is nearing, Canva will invite you to sign up for the Canva Pro free trial again. In this way, you don't have to pay but get another 30 months of free access to premium features.
3. Sign Up For Canva For Education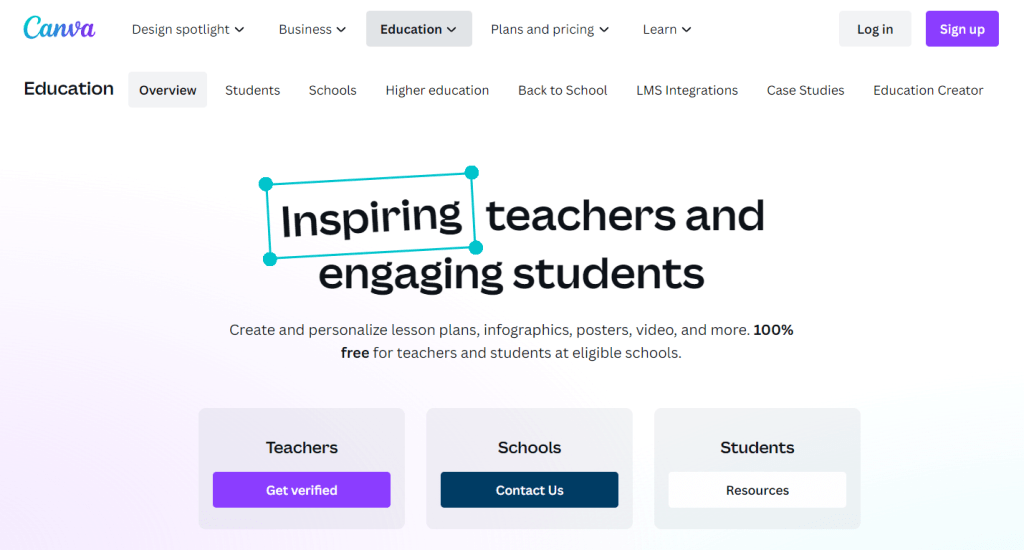 If you qualify for Canva For Education, you have access to all of Canva's premium features for free. Although you can be from any country, there are eligibility guidelines you will have to adhere to before you can qualify.
First, head over to the Canva For Education Eligibility Guidelines to check if you can qualify. If you do, the next thing is to go to the verify webpage to sign up for it with your email address.
Can I Use Canva Without Paying?
What You Get In The Free Version of Canva
Canva does offer a free version that comes with various features. Here's what you can do without paying:
Access Basic Canva Templates: Choose from a selection of free templates for various projects.
Utilize Basic Editing Tools: Customize fonts, colors, design elements, and more.
Collaborate with Team Members: Share your Canva designs and collaborate with others on social media.
Canva Print: Print your designs directly from Canva's website.
Can I Use Canva Without Paying?
What You Don't Get In the Canva Free Version
The Canva free version has limitations, such as restricted access to Canva premium elements, limited Canva library storage, and access to fewer stock photos.
Let's explore more of the limitations that you might experience with the Canva Free Version. Understanding these can guide you in deciding whether Canva Free meets your requirements or if you should consider upgrading to a Canva Pro account.
Restricted Access to Premium Templates and Pro Elements
Canva's free version offers a variety of templates, but access to Canva premium templates is restricted. Many stunning designs and pro elements are behind a paywall.
Limited Choice of Canva Templates: Basic templates are available, but some specific and industry-focused templates require a Canva Pro subscription.
Lack of Pro Elements: Design elements that add professional flair may be unavailable, limiting your creativity.
Limited Stock Photos and Images
The choice of visual content is essential for creating engaging designs. Here's what you should know:
Stock Photos: Free access to stock photos is limited. You may find watermarked stock images or pay extra for specific images.
Canva Images: Some exclusive Canva images, which may perfectly suit your project, are available only to Canva Pro subscribers.
No Access to Canva Pro Features
Some exclusive features that enhance efficiency and creativity are reserved for Canva Pro users:
Brand Kit: This helps to maintain a consistent brand appearance, but Canva Free users can't utilize this feature.
Animation Tools: Some advanced animation tools are unavailable, restricting dynamic content creation.
Commercial Usage Rights: For commercial purposes like selling Canva templates, you might need a Canva Pro account.
Limited Collaboration and Sharing Features
Collaboration and social media sharing might be a bit constrained:
Team Collaboration: Canva Free offers basic collaboration tools, but real-time collaboration and advanced team functionalities are lacking.
Social Media Integration: You might find limited social media graphics publishing options.
Limited Storage and Download Options
Storage and downloads in Canva Free are functional but come with caveats:
Storage Space: You'll have limited cloud storage for your designs and digital products.
Download Options: Restricted digital download formats might limit how you share your designs.
Canva Print: Though you can print designs, some advanced printables options might be missing.
Restricted Customer Support
Customer support for free users might be limited compared to the support Canva Pro users receive. I've tried to ask for help as a free user and Canva Pro user.
So far, the response I got as a free user took approximately three days, while as a Canva Pro user, I managed to get a response within 24 hours.
If you refer to their pricing page, you will see that both plans under Canva Pro and Canva For Teams include 24/7 customer support.
Can I Use Canva Without Paying?
Why Should You Upgrade to Canva Pro?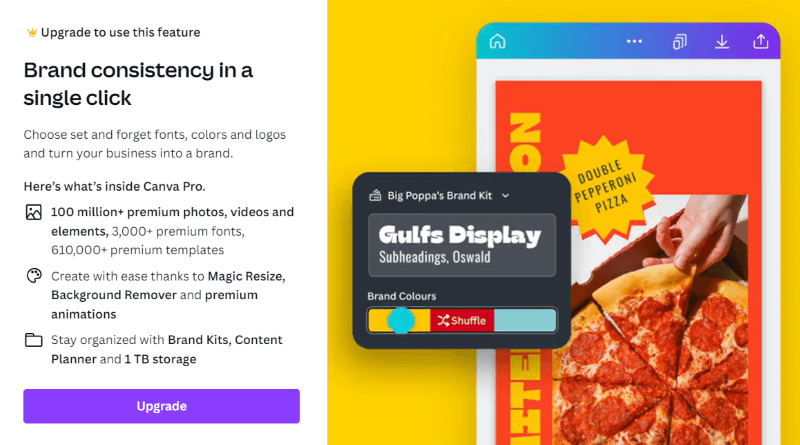 Benefits of Canva Pro Subscription
If you decide to invest in a Canva Pro account, you'll unlock additional features. I would say when it comes to Canva free vs Canva Pro, Canva Pro wins hands down. Here's why:
Access to Canva Premium Templates and Elements: Use exclusive templates and elements.
Unlimited Storage: Store as many Canva designs as you need.
Canva Pro Pricing: Canva Pro comes with different pricing plans, tailored to suit various needs.
Brand Kit Integration: Easily access your brand's digital products, including logos and colors.
Selling Canva Templates: If you are a Canva Pro subscriber, you can sell Canva templates on Creative Market and other platforms, adding a commercial purpose to your graphic designs.
Can I Use Canva Without Paying?
Best Ways In Using Canva Free Account
Making the Most Out of the Canva Free Version
Here are strategies to make the most out of Canva's free version:
Utilize Free Canva Content: Search for free graphic elements within Canva's library.
Mobile App: Use Canva on the go with their mobile app.
Digital Download: Save your beautiful designs, visual content and printables for print or digital use.
Final Thoughts: Use Canva Without Paying
Canva is a versatile tool offering both Canva free account and Canva Pro account options. Whether you're a professional graphic designer or a beginner Canva user, you can create beautiful designs and stunning visual content with Canva.
With options ranging from free version to Canva Pro pricing, everyone can find the right fit for their design needs. Explore Canva alternatives, take advantage of Canva images, and make your mark in the creative fabrica!
Your creative journey starts now. How will you make the most out of Canva's free version or Canva Pro subscriber benefits? The world of design awaits!
Can I Use Canva Without Paying?
Use Canva Without Paying: FAQs
How Do I Save My Canva Design Without Paying?
Saving your design in Canva without paying is straightforward and can be done through the Canva Free account. Here's how:
Create or Edit Your Design: Use Canva's free templates, stock photos, and design tools to create or edit your design.
Click the Download Button: Once you're happy with your design, click the "Download" button at the top right corner of the screen.
Choose a Format: Select the format you want (e.g., JPEG, PNG), depending on your requirements.
Download Your Design: Click "Download" again, and your design will be saved to your computer or device.
While you have access to basic formats and design options, some premium download options might be restricted in the free version.
Can I Use Canva Without Paying?
What Is The Key Downside Of Using Free Canva?
The key downside of using free Canva is the restricted access to premium content and features. While you have access to many templates, design elements, and stock photos, the free version limits you to:
Limited Access to Premium Templates: Many stunning designs and pro elements are behind the paywall of the Canva Pro account.
Fewer Collaboration Tools: Advanced collaboration features are exclusive to Canva Pro, limiting team functionalities.
Limited Commercial Usage Rights: For commercial purposes or selling Canva templates, you might need a Canva Pro subscription.
These limitations might impact your ability to create more complex or professional-looking designs if that's what your project requires.
Can I Use Canva Without Paying?
The difference between Paid (Canva Pro) and Free on Canva primarily revolves around the access to tools, content, and features:
Access to Content: Canva Pro offers access to a broader range of premium templates, pro elements, stock images, and fonts, whereas the free version offers basic and limited content.
Collaboration Tools: Canva Pro enables advanced collaboration, like real-time editing and team management, while these features are limited in the free version.
Brand Kit and Branding Tools: With Canva Pro, you can maintain consistent branding using the Brand Kit feature, which is not available in the free version.
Download and Print Options: Canva Pro provides more formats for downloading your designs and advanced options for printing, while the free version is more restricted.
Commercial Usage Rights: Canva Pro offers extended commercial usage rights, allowing you to use your designs for commercial purposes, while this might be restricted in the free version.
Can I Use Canva Without Paying?
How Do I Get Canva Pro For Free Forever?
The best way to get Canva Pro for free forever is to verify you are a K-12 teacher. The other way is to sign up for Canva Pro free trial, cancel it before 30 days and re-sign up to the Canva Pro free trial again.
It's essential to note that Canva Pro is a paid service, and obtaining it for free indefinitely would violate Canva's terms of service. However, Canva does offer legitimate ways to experience Canva Pro features:
Free Trial: Canva often offers a free trial for Canva Pro, usually lasting around 30 days. You can sign up for the trial to enjoy all the benefits temporarily.
Educational Program: If you're a student or educator, you may be eligible for Canva Education Program, providing some Pro features for free.
Always adhere to the legal and ethical routes to access Canva Pro features and remember that attempts to obtain Canva Pro for free indefinitely might lead to account suspension.
Can I Use Canva Without Paying?
Why Can't I Download My Canva Design For Free?
If you're experiencing difficulty downloading your Canva design for free, several factors might be responsible:
Using Pro Elements: Your design may include Canva Pro elements or premium stock images that require a payment. You can replace them with free elements or pay for those specific parts.
Technical Issues: Sometimes, browser-related problems or temporary glitches on the Canva website or mobile app might hinder downloading. Clearing your cache or restarting the application may resolve this.
Download Restrictions: Ensure you're abiding by Canva's terms and conditions, especially related to commercial usage rights, as some restrictions might apply to your ability to download the design.
Can I Use Canva Without Paying?
How Do I Use Canva Paid Templates For Free?
Utilizing Canva's paid templates for free would be against Canva's terms of service. The paid templates are part of the Canva Pro subscription or can be purchased individually, and they are created to provide additional value to Canva's paying customers.
However, you can do the following:
Explore Free Alternatives: Canva offers a vast collection of free templates. Many are similar in style to paid options, and you can customize them according to your needs.
Use Canva Pro Trial: If you want to try out the paid templates, you might opt for a Canva Pro free trial if it's available.
Remember, it's essential to respect the work of the graphic designers and the platform's rules by adhering to the legal options available to you.
Can I Use Canva Without Paying?
Is It Legal To Sell Canva Designs On Etsy?
Is it legal or not to sell Canva designs on Etsy or other platforms depends on the specific elements used in the design and how they are being used.
Free Elements: If the design consists of only free elements provided by Canva, selling them directly may violate Canva's terms of use, as these are typically for personal use.
Canva Pro Subscription: With a Canva Pro account, you may have access to more commercial licenses for various elements, but it's vital to read the licensing terms carefully.
Original Content: If the design is a unique creation, combining original work with Canva's elements according to their licenses, selling it on Etsy may be permissible.
Always consult Canva's licensing agreements and terms of service, as well as Etsy's rules, to ensure you are complying with all legal requirements.
Can I Use Canva Without Paying?
Can I Use Images From Canva To Sell?
Using images from Canva to sell products or as part of a design you're selling depends on the type of license attached to the image:
Free Images: Canva's free images are generally licensed for personal use or limited commercial use. Selling them directly may not be allowed.
Pro Images: Canva Pro images may come with a broader commercial license, allowing them to be used in designs for sale, but limitations may still apply.
One-Time Licensing: Canva may offer specific images with a one-time commercial license that you can purchase, allowing you to use them in designs you sell.
Always check the specific licensing terms for each image and consult with legal advice if needed.
Can I Use Canva Without Paying?
Can I Use Canva To Design T-shirts To Sell?
Using Canva to design T-shirts for sale is possible but comes with important considerations:
Licensing Terms: The elements used in the T-shirt design must comply with the appropriate licensing. If you're using free elements, make sure they are allowed for commercial purposes. Pro elements may have more flexible commercial licensing.
Originality: To sell designs confidently, ensure that your T-shirt's design is original and doesn't infringe on others' intellectual property rights. Combining Canva's elements with your unique creative input helps with this.
Canva Pro Subscription: Investing in a Canva Pro subscription might give you access to elements with broader commercial usage rights, but always check the specific terms.
Can I Use Canva Without Paying?
Can I Use Canva To Sell Shirts On Etsy?
Yes — you can use Canva to design shirts that you intend to sell on Etsy, but you must follow specific guidelines:
Original Content: Ensure that your designs are original and do not directly replicate Canva's templates or others' intellectual property.
Licensing Terms: Review the licensing terms of any Canva elements (like images or graphics) used in the design. If you have a Canva Pro subscription, you may have more flexibility with commercial use, but limitations might still apply.
Compliance with Etsy's Rules: Ensure that your use of Canva's design aligns with Etsy's policies and guidelines.
Can I Use Canva Without Paying?
Is Everything On Canva Copyright Free?
No — not everything on Canva is copyright free. Canva provides various images, graphics, templates, and other design elements, each with its licensing terms:
Free Content: Some content on Canva may be free to use, but that doesn't mean it's free from copyright. It may still have limitations on how it can be used, especially for commercial purposes.
Canva Pro Content: Canva Pro offers more access to premium content, but these elements are still subject to licensing agreements and copyright laws.
One-Time Licensing: Some images or elements might be available for one-time purchase, allowing broader usage rights.
Can I Use Canva Without Paying?
What You Can And Cannot Sell On Canva?
When it comes to selling designs created with Canva, understanding the distinctions between what you can and cannot sell is crucial:
What You Can Sell:
Original Designs: Combining your unique creativity with Canva's elements, respecting licensing terms, allows for commercial use.
Designs with Proper Licensing: If you use Canva Pro elements or purchase specific licenses that allow for commercial usage, you can sell those designs.
What You Cannot Sell:
Direct Reselling of Templates: You cannot directly resell Canva's templates or elements as they are.
Violations of Licensing Terms: If you use elements without respecting their licensing agreements (like using free elements in commercial designs), you cannot sell those designs.
Can I Use Canva Without Paying?
How Long Can You Use Canva For Free?
You can use Canva's free version indefinitely. Canva offers a free version that provides access to a wide range of templates, images, and design tools.
While some features and content are restricted to Canva Pro users, the free version does not have a time limit, and you can continue using it for as long as you wish.
It's an excellent option for individuals looking for basic design functionalities without the need for premium features.
Can I Use Canva Without Paying?
Can You Buy Canva For Lifetime?
No — You can't buy Canva for lifetime. Canva typically offers subscription plans on a monthly or yearly basis rather than a lifetime purchase option. These subscription plans include Canva Pro and Canva Enterprise, each providing different levels of access to premium tools, content, and support.
These subscription plans include Canva Pro and Canva Enterprise, each providing different levels of access to premium tools, content, and support.
Can I Use Canva Without Paying?
How Do I Unlock Canva Design?
Unlocking a Canva design can mean different things depending on the context:
Accessing Pro Elements: If you're looking to use a design that contains Canva Pro elements, you can unlock them by subscribing to Canva Pro or purchasing the specific elements individually.
Opening a Shared Design: If someone has shared a design with you and you cannot access it, ensure that you have the appropriate permissions. Sometimes, you might need to request edit access from the owner.
Dealing with Technical Issues: If you're facing issues opening or editing a design, it might be a technical problem. Clearing your browser's cache, updating the app, or contacting Canva support might resolve the issue.