How Many Users Does Canva Have?
Wondering How Many Users Does Canva Have?
You've come to the right place! In this article, you'll learn everything you need to know about Canva's user base. How do you know this is the best, most complete guide?
I've been a graphic designer since 2005 and used Canva since 2012, and Canva is one of my absolute favorite platforms I love using to create marketing assets quickly. I've spent a lot of time on Canva, and I'm ready to share all my Canva insights with you.
As of March 2023, Canva shared that they have at least 125 million monthly users and published more than 15 billion designs.
Canva was founded in 2012 and has been growing by leaps and bounds over the years. Ready to dive deeper into Canva's user growth? Let's get started!
Canva's Growth Over the Years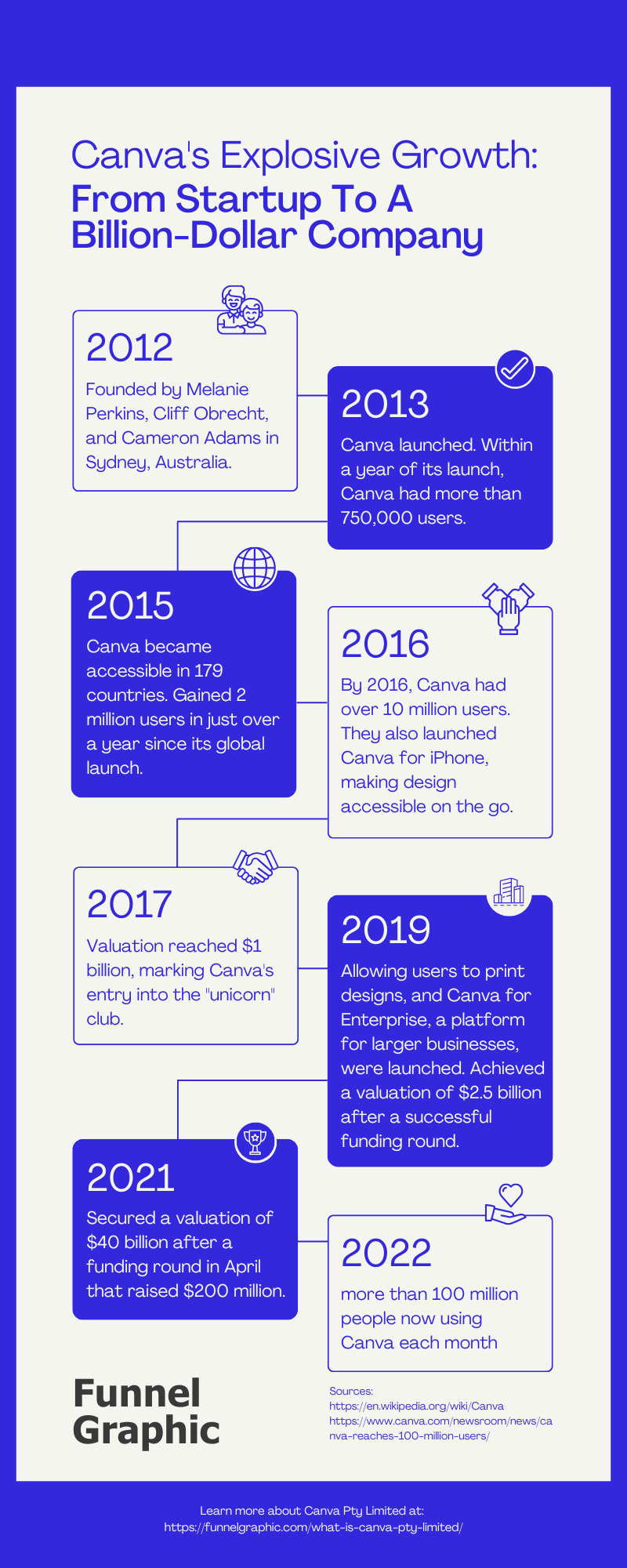 Canva's rise as a leading graphic design tool has been nothing short of remarkable. Its user-friendly interface, rich feature set, and design elements have made it a favorite among users. Melanie Perkins, one of the co-founders, has played an instrumental role in this growth.
Major Milestones
Launched in 2012
Reached 15 million users by 2017
Surpassed 50 million users in 2019
Expanded to offer Canva Pro and Canva Enterprise
Introduced Canva Docs and Canva Presentation
Canva revenue stands at $1.6 billion annually
How Many Users Does Canva Have 2023
Canva has over 125 million monthly active users worldwide, including both free version users and Canva Pro subscribers. Out of these numbers, 500000 users are Canva paid users.
There are 6 million team accounts and more than 400,000 nonprofit organizations using Canva.
If you are wondering how many employees does Canva have, Canva maintains 2000 employees. (Source: GetLatka)
Canva Users By Country
Canva's users are spread across over 190 countries, including New Zealand, with a significant presence in the United States, Australia, United Kingdom, and other European countries.
The Impact of Canva's Features on User Adoption
Free vs. Canva Pro
Canva offers both free and Canva Pro subscriptions. Premium features in Canva Pro, such as brand kit and visual worksuite, have attracted professional graphic designers, while the free tier's accessibility has helped millions of casual users.
Canva Teams and Collaboration
Canva's teams and collaboration tools foster a sense of community, allowing businesses to create social media graphics, business cards, and more using Canva templates.
Canva's Role in Education and Businesses
Educational Institutions and Higher Education
Many schools, universities, and higher education institutions use Canva to create visual content for classroom activities. Canva is 100% free for teachers and students who are verified with Canva For Education.
Small to Medium Enterprises
Businesses utilize Canva for creating marketing materials, social media posts, and Canva print services. The Canva design tool, complete with stock photos and stock images, is particularly popular among small to medium enterprises.
Future Projections for Canva
Growth Trends and Canva Revenue
Canva's user base and revenue are expected to grow, especially in emerging markets. Its business model focuses on expanding the feature set, attracting more users to both the free version and Canva Pro.
Canva's Valuation and Employees
With the help of co-founders like Cameron Adam, Canva's valuation has skyrocketed. They currently employ thousands of creative minds who continue to innovate new graphic elements and templates.
Canva's Competitors and the Design Industry
Adobe Express and Creative Cloud
While Canva has made a significant impact in the visual communication space, it competes with tools like Adobe Express and Creative Cloud, offering unique graphics and content creation capabilities.
Fast Company and Magic Write
Canva's recognition by Fast Company showcases its influence in the industry. Tools like Magic Write have been integral in solidifying Canva's position as a go-to design tool.
Final Thoughts: Canva Users
Canva's impressive growth in the design tool industry is a testament to its effective visual communication tools and attention to user needs. With over 60 million active Canva users, its offerings like Canva Pro, Canva Teams, and Canva Enterprise have revolutionized the way individuals and businesses approach design, content, and social media graphics.
Whether you're a seasoned graphic designer or just starting, Canva provides the tools, templates, and features to unleash your creativity, from creating social media posts to designing business cards. Its valuation and revenue reflect its success, and the platform is poised for continued growth and innovation in the coming years.
Canva Users: Frequently Asked Questions
What Is Market Size Of Canva?
The market size of Canva is substantial and continues to grow. With over 60 million monthly active users spread across more than 190 countries, Canva has positioned itself as a leading platform in the graphic design space.
The valuation of the company has reached billions of dollars, reflecting its strong presence in the industry. This extensive reach, combined with offerings like Canva Pro, Canva Enterprise, and various design elements, shows Canva's significant influence on both individual users and businesses alike.
Is Canva Still Popular?
Yes — Canva's popularity is not only sustained but continues to thrive. The platform's user-friendly interface, diverse range of features like Canva Print, Canva Presentation, and Canva Templates, and accessibility for both free and Canva Pro users contribute to its widespread appeal.
Canva's regular updates, integration of new tools, and continuous focus on user experience have kept it at the forefront of graphic design, content creation, and visual communication.
Is Canva A Big Company?
Yes — Canva is indeed considered a big company in the technology and design sectors. Since its inception in 2012, Canva has expanded rapidly, growing its user base and revenue.
With offices in different parts of the world and thousands of Canva employees, the company is a major player in the graphic design industry.
Co-founded by Melanie Perkins, Cameron Adams, and others, Canva's growth is reflective of its commitment to innovation, creative cloud offerings, and understanding the needs of graphic designers, businesses, and educational institutions.
Its valuation, substantial revenue, and robust business model further cement its status as a major entity in the global market.
What Is More Professional Than Canva?
While Canva is known for its user-friendly interface and extensive library of templates, some professionals might opt for more advanced design tools depending on their specific needs.
Adobe Creative Cloud suite, including applications like Adobe Illustrator and Adobe Photoshop, is often considered more suitable for professional graphic designers. These tools offer more sophisticated design elements, control, and customization capabilities.
However, the choice between Canva and other professional tools will largely depend on the project requirements, budget, and personal preference.
Do People Really Make Money From Canva?
Yes — People can indeed make money from Canva. Graphic designers and artists can create and sell their templates and designs on Canva's marketplace, earning a commission for each sale.
Additionally, Canva's easy-to-use tools enable entrepreneurs and businesses to create visual content, social media graphics, and marketing materials that can enhance their brand and potentially increase sales.
Freelancers may also utilize Canva to provide design services to clients, using the platform's diverse features and Canva Pro functionalities to generate income.
Is Canva Better Than Microsoft?
Comparing Canva to Microsoft is akin to comparing apples to oranges, as they offer different tools and serve distinct purposes. Canva is primarily a graphic design platform, specializing in visual content creation, templates, and social media graphics.
On the other hand, Microsoft offers a broad suite of productivity tools, such as Microsoft Word, Excel, and PowerPoint, focusing more on document creation, data management, and presentation.
If the comparison is between Canva and Microsoft's design-related tools like PowerPoint, it again depends on specific needs and preferences. C
anva may offer a more intuitive interface for creating visually appealing presentations with its extensive template library, while PowerPoint might provide more complex functionalities for business presentations.
Both platforms have their unique strengths, and the choice between them will depend on the project's requirements, personal preferences, and desired features.