Can I Use My Own Fonts On Canva?
Are You Thinking: Can I Use My Own Fonts On Canva?
Yes — You can use your own fonts on Canva. This is similar to adding fonts to Adobe Illustrator. Although Canva is not open source, if you can't find the font you want in Canva's huge font library, you can upload your own custom font to use in Canva.
In this article, you'll learn everything you need to know about using your own fonts on Canva, including the ability to upload fonts, integrate with brand kit, and more. How do you know this is the best, most complete guide?
I've been a graphic designer since 2005, and Canva is one of my absolute favorite platforms I love using it to create marketing assets quickly. I've spent a lot of time on Canva, and I'm ready to share all my Canva tips and hacks with you, including how you can use your desired font.
Canva already has 3000+ fonts including 1100+ Monotype curated fonts in the Canva library. But if you want something different, nothing should stop you. Ready to learn more about using your own fonts on Canva? Let's get started.
Can I Use My Own Fonts on Canva?
Yes — Canva allows you to use your own fonts, so you can upload your font that fits your specific design needs. However, you will have to sign up for the Canva Pro Free Trial or Canva Pro plan to be able to upload your own fonts.
From social media posts to professional presentations, the ability to use your own fonts extends to all corners of the Canva design space.
Imagine customizing your designs with premium fonts from creative marketplaces or using brand fonts consistently across all your marketing materials. The possibilities are vast and include:
Branding: Keeping brand fonts consistent across various channels.
Creativity: Experimenting with different fonts, including downloaded fonts from various sources like Adobe Fonts or Creative Fabrica.
Uniqueness: Using specific fonts that are exclusive to your brand or project.
Can I Use My Own Fonts On Canva?
What You Need To Use Your Own Fonts On Canva
The ability to use your own fonts on Canva is an incredible feature that opens up a world of creativity, be it to design an engaging presentation deck or an attractive LinkedIn banner.
However, to utilize this feature, you need to have a few essential things in place. Here's the complete guide to everything you need to know:
Canva Subscription Type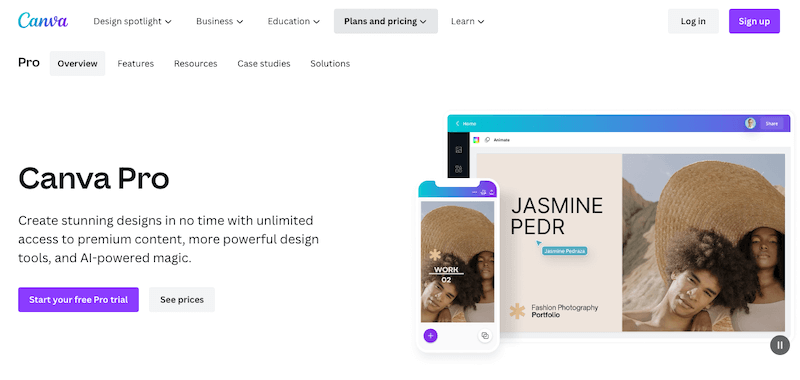 The type of subscription you have with Canva determines whether or not you can use your own fonts:
Free Canva Account: Unfortunately, you won't be able to upload your desired font with a free Canva account.
Canva Pro Account: This premium subscription allows you to upload your own fonts. A Canva Pro account unlocks access to brand kits, premium fonts, and much more.
Canva Enterprise Account: Larger businesses can take advantage of the Canva Enterprise package, which offers all the benefits of Canva Pro, along with additional tools and support.
Font File Formats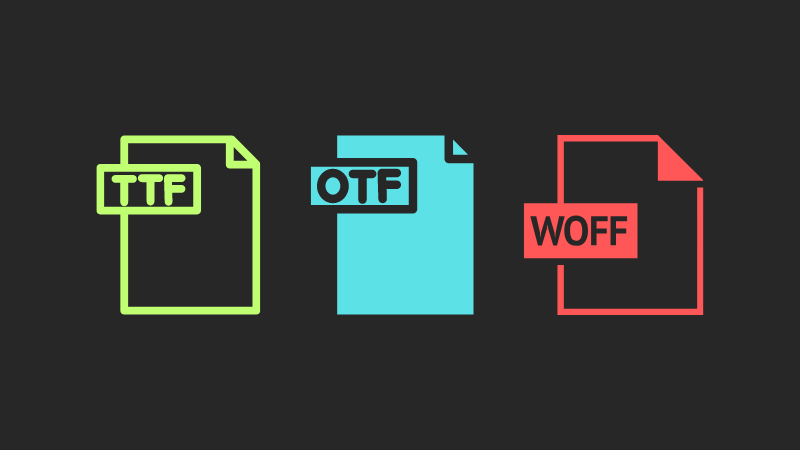 When uploading fonts to Canva, the fonts must be in specific file formats:
.ttf (TrueType Font): A widely supported font file format.
.otf (OpenType Font): Another common and versatile font file type.
.woff Format (Web Open Font Format): Ideal for web fonts and also supported on Canva.
Licensing and Legal Considerations
You must have the legal right to use the font. This means:
Commercial Use License: If you plan to use the font for commercial purposes, ensure you have a proper license.
Personal Use License: For non-commercial projects, a personal use license may suffice.
Brand Kit Integration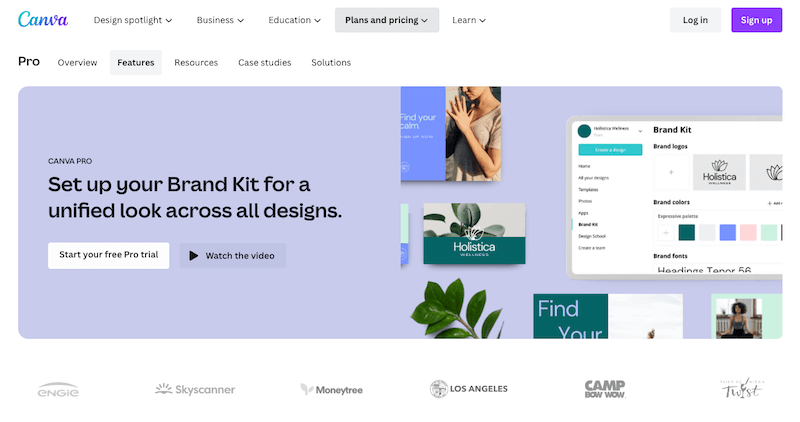 If you have a brand kit within Canva, you can integrate your own fonts with it. This involves:
Adding Fonts to the Brand Kit: You can upload your brand font, ensuring consistency across your designs.
Managing and Organizing Fonts: Your brand kit is a hub for all your brand-related assets, including fonts, allowing for efficient organization and access.
Technical Requirements and Considerations
To upload fonts to Canva, you'll need:
A Stable Internet Connection: For smooth uploading and accessing your uploaded fonts, especially since Canva requires the internet to work to its fullest.
Compatibility with Canva Design Space: Ensure the fonts are compatible with the design tools and templates you intend to use within Canva.
Can I Use My Own Fonts On Canva?
How To Upload Fonts To Canva
Before you start learning how to add fonts to Canva, make sure you have a Canva Pro, Canva For Teams, or Canva Enterprise account. The ability to upload fonts is not available with a free Canva account. If you are serious about using your own fonts, consider upgrading to a Canva Pro subscription, which will unlock this feature.
Uploading your own fonts to Canva is a feature that empowers you to express your creativity in a unique way. If you've ever wondered how to utilize this exciting feature, here's a step-by-step guide on how to add fonts to Canva:
1. Access Your Canva Brand Kit
Your Canva brand kit is the place where you can manage your uploaded fonts and font files, brand fonts, and Google fonts. Here's how to access it:
Log in to your Canva account, on the left-hand panel, select the Brand option.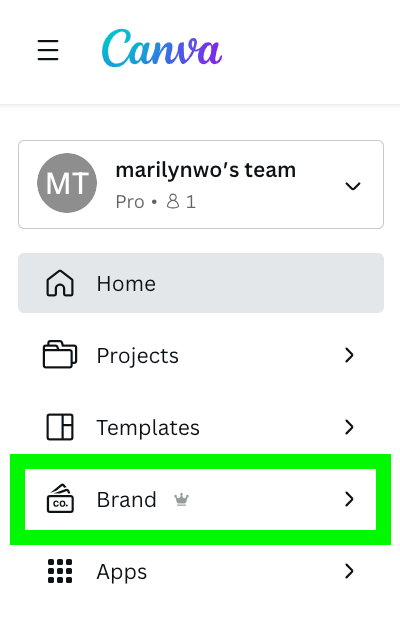 On the right-hand side, select Brand Kit.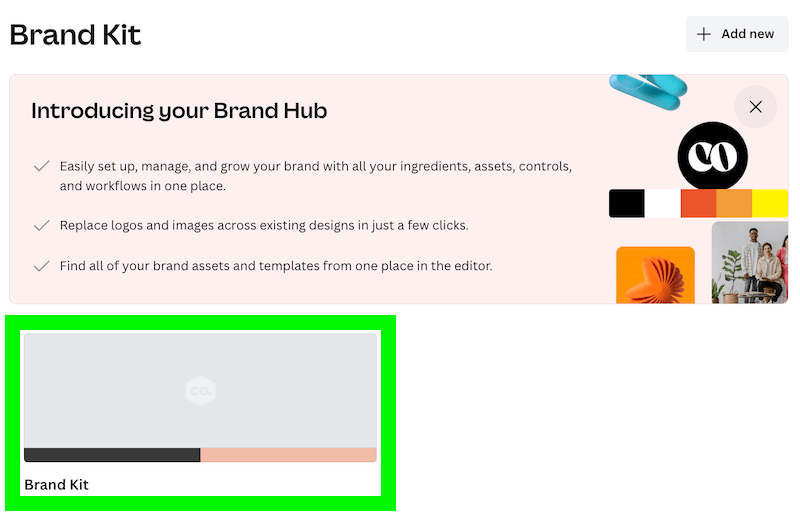 2. Upload Your Font Files
The process of uploading your desired font to Canva is quite straightforward:
Scroll down to the Fonts section: Click on the + Add New button. Then select the Upload A Font option in the drop-down menu.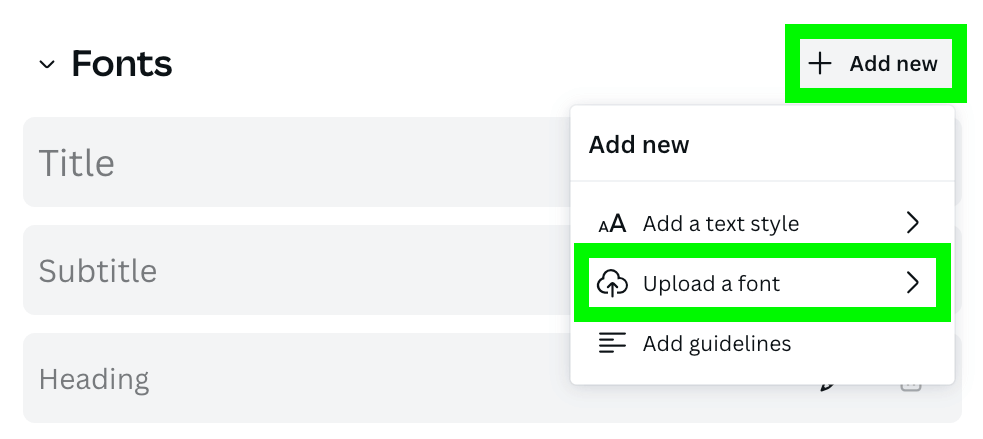 Select the Font File from Your Device: You can browse and choose the specific font file you'd like to upload. Canva accepts .ttf, .otf, and .woff format.

Agree to License Terms: Ensure that you have the rights to the uploaded fonts, especially if it's from a creative market like Envato Elements or Creative Fabrica. Then, follow the prompts to complete the upload.

3. Using Your Uploaded Fonts in Your Designs
Once you've uploaded your fonts, using them is as simple as selecting them within the text box of your design:
Create or Open a Design: Start a new design or open an existing one.
Select a Text Box: Click on any text box within your design.
Choose Your Uploaded Font from the Font Dropdown: You'll find your uploaded font in the font selection menu.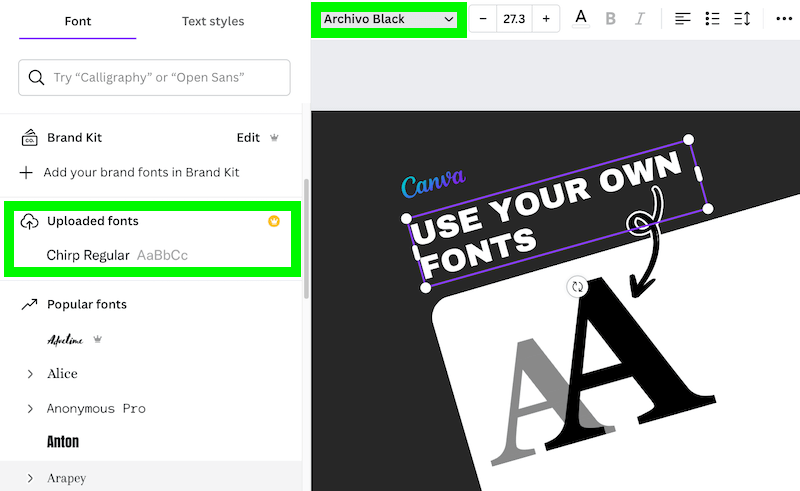 Design as You Wish: Utilize your new font just like any other, integrating effective typography into your designs.
Can I Use My Own Fonts On Canva?
Why Use Custom Fonts in Canva?
Custom fonts, including Cricut fonts, allow you to:
Maintain Brand Consistency: Using your brand font across Canva designs.
Stand Out in Social Media: Utilizing different fonts to highlight your brand on social media platforms.
Express Creativity in Your Design Space: Using new fonts and creative market fonts like those found in Adobe Illustrator.
Final Thoughts: Using Custom Fonts in Canva
Whether it's a specific font from Adobe Fonts, a free font from Google Fonts, or a unique brand font from your Canva brand kit, using your own fonts on Canva opens a world of design possibilities. With your Canva account, Canva app, or even Canva mobile, the process of uploading fonts and using your new font is streamlined.
Using Custom Fonts in Canva: FAQs
Can I Use My Own Fonts on Canva Enterprise?
Yes, with a Canva Pro or Canva Enterprise account, you can upload fonts, including brand fonts, premium fonts, and Cricut Design Space fonts.
How Do I Download OTF or Install Font in Canva?
Using a Canva Pro subscription, you can download font files and install font types that match your brand.
What Fonts In Canva Can I Use Commercially?
In Canva, there are many fonts available for commercial use. If you're using the free version of Canva, you can use any of the free fonts, but if you want to be 100% sure, do check the license of each font to ensure it is available for commercial use.
With a Canva Pro account, you have access to 3000+ various premium fonts including 1100+ curated fonts from Monotype. Best of all, you can use these fonts commercially without any worries. Always review the licensing terms and conditions to make sure you are in compliance.
Can You Upload A Font To Canva From Mobile?
Yes — You can upload a font to Canva from a mobile device, provided you are using the Canva mobile app and have a Canva Pro, or Canva For Teams, or Canva Enterprise account. The process is similar to the desktop version but may vary slightly based on your device and app version.
How To Add Fonts To Canva?
Importing a font into Canva involves a few simple steps:
Make sure you have a Canva Pro, or Canva For Teams or Canva Enterprise account.
Access your brand kit.
Click on Upload a Font.
Select and confirm the font file.
Your imported font will now be available in your text box options within your designs.
Is It Legal To Upload Fonts To Canva?
Yes — It is legal to upload fonts to Canva as long as you have the proper rights or licenses to use those fonts, particularly if they are for commercial use. Always check the licensing details of a font before uploading it.
Is Everything On Canva Copyright Free?
No — Not everything on Canva is copyright free. Some elements may require a license or fall under certain restrictions, especially for commercial use. It's essential to review the licensing for each asset you use, whether it's a free font, premium fonts, or other design elements.
Do You Need License For Canva Fonts?
Most fonts available within Canva can be used without an additional license. However, if you're using a specific or custom font outside of Canva's library, ensure that you have the necessary rights or license, especially for commercial use.
Are Canva Free Fonts Free Or Commercial Use?
Canva's free fonts are generally free for both personal and commercial use, but it's advisable to review the specific licensing for each font, especially if you intend to use them in a commercial capacity.
Can I Use Canva Pro Elements To Sell On Etsy?
Yes — With a Canva Pro account, you can use Canva's Pro elements for commercial purposes, including selling on platforms like Etsy. However, make sure to review the specific licensing and restrictions for the elements you are using.
What Is The Most Professional Font In Canva?
The most professional font in Canva is the Canva font. It is a sans serif font, modern and clean. That said, Canva offers a wide variety of professional fonts suitable for different design needs.
Fonts like Helvetica, Arial, or Roboto are often considered professional and versatile. Your choice may depend on your specific design and branding requirements.