3 Easy Steps To Cancel Canva Anytime
In this article, you'll learn everything you need to know about canceling your Canva subscription.
Can I Cancel Canva Anytime?
If you are currently on a Canva Pro account, you can cancel Canva anytime and still use the premium features until the end of your subscription month.
But if you are on the Canva free version, you can't cancel it. You can either upgrade to Canva Pro or delete your account.
If you are on the Canva Pro free trial, you can cancel the free trial anytime before the Canva free trial expires and your pro plan will change to the free version after 30 days of the pro plan.
If you are wondering how to delete Canva account, you can do that in just two steps without going through this guide to cancel Canva Pro.
What Happens After You Cancel Your Canva Subscription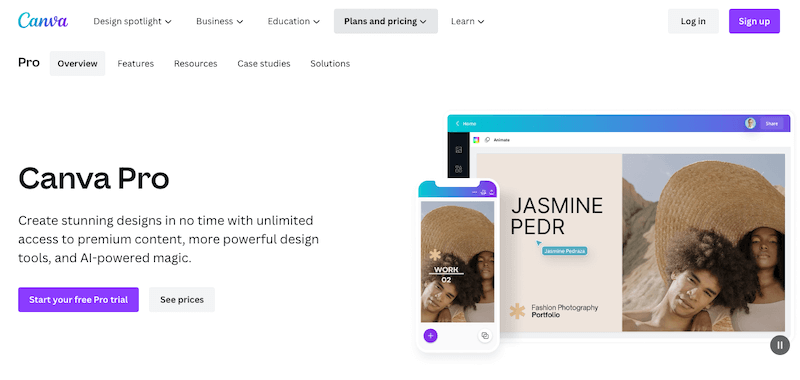 You've just decided to cancel your Canva subscription, but what happens next? What about the designs you've been working on or the premium features you've grown accustomed to using?
In this section, you'll learn everything you need to know about what happens after you cancel your Canva subscription.
From access to Pro features to the impact on your existing designs, I'll guide you through the changes you'll encounter so there are no surprises.
Immediate Effects
Access to Premium Features: Once you cancel your Canva subscription, you still can access Canva Pro premium features. Your account reverts to a free plan only after your subscription ends at the end of the subscription month.
Billing Cycle: You'll not be charged for the next billing cycle. Payments made for the current cycle are typically non-refundable.
Existing Designs: You can still access and edit your existing designs, and you can still use the premium assets until after the end of your subscription date.
Long-Term Implications
Data Retention: Your designs and uploads remain on Canva, and you can access them anytime with a free account.
Reactivation Possibility: If you decide to reactivate your subscription later, you can easily do so through your account settings.
Individual Projects
Editing Restrictions: If you cancel a specific project, you might lose the changes made after the last save. Make sure to save your work regularly.
Collaboration Implications: If the project was shared with others, they may lose access or editing abilities, depending on the settings.
Team Projects
Team Access: Canceling a team project might affect the entire team's access to that specific project. It's essential to communicate with team members before making such a decision.
Content and Design Elements: Any content, images, and design elements used in the project may still be available in your Canva library, but the specific project configuration could be lost.
Integrations and Compatibility
How to Cancel Canva Subscription?
Maybe you've tried Canva, and it's not the right fit for you, or perhaps you want to explore other design platforms. That's perfectly okay! Deciding to cancel a subscription is a personal choice.
So, wondering how to cancel Canva account? This guide is here to make that process as smooth as possible for you.
1. Log into Your Account
The first step is to log into your Canva account. Then, in the Canva dashboard, select the Account Settings button with the gear icon on the top right-hand corner.
2. Billing & Plans
Next, on the left-hand side panel, scroll down and select the Billing & Plans option.
Then on the right-hand side, scroll to the Subscriptions For Your Team section.
Next, in the Subscriptions For Your Team section, click on the three dots and select Cancel Subscription in the pop-up menu.
3. Cancel Canva Subscription
Next, a pop-up will appear to remind you of what you will miss out on if you cancel.
Then, click on the Continue Cancellation button.
In the next pop-up, select a reason why you want to cancel Canva and select the Continue Cancellation button.
If you change your mind, you can click on the Keep Canva Pro button and your Canva Pro account will not be canceled.
In this example, I selected the option "I want to pause my subscription", and another pop-up appears to give me two options:
Pause for 3 months
Cancel subscription
If I select the Pause For 3 Months button, my subscription will be downgraded to the free plan at the end of this month's subscription. Then, I will have 3 months of the free plan. Canva will automatically restart my Pro plan after these 3 months.
Click the Cancel Subscription button to continue the Canva Pro account cancellation.
Next, a notice will pop up to say: "Your Canva Pro subscription has been canceled. You will still have access to Canva Pro until your subscription ends on [the end date]."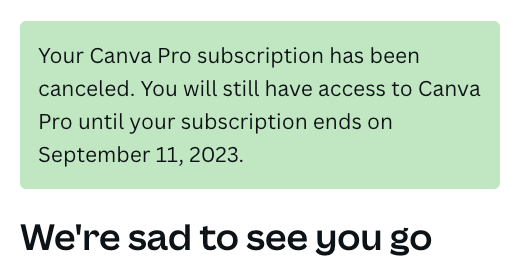 What To Consider Before Canceling Canva
Before you cancel Canva Pro, there are a few important things you need to think about. It's like deciding to stop taking a fun art class. You wouldn't do it without thinking it over first, right? Let's look at what you should consider:
What Are You Getting from Canva?
Think About the Fun Stuff: Canva lets you make cool pictures, posters, and other creative things. Do you still enjoy doing that?
What Will You Miss? If you say goodbye to Canva, what fun tools and games will you no longer be able to use? Make sure you know what you'll be giving up.
Are There Other Options?
Other Art Tools: Are there other websites or tools that let you create art like Canva? Maybe some of them are even free!
Compare the Choices: Think about how Canva is different from the other options. Which one is the best for you?
Money Matters
Check Your Allowance: If you or your parents are paying for Canva, how much does it cost? If you stop, will you save some money?
Understand the Refund Policy: Are there any terms about when you can stop paying for Canva? Make sure you know them so you don't get into trouble.
What Happens to Your Art?
Save Your Creations: If you've made a lot of pictures and posters on Canva, what happens to them if you cancel? They will still be in your account, but make sure to download them somewhere safe before you cancel.
Ask About Your Account: Find out what happens to your account and all the things you've created. You don't want to lose them!
What About Your Friends and Projects?
Working with Others: If you work on projects with friends or family on Canva, what will happen to those projects if you leave?
Tell Your Team: If you're working with others, make sure to let them know you're thinking about leaving Canva.
Help and Community
Losing Help: If you have problems or need help, Canva has people and forums to help you. Will you miss that help if you leave?
Think About Community: Sometimes, being part of a group that loves the same thing is fun. Will you miss the Canva community?
Cancel Canva: Frequently Asked Questions
How To Delete a Canva Account?
Here are the steps to delete a Canva account:
In the Canva dashboard, go to Account Settings.
In the Account Settings, select Login & Security in the left-side menu.
On the right side, scroll all the way down and click the Delete Account button.
In the pop-up, type in the word 'DELETE' in the space given and click the Delete Account button.
Can I Cancel my Canva Subscription at Any Time?
Yes — you can cancel your Canva subscription at any time. Whether you're using Canva Pro or Canva for Enterprise, you have the flexibility to end your subscription whenever you choose.
You'll need to follow a few simple steps through your account settings, and it's always wise to review the terms and conditions to understand any specific rules related to your subscription type.
What Happens If I Cancel Subscription On Canva?
When you cancel your Canva subscription, you'll lose access to the Pro features, but your existing designs will remain intact in your account. If you are using Canva Pro, you will be downgraded to the free version of Canva, and the features exclusive to Canva Pro will no longer be available.
If you have any concerns about losing specific functionalities, be sure to review them before canceling. Remember, your designs and work will not disappear; they'll still be there waiting for you.
Can You Cancel Canva Before Free Trial Ends?
Yes — you can cancel your Canva subscription before the free trial ends. Many users sign up for the Canva Pro free trial to explore the enhanced features. If you decide that it's not for you, you have the option to cancel before the trial period concludes.
Just make sure to follow the cancellation process in your account settings before the trial ends to avoid any charges. It's a straightforward process, but it's good to keep an eye on the trial's end date to ensure you make your decision in time.
Does Canva Charge You Monthly?
Yes — Canva offers a monthly subscription plan for Canva Pro. When you sign up for this option, you will be billed on a monthly basis. However, Canva also provides an annual subscription plan that may save you money in the long run.
If you choose the annual plan, you'll be billed for the entire year at once. Remember, there is also a free version of Canva available that doesn't require any payment.
How Do I Stop Paying For Canva?
If you want to stop paying for Canva, you'll need to cancel your Canva Pro or other paid subscription:
Log into Your Canva Account
Navigate to Account Settings
Click on the 'Billing & Teams' Tab
Select 'Cancel Subscription'
Follow the Prompts to Confirm Cancellation
Once you have successfully canceled your subscription, you will no longer be billed. You can continue to use Canva's free version without any charges. Make sure to review the terms and conditions for any specific details about refunds or the end of your billing cycle.
Is Canva Only Free For 30 Days?
No — Canva offers a free version that you can use indefinitely without any charges. The 30-day reference is often related to the free trial of Canva Pro, which gives you access to premium features for 30 days without any cost.
Once the trial period ends, you'll be automatically billed for the Pro subscription unless you cancel it. If you prefer not to upgrade to Canva Pro, you can continue using the basic free version of Canva for as long as you like.
Does Canva Charge You After Free Trial?
Yes — If you sign up for Canva's free trial for their Pro version, you'll need to provide payment details. Once the trial period ends (typically 30 days), you will be automatically charged for a subscription to Canva Pro unless you cancel before the trial ends.
It's advisable to set a reminder or make a note of the trial's end date if you're unsure about continuing with the paid subscription.
How Long Can You Use Canva For Free?
You can use the basic version of Canva for free indefinitely. The free version offers a wide range of features that allow you to create stunning designs without any cost.
If you decide to upgrade to Canva Pro to access more advanced features, you'll have the option to use a 30-day free trial. After the trial, you can either continue with the Pro version at a cost or revert back to the free version without any charges.
Is Canva Free Trial Worth It?
Whether Canva free trial is worth it or not depends on your specific needs and what you hope to achieve with your designs. Here's a breakdown to help you decide:
Advantages of Canva Free Trial
Access to Premium Features: You'll have access to all the advanced features of Canva Pro, such as premium templates, elements, and the Brand Kit.
Enhanced Collaboration: The ability to collaborate with team members is enhanced in the Pro version.
Professional Tools: Tools like the Magic Resize and the ability to export designs with transparent backgrounds can be valuable for professional designers.
Considerations Before Trying the Free Trial
Understand Your Needs: Assess whether the premium features align with what you require for your design projects.
Cancellation Policy Awareness: If you decide not to continue with Canva Pro, ensure you cancel before the trial ends to avoid charges.
The Canva free trial can be an excellent opportunity to explore the full range of features available on the platform, allowing you to make an informed decision about whether or not the Pro version is a good fit for you.
What Are The Disadvantages Of Canva?
While Canva offers a host of advantages, there are some disadvantages to consider as well:
Limited Customization
Canva provides many templates, but this can sometimes limit your ability to create entirely unique designs.
Restricted Access to Premium Features
The free version limits access to premium templates, elements, and other exclusive features.
Reduced Control Compared to Professional Design Tools
For professional designers, Canva might lack some advanced tools found in specialized software like Adobe Illustrator.
Quality of Certain Elements
Some of the free images and elements may not be of the highest quality.
Internet Dependent
Being a web-based tool, you'll need a stable internet connection to use Canva.
What Is The Difference Between Paid And Free On Canva?
Canva offers both free and paid options and here's a breakdown of the differences:
Free Version
Access to Basic Tools: Allows you to create designs with a variety of free templates and elements.
Limited Premium Content: Some images, fonts, and templates are locked behind a paywall.
No Branding Features: The Brand Kit and custom color palettes are unavailable.
Paid (Canva Pro) Version
Access to Premium Features: Unlocks all premium templates, images, and elements.
Enhanced Collaboration Tools: Allows you to collaborate with team members more efficiently.
Additional Professional Tools: Features like Magic Resize, exporting with transparent backgrounds, and Brand Kit are available.