Does Canva Automatically Save?
Want To Know: Does Canva Automatically Save Your Work?
You've landed on the right article because we're about to do a deep dive into how to save your work in Canva before you lose them due to sudden outages and network issues.
If you're wondering Does Canva Automatically Save? keep reading! As someone who works round the clock using Canva since 2012, I'm going to show you that it does.
Canva does indeed automatically save your projects as you work on them, so the answer is yes, provided there is an active internet connection. Canva doesn't save automatically when you are offline or without an internet connection, unlike Figma.
Does Canva Automatically Save?
YES — Canva has an auto-save feature in Canva that works automatically every few seconds, saving your designs to your All Projects section. This means that you can access your projects at any time and continue working on them without fear of losing any progress.

Unlike saving files in Adobe Illustrator and Photoshop, Canva can automatically save on all its platforms, including Canva on the browser, desktop, and mobile.
While the auto-saving system is reliable, it is also recommended to manually save your projects periodically, especially when making significant changes. This action gives you an extra layer of safety, ensuring that your latest edits are securely saved.
Does Canva Automatically Save Your Work?
What format does Canva save in?
If you were to rely on Canva to automatically save your designs, they will all be saved in Canva's format. This means you can only edit them in Canva, nowhere else. No file is downloaded such that you can open it in other programs like Adobe Illustrator, Figma, etc.
If you wish to open your designs in other graphic design apps, you will have to either integrate with the other apps or download the designs to your desktop or mobile device.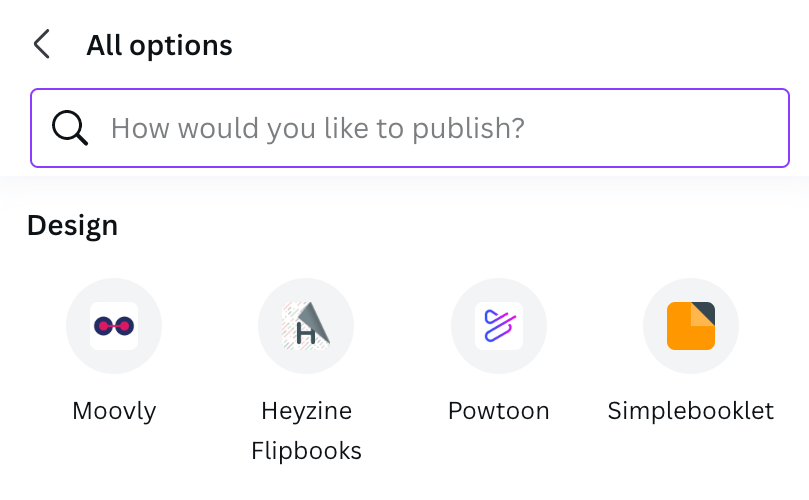 Canva allows you to save your design in different formats, such as PDF, PNG, or JPG. Your choice of file format depends on how you'd like to use the file.
Does Canva Automatically Save Your Work?
How To Manually Save Progress In Canva?
Although Canva automatically saves your work as you create designs, you can also manually save your progress to ensure that your latest edits are stored. Here are the steps.
Step 1: Go To File
Let's say you just did an action on your Canva design page, such as adding an element or adding an email hyperlink. Now instead of getting worried if your file has been saved, you would like to manually save it.
Go to the top menu bar in Canva, click on File, and a drop-down appears with a set of options. Then, click the Save option from the drop-down menu.
Your latest work is saved when you see "All changes saved" next to the Save option.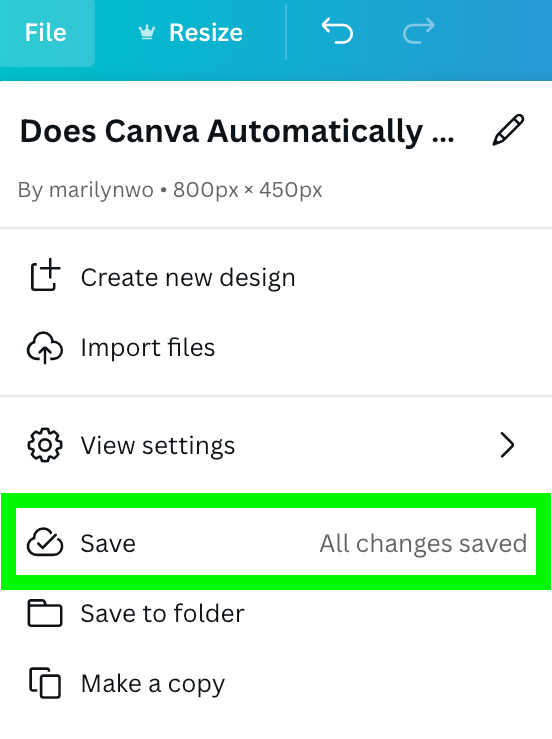 Step 2: Check Status
The status bar in Canva helps to indicate whether your design changes have been saved or not. If you see the checkmark in the cloud icon on the status bar, this means your updates have been successfully stored.

Keep an eye on the status bar while designing to ensure that you don't lose any progress due to technical issues, such as lost internet connection or software glitches (source).
STEP 3: Locate File
To locate the file that you've saved, click on the Projects tab on the left side menu. Under the All tab, Designs section, you will see your latest design on the top.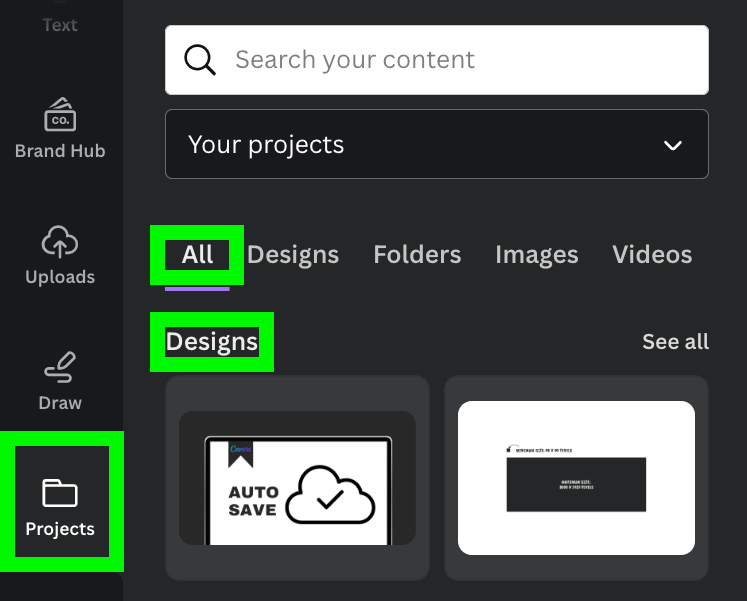 Does Canva Automatically Save Your Work?
Does Canva Automatically Save Without Internet?
NO — Canva cannot save automatically without the internet. The auto-save function does not work offline.
A stable internet connection is crucial when working on a design project in Canva. The platform automatically saves your progress as you work, ensuring you don't lose any edits or changes in case of connection issues. This feature operates across all Canva apps, including desktop, mobile, and web versions.
Unstable internet connections might cause problems with autosaving. If you experience an interruption in connection or Canva saving paused, the design might not save until the connection is restored.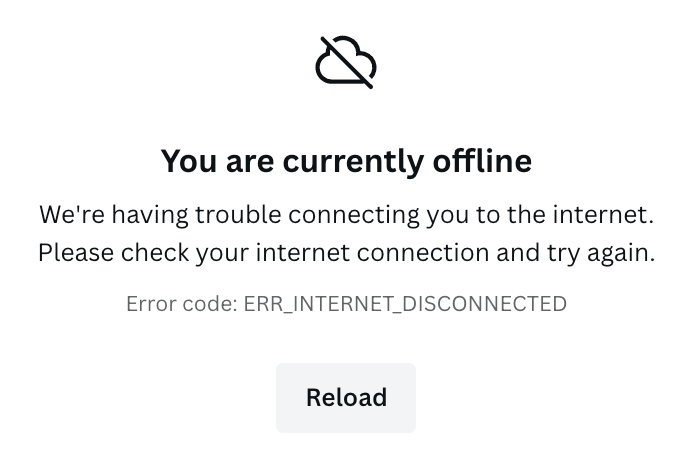 Although you may find that you can still adjust your designs and use Canva offline, there's so much you can do without the internet. Canva is a cloud-based app, hence, no, saving your Canva designs can't be done offline.
To avoid losing any progress during connectivity fluctuations, it's best to have a reliable internet connection when using Canva.
Does Canva Automatically Save Your Work?
How Do I Save A Design To A Folder In Canva?
One of the key features of Canva is the ability to easily organize and manage your projects. Having a systematic workflow can significantly increase your productivity and help you find the designs you're looking for much faster.
If you are wondering how to save in Canva systematically, look no further. Here are the steps to save your latest design to a folder in Canva:
Step 1: Create New Folder
Select the File menu on the top left side of the Canva app.
Select Save To Folder.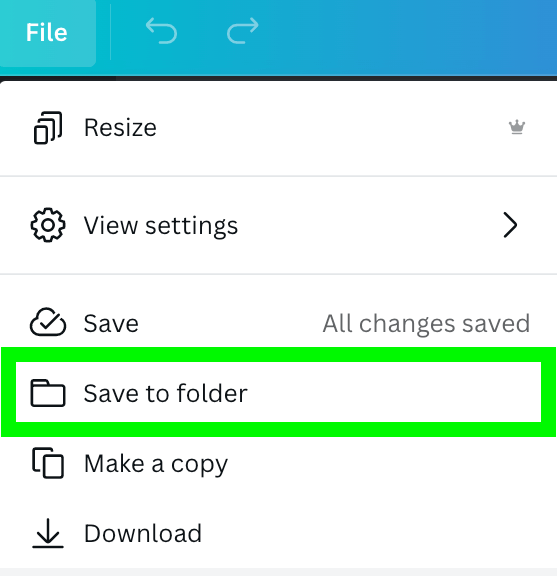 In the next section that appears, scroll down to the bottom of the Recent section. Select + Create New.
Type in the name of your new folder in the space that says Name New Folder.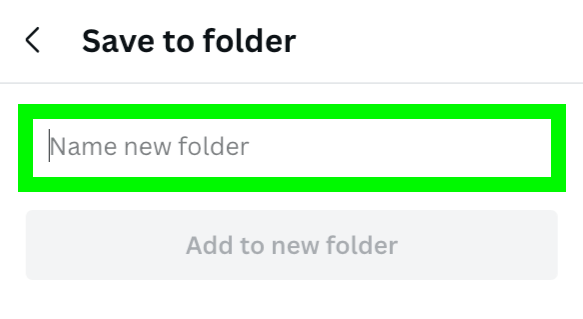 Step 2: Save Design To New Folder
Click the Add To New Folder button.
A notice will pop up to say that your design has been added to your new folder.

Step 3: Locate Your Design
Besides knowing how to save on Canva in folders, you will have to know where to find your folders and designs. To locate your design in the new folder, select the Projects tab on the left.
In the panel that slides out from the left, select the Folders tab.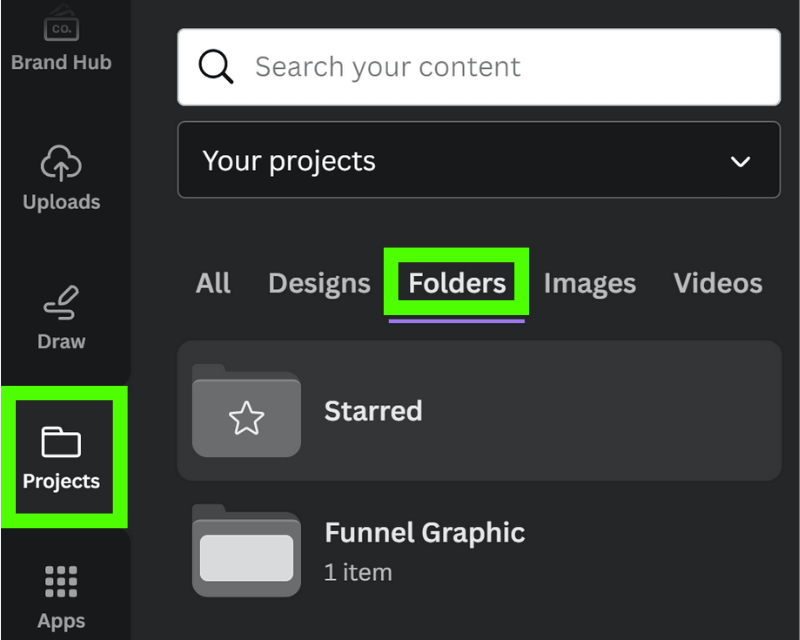 Click on the new folder that you've created. Your design should be found inside.
Does Canva Automatically Save Your Work?
Canva Auto-Save: Frequently Asked Questions
How Do I Recover An Unsaved Canva File?
There is no way to recover an unsaved Canva file, but your Canva files will always be saved automatically in real-time every time a change is made.
If you wish to recover a previous design version that was not saved because it was overridden by your latest version, you can recover it from the Version History section.
To access your previous design versions, open up your Canva design, and select the File on the top left menu. Then, select Version History.
A list of Autosaved files from past versions will appear. Select the one from the date that you last created the design you want by clicking on the clock icon in the left column.
The design will appear in the right column for your reference. Once you are ready, click on the arrow pointing down next to the Restore This Version button. Select Make A Copy in the drop-down. This will make sure not to override your current version and have your previous version appear in a new file.
Where Is Canva Saved?
Canva saves your designs automatically on its cloud-based platform, which means that your work is stored online and accessible from anywhere. You can also choose to download your designs to your computer or other devices.
Why Is Canva Not Saving My Design?
Canva may not be saving your design due to a few reasons, such as poor internet connectivity, browser issues, or exceeding the design size limit.
Other factors could include having your Canva account opened on more than one device at one time, unsupported file types, outdated software, or exceeding your storage limit.
To resolve the issue, you can try refreshing the page, clearing the browser cache, or using a different browser.