What To Do When Illustrator Won't Save My File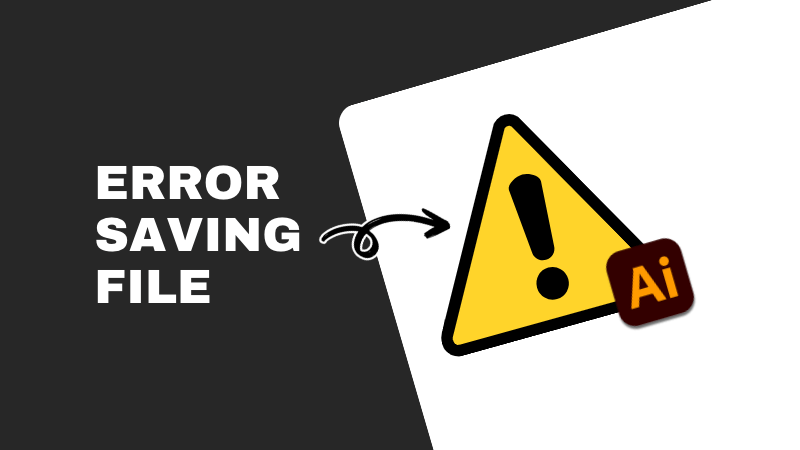 Are you Having Issues Saving Your Illustrator File?
As a creator, you already know how saving files in Adobe Illustrator is as simple as going to File > Save As… and File > Save. But who knows, after battling hours, tears, and sweat on creating your best work, Illustrator won't save your file.
Being a seasoned graphic designer who has been creating tons of designs and assets with Illustrator for more than 20 years, I am embarrassed to say I've encountered this situation countless times.
Those days, I just wanted to cry. There wasn't a real-time help desk, although I've been a loyal Adobe subscription customer for years. No rescue team, no hero, nada!
Worst of all, every time I tried saving a file, the only message I got was "An unknown error has occurred" and nothing else. There were also times when Illustrator kept crashing when saving, or returning a message: "Illustrator is unable to save this document due to some unexpected errors".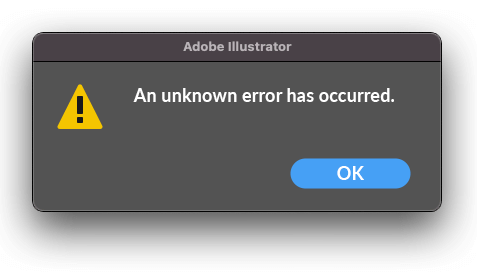 It is not fun when you can't save a file that you could have been on time to deliver, and now you are fighting against time. I felt extremely defeated and wanted to quit.
If this is you, don't worry, you are not alone. Over time, the great news is I've discovered several ways to have Illustrator finally save my file all the time. Whether you get unexpected errors or Illustrator crashes left, right, and center, you are in the right place. So let's dive in!
Why Illustrator Won't Save Your File
I know you want to fix this right now. But as much as I am frustrated over Illustrator not giving me any clue as to what is causing it not to save, I must say that this issue could be due to any of these various reasons.
Illustrator Won't Save
1. Corrupted Files
A corrupted file can prevent Illustrator from saving your work properly. This may occur due to unexpected software crashes, power outages, or hardware issues.
2. Insufficient Disk Space
Lack of available disk space on your computer can also prevent Illustrator from saving your file. When the application doesn't have enough space to save your work, it will fail to do so.
3. Incorrect File Format
If you are attempting to save your file in an incompatible or unsupported format, Illustrator may not save it.
4. Incompatible Software Version
Sometimes, saving issues can occur if your version of Illustrator is incompatible with your file.
5. Outdated Software Version
Have you just updated your Windows or MacOS? If you have, your Illustrator version may not be compatible with the updated operating system.
6. Permissions Issues
Lastly, issues with file and folder permissions can prevent Illustrator from saving your work. This usually occurs when you don't have the necessary permissions to write to the destination folder.
Illustrator Won't Save
What You Can Do When Illustrator Won't Save Your File
If your Illustrator won't save your file, the first thing is to force quit Illustrator, go to Creative Cloud to update the app and reopen your file and save it again. Otherwise, read on to troubleshoot with other methods.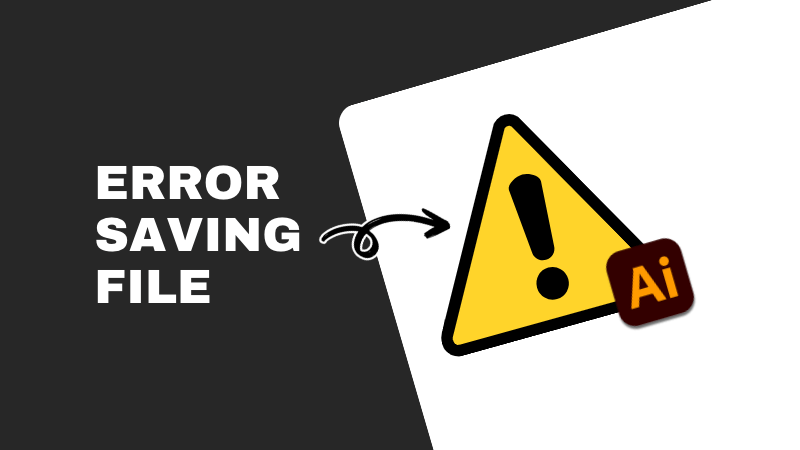 Meantime, I believe you are facing one of these issues when trying to save your Illustrator file in vain:
Illustrator keeps crashing
illustrator freezes when saving
Due to some unexpected errors
An unknown error has occurred
Error 5000
No error messages and nothing is happening
Here are the methods and steps you can take to resolve them:
Method 1: Clear Disk Space
Insufficient disk space can cause saving errors. If your Illustrator file includes various assets like vector shapes, brushes, text, raster images, and effects, chances are, the size of the file can be huge.
It's best to always make sure the directory you are saving your Illustrator file in has sufficient disk space to store it. You can do the following to clear disk space:
Delete unnecessary files and empty the trash or recycle bin.
Uninstall unused applications.
Perform a disk cleanup using built-in tools or third-party software.
Method 2: Select Disks With Enough Space
Your Illustrator won't save possibly because your file-saving location may not have enough space. Here are the steps to fix this:
Step 1: Plug-ins & Scratch Disk
Go to the top menu bar and select Illustrator > Preferences > Plug-ins & Scratch Disk.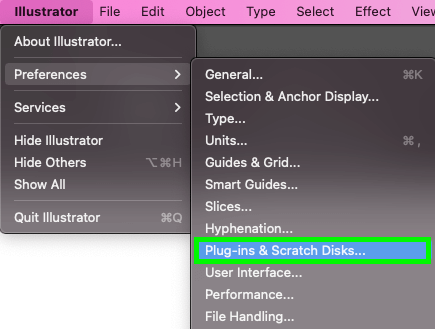 Step 2: Change the Scratch Disk
In the Preferences dialog box, go to the Scratch Disks sections. Then, in the Primary and Secondary fields, click the downward arrows and change the disks in the drop-down menus. Then, click the OK button.

Try saving your file.
Method 3: Save To Cloud
If you aren't able to clear your hard disk space, try choosing another location in the cloud to save your file. Here are some platforms you can use to save your files without taking up any disk space in your computer:
Dropbox
Box
Google Drive
iCloud
OneDrive
Illustrator Won't Save
Method 4: Update Illustrator Version
Incompatibility between your Illustrator version and the file can cause saving errors. Try updating Illustrator to the latest version by following these steps:
Step 1: Quit all Adobe apps
Before updating your Illustrator app, make sure to close other Adobe apps, such as Photoshop, Indesign, Adobe XD, etc.
Step 2: Update Illustrator
Open Creative Cloud and navigate to the Updates section. Click on the Update button to start the updating process and follow the instructions given.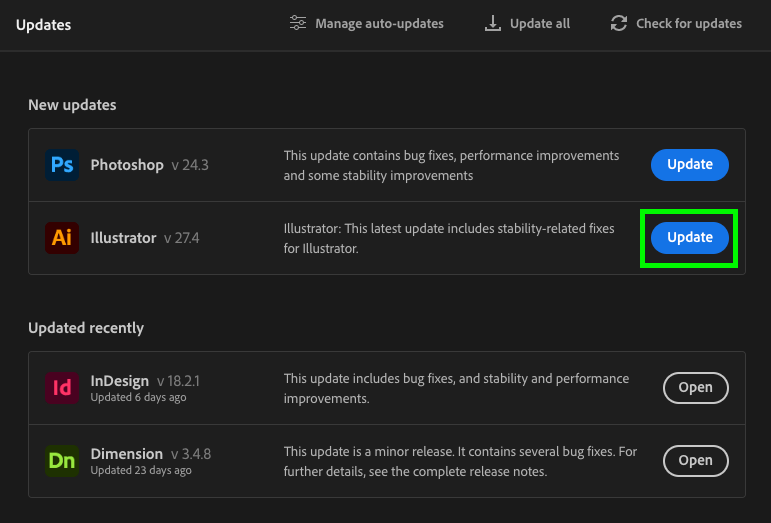 Method 5: Adjust Permissions to Resolve Error 5000
If permission issues are preventing you from saving your file, you may see an error message such as this: "Illustrator can't save the illustration you don't have access privileges".

In this case, you will have to adjust the necessary permissions for the destination folder.
Consult your operating system's help documentation (Mac or Windows) for instructions on how to modify folder permissions.
Method 6: Reset Illustrator Preferences
Corrupted preferences can sometimes cause saving issues. It can be tough to identify which are the ones. Resetting the preferences allow the settings to be changed to the default version. Here are the steps to reset Illustrator preferences:
Step 1: Reset Preferences
First, quit your Illustrator app by going to Illustrator > Quit.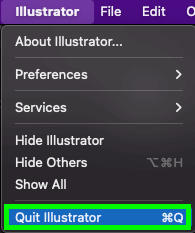 Then while re-launching Illustrator, press and hold Command + Option + Shift for Mac at the same time.
Or Ctrl + Alt + Shift for Windows.

This will reset the preferences to their default settings.
Step 2: Quit and Reopen Illustrator
Quit Illustrator, then re-launch Illustrator and open your file. Try saving your file again.
Method 7: Save As Another Format
I've tried saving my Illustrator file in another format, and when open the newly saved format file and save it as .ai, it worked well. Here are the steps:
Step 1: Save As…
Go to File > Save As…
Step 2: Save the File As Another Format
Select the file format you prefer other than Adobe Illustrator (ai). Here are other formats you can save as before saving the file as .ai format:
Illustrator EPS (eps)
Adobe PDF (pdf)
SVG (svg)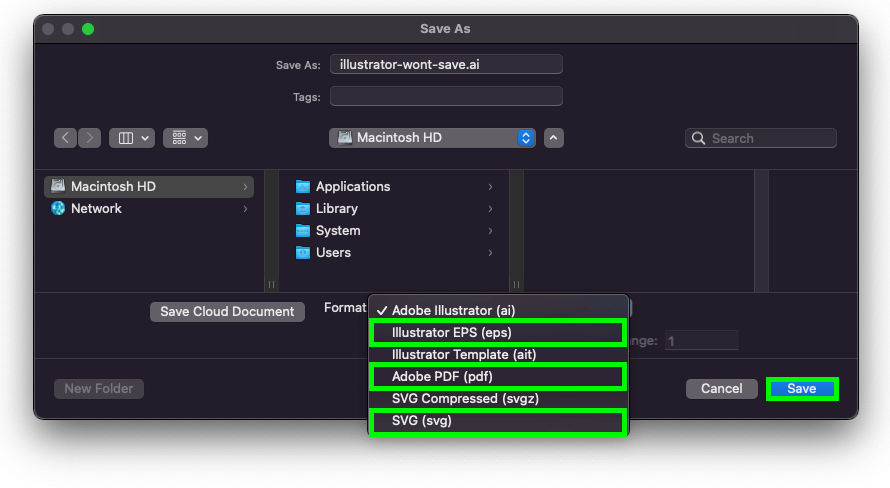 If you were to export your file as raster image files like .png and .jpeg, your text will be embedded the next time you open the file in .ai. Hence, I won't recommend that you save to such formats.
Method 8: Use Post-Script Format
Sometimes, saving your file as Post-Script first can help to eventually save it successfully in .ai format. Here are the steps to do that:
Step 1: Open the Print Dialog Box
Go to File in the top menu and select File > Print.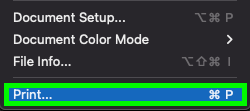 Set your preferred options in the Print dialog box, or leave them as the default settings.
Step 2: Save as PostScript File
In the Printer drop-down menu, select Adobe Postscript File and click the Save button.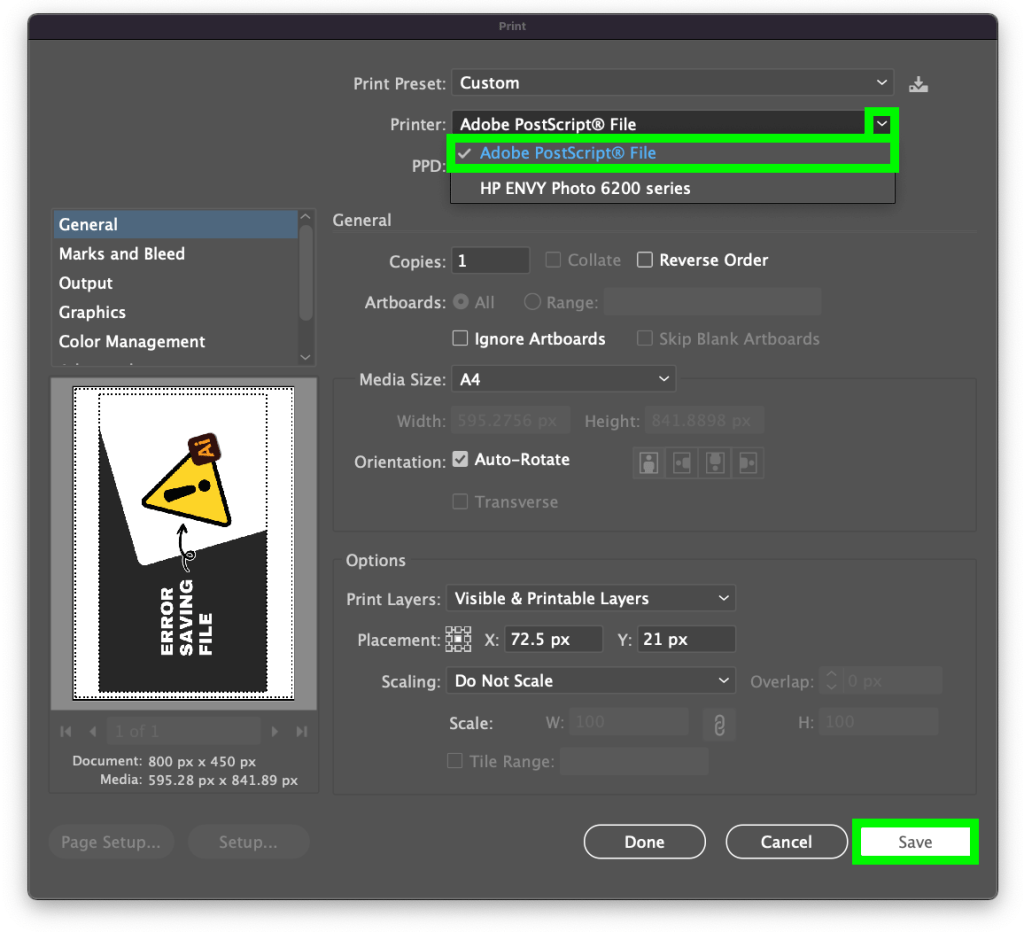 In the Print to File dialog box, name your file and make sure it ends with the .ps extension. Click the OK or Save button.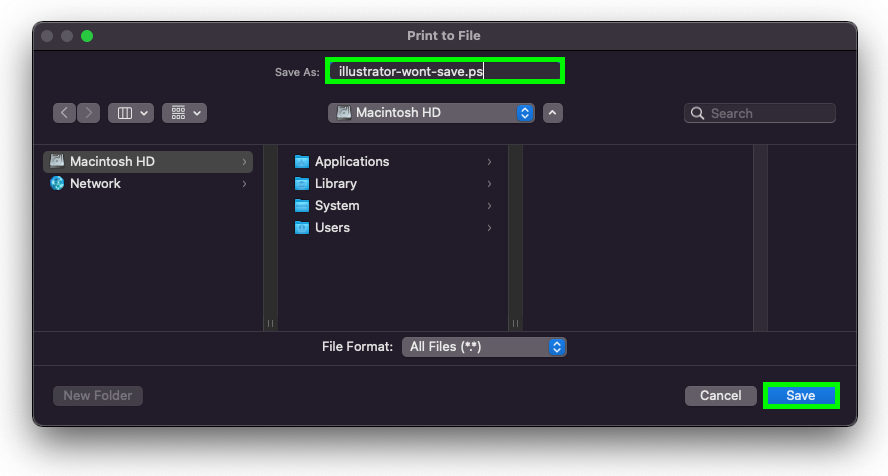 Step 3: Open the PostScript File with Illustrator
Go to the folder directory where you've saved the PostScript file. Open it with Illustrator and now try to save it in .ai format.
Method 9: Transfer Contents to A New File
Your Illustrator won't save possibly because of the file or document that got corrupted as you were working on it. It may not be due to the Illustrator app or your content. Here's what you do:
Step 1: Clean Up the File
Manually audit the elements, items, objects, text, and all assets you have on your file by removing anything that is not necessary.
Clean up the rest of your contents by selecting Object > Path > Clean Up….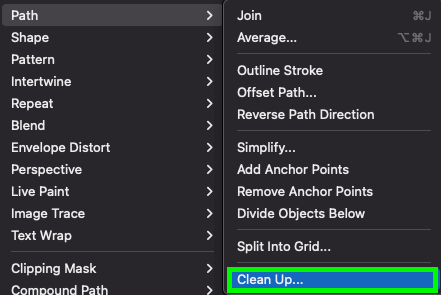 Select all options in the Clean Up dialog box.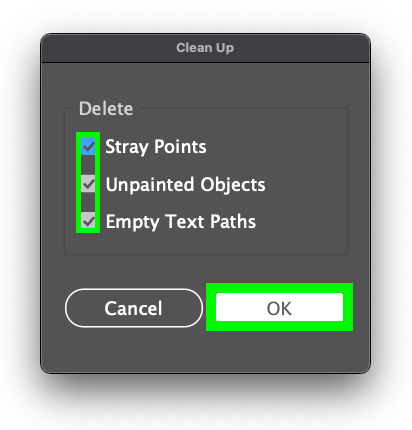 Step 2: Paste Remembers Layers
Open the Layers panel by selecting Window > Layers and click on the menu link in the top right-hand corner of the Layers panel.
Select Paste Remembers Layers in the drop-down menu.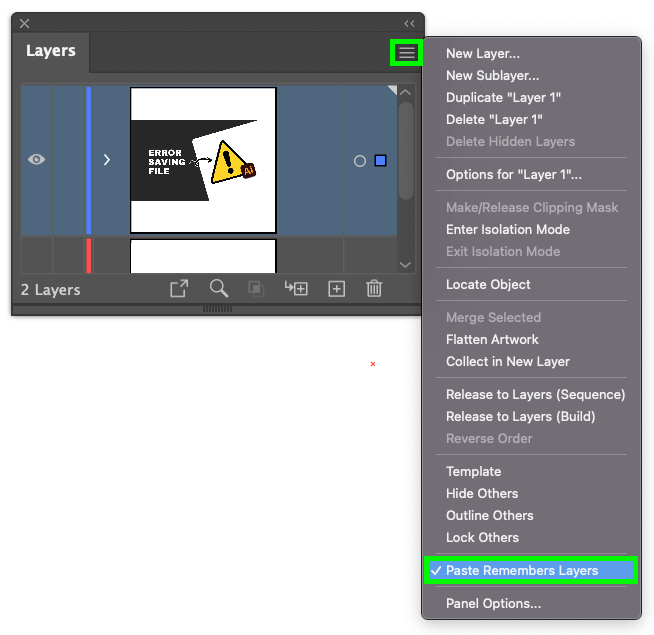 Step 3: Copy Content
Go to your artboard, and select all content using keyboard shortcuts Command + A on Mac.

Or Ctrl + A on Windows.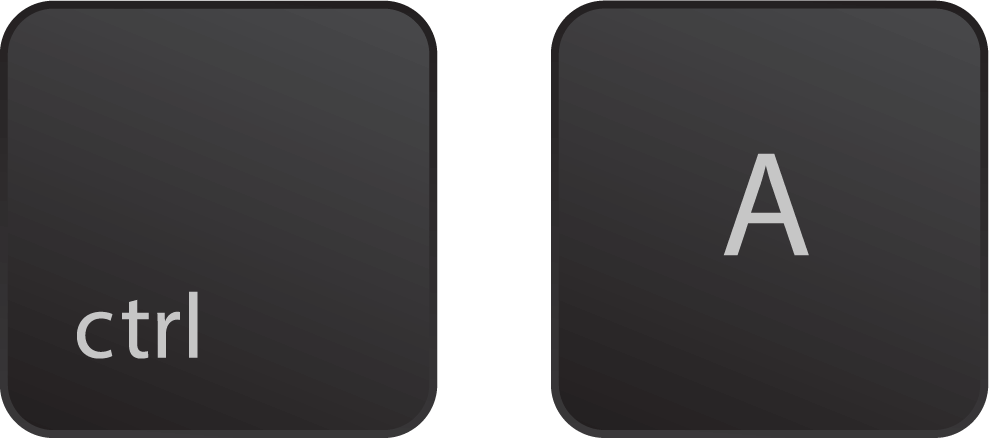 Then, select Edit > Copy to copy your content.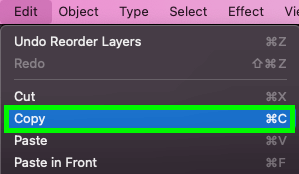 Step 4: Paste Content in New File
Start a new file by going to File > New.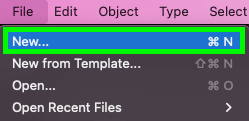 Paste your copied content in the same position on the new file by going to the top menu and selecting Edit > Paste in Front.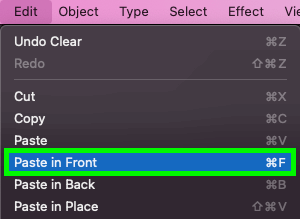 Now, try saving your new file as .ai.
Illustrator Won't Save
Method 10: Remove Corrupted Items
Sometimes, the reason why won't your Illustrator file save is due to the properties of the elements or items you have in your artwork. In this case, you will have to remove them so that Illustrator will save your file. Here are the ways to do that:
Step 1: Check for Corrupted Assets
Delete each item one at a time and test if Illustrator saves your file successfully after the item is removed. Undo the action and delete the next item if Illustrator won't save.
Step 2: Check for Corrupted Colors
If removing the items on the artwork doesn't work, open the Swatches panel, remove all custom colors, and save the file.
Step 3: Check For Corrupted Fonts
If removing colors don't work, transfer all content to a new document as a backup. Then, in the original file, convert all text to outlines or paths. Try saving your file this time.
If this works, it means the fonts can't be used for some reason. Undo the Create Outlines action and change your fonts.
Method 11: Rename the File
One workaround is to rename the file. With the original file opened up, go to File > Save As…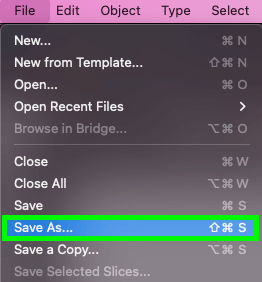 In the Save As dialog box, change the name in the Save As field. This method may help to refresh the file and remove the issue.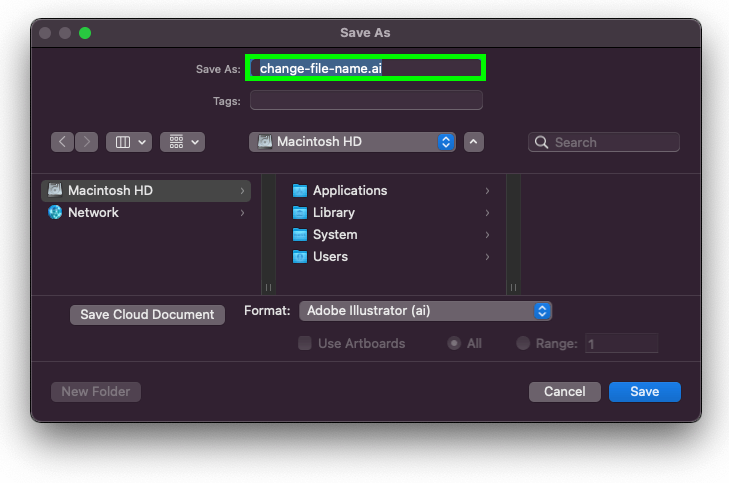 Method 12: Update Operating System and Graphic Card Drivers
Sometimes, all you need to do is to update your computer's operating system. This will ensure your computer is cleaned up with some bugs fixed and graphic card drivers updated.
If you are using Mac like me, click the Apple logo on the top left-hand corner of the screen. Select About this Mac.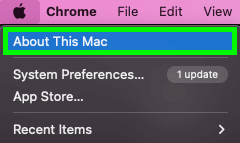 A dialog box opens. Click on the Software Update… button.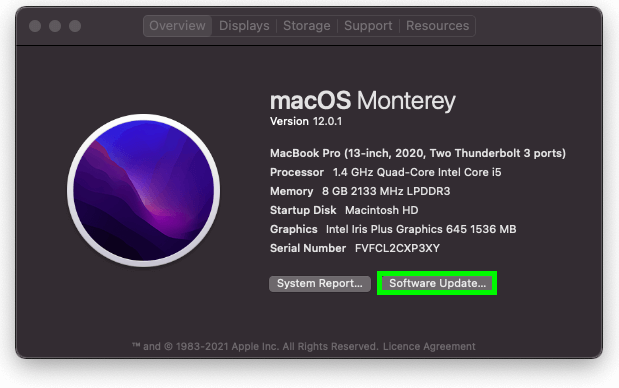 A Software Update dialog box opens up. Click on the Upgrade Now button to update your operating system.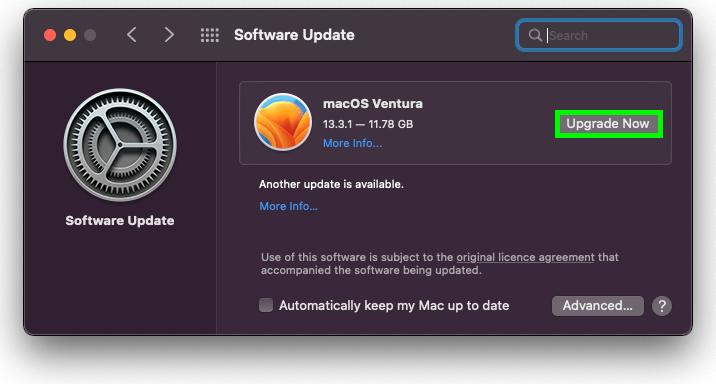 If you are updating Windows, select Start Windows > Settings > Windows Update.
After updating your operating system, restart your computer and try saving your Illustrator file.
Method 13: Uncheck Save In Background
The feature to Save in Background is meant to allow your file to save while you carry on working on your designs in the same file.
This can help you save loads of time because you don't have to wait for the saving process to complete before moving on to the next design task in the same file. However, this may also cause Illustrator not to save your file.
Here's what you have to do:
Step 1: Preferences
Open Preferences and go to the File Handling section by selecting Illustrator > Preferences > File Handling in the top menu bar.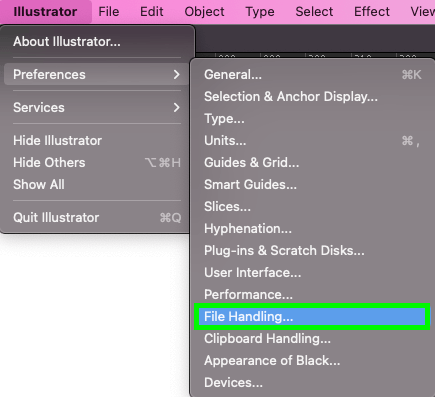 Step 2: Uncheck Save in Background
In the File Handling section of the Preferences dialog box, uncheck Save in Background and click the OK button.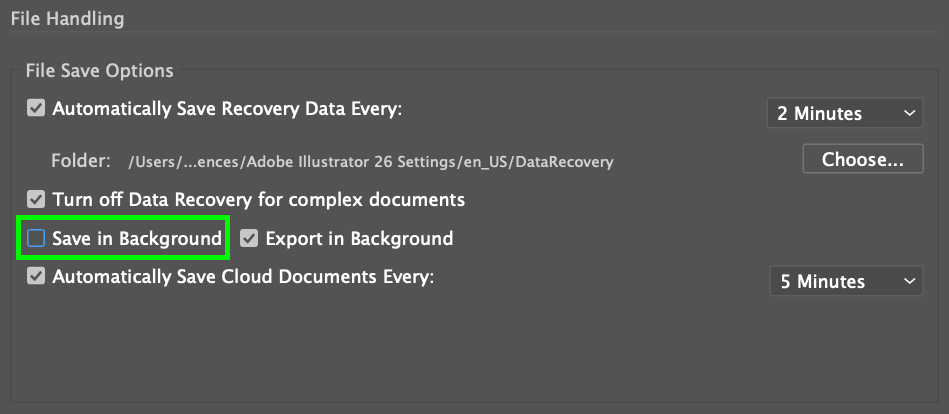 Quit Illustrator and restart it before working on your file. Try saving it to see if this works, otherwise, try the next method.
Method 14: Recreate File
I would use this as the last resort. If you are not able to identify which item or element in your original file is the culprit causing the Illustrator saving issues, it's best to recreate the same design. Here are the steps:
Step 1: Copy Content
Tile your original Illustrator file to occupy one half of your screen and a fresh new file on the other half of the screen.
In the original file, select one item and copy it by selecting Edit > Copy, then click on your new file once and paste the item by selecting Edit > Paste in Place.
Step 2: Save New File
For each item you copy and paste, save the new file. In other words, you will attempt to save the new file every time a paste action is done.
Repeat for all other items.
Illustrator Won't Save
Preventing Future Saving Issues
With your Illustrator working well to save your file, the next thing is to prevent these issues from happening again. Or at least make sure you are ready to face such issues if they do happen. Here are some best practices to follow:
Schedule a regular date and time to check if your Illustrator version is up-to-date and also compatible with your operating system.
Make sure to save your file as many times as possible.
Back up your files regularly so that if unexpected errors and crashes or saving issues were to arise, you don't have to redo your designs from scratch!
Use compatible file formats to avoid incompatibility issues between Illustrator and other graphics programs.
Illustrator Won't Save
When Illustrator Won't Save FAQ
Can I recover unsaved work in Illustrator?
Yes, Illustrator has an auto-recovery feature that may help you recover unsaved work. Look for a temporary or recovery file in the default recovery folder or search for files with the ".tmp" extension.
Can I Work On My Illustrator File While It's Being Saved?
It's best not to work on your Illustrator file while it's being saved, as this can cause issues or even corrupt your file. But if you want to do so, you can do that by going to Preferences > File Handling and checking the option, Save in Background. Restart your Illustrator and you can work on your Illustrator file while it's saving in the background.
Can I Save My Illustrator File Directly To A Cloud Storage Service?
Yes, you can save your file directly to a cloud storage service like Adobe Creative Cloud, Dropbox, or Google Drive, provided you have the necessary permissions and an active internet connection.
Why Does Illustrator Keep Crashing When Saving?
There are several reasons why your Illustrator keeps crashing when saving. Here are the most common reasons:
1. Insufficient System Resources
When your computer lacks the necessary system resources (RAM, CPU, or GPU) to run Illustrator smoothly, it can lead to crashes while saving. This issue is more likely to occur when working on large or complex files that require substantial resources.
2. Outdated or Incompatible Software
Outdated or incompatible versions of Illustrator or other Adobe software can cause conflicts and crashes during the saving process. Additionally, outdated drivers, especially for your GPU, can lead to Illustrator crashes.
3. Corrupted Preferences or Plugins
Corrupted preferences or third-party plugins can cause Illustrator to crash when saving. Incompatible or outdated plugins may not function correctly, leading to instability and crashes.
4. Corrupted Files
Working with corrupted files can cause Illustrator to become unstable and crash during the saving process. This issue can occur due to unexpected software crashes, power outages, or hardware issues.
Final Thoughts On Illustrator Not Saving Your File
In conclusion, encountering issues when Adobe Illustrator won't save your work can be both frustrating and time-consuming. However, by understanding the common causes behind these problems, such as corrupted files, insufficient system resources, incompatible software versions, incorrect file formats, and permission issues, you can take the necessary steps to resolve them.
Furthermore, by actively applying best practices and preventative measures, such as keeping your software updated, saving your work regularly, creating backups, and using compatible file formats, you can minimize the chances of experiencing saving issues in the future. This will allow you to focus on your creative work in Illustrator without the constant worry of losing your progress.
Before You Go…
Fixing Illustrator to save your file is important yet it's just one of the basic steps. Knowing how to save your assets such as brushes is also key to productivity. Read my next article to learn how to reuse your brushes over again without reinventing the wheel…