3 Easy Steps To Make A Vision Board On Canva
You've come to the right place! In this blog post, you'll learn the easy steps of making a digital vision board on Canva.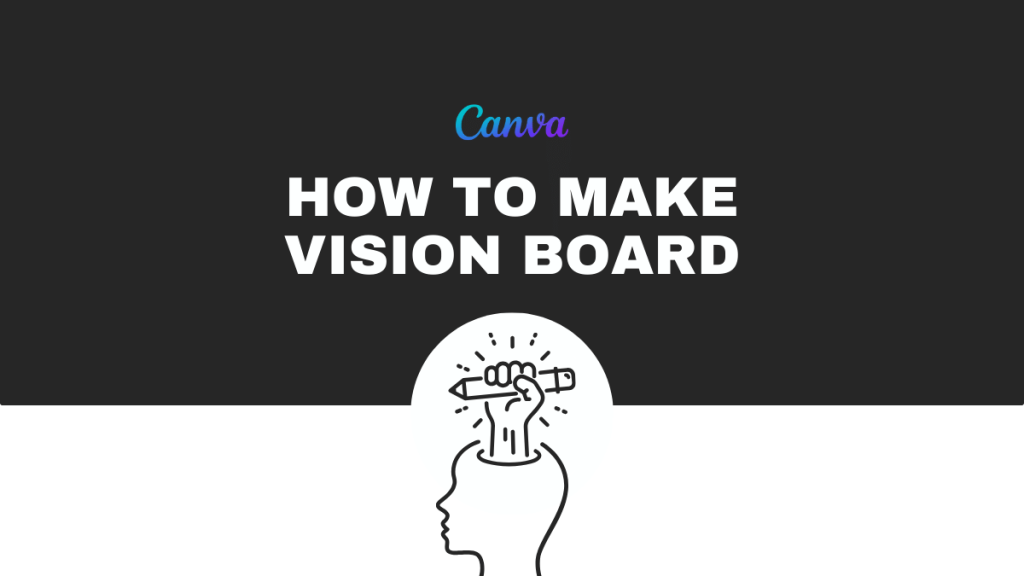 Why Make a Digital Vision Board on Canva?
Imagine a world where your deepest aspirations are not just fleeting thoughts but tangible visual expressions. This is not merely a daydream; it's the empowering reality of creating a vision board on Canva.
Whether you're aiming to manifest personal goals, professional milestones, or life-changing adventures, Canva is your digital canvas to paint the future.
The process of how to make a vision board on Canva is a journey, one that merges imagination with functionality, making the abstract concrete.
It's a Powerful Tool for Goal Setting
The power of a vision board lies in its ability to continuously inspire and remind you of your life's ambitions. But how does one translate these abstract dreams into a visually compelling board? Canva offers an answer.
With its user-friendly interface, a treasure trove of images, and a spectrum of design elements, your vision board becomes not just a plan, but a living, breathing inspiration.
More Than Just a Traditional Vision Board
Intrigued? It's time to move beyond curiosity. Dive into the creative process on Canva, where every element you add to your vision board is a step closer to reality.
Whether you're a digital novice or a design enthusiast, Canva's intuitive platform caters to all. It transforms the daunting task of visualization into an enjoyable, creative experience.
Embark on this captivating journey to bring your dreams to life. Let Canva be your guide in crafting a vision board that doesn't just map out your goals but energizes you to achieve them.
The path from dream to reality is now vividly clear and enticingly attainable.
Prepping for Your Canva Vision Board
Setting up a Canva Account
Before anything else, the first thing you should do is set up a free Canva account if you haven't already. This will give you access to vision board templates, stock images, and design elements.
Collecting Your Inspirations
Do a brain dump or list of what you want to become in the next year or two. Write down anything that comes to your mind without overthinking. Give yourself a time limit of 10 minutes to complete this list.
Then compile a collection of images, inspirational quotes, and any other elements that represent the words in your list. The great thing is, that you can upload your own images and photos to Canva or utilize its extensive library.
Steps To Make A Vision Board On Canva
Creating a vision board on Canva can be an inspiring journey towards bringing your dreams and goals to life.
Here's a step-by-step guide to help you craft a vision board that not only represents your aspirations but also motivates you to achieve them.
Step 1: Choosing Your Canva Template
Your first step in the actual design process is selecting a Canva template. Navigate to the search bar and type in "vision board." You'll find a variety of free templates perfect for different areas of your life.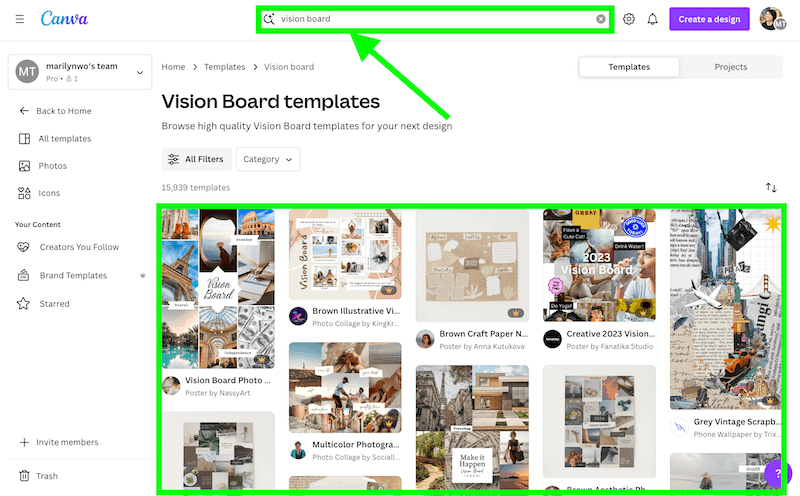 Click on the one you like and select the Customize This Template button to edit the template.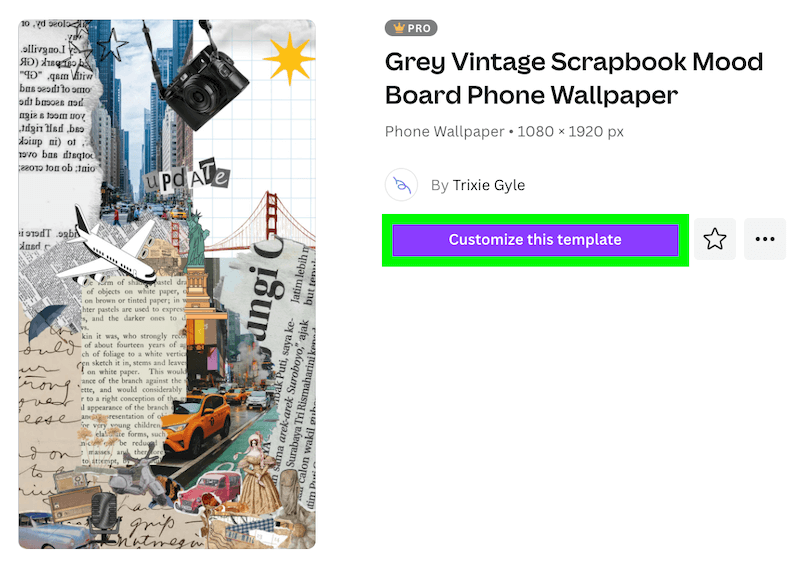 In this example, I've selected the template created by Trixie Gyle.
The fun part begins! You can start changing elements on your vision board template or adding more items.
Canva offers a grid layout to make it easier to arrange your collage of images. You can add different things from the elements tab, like shapes and lines, to make your vision board even more captivating.
For a more personalized touch, you can set custom dimensions to fit your home screen or any other specific area where you'll display your vision board.
Step 2: Add Text And Elements
Next, upload relevant media from your collection or directly from Canva's library. Replace those on the template with your own. It's a simple way to bring your vision board to life.
You may wish to include text of what your images and graphics represent on your vision board. Inspirational quotes and personal goals make excellent additions.
For this example, I've added the text "Travel To New York!" and added a torn paper graphic layer under the text.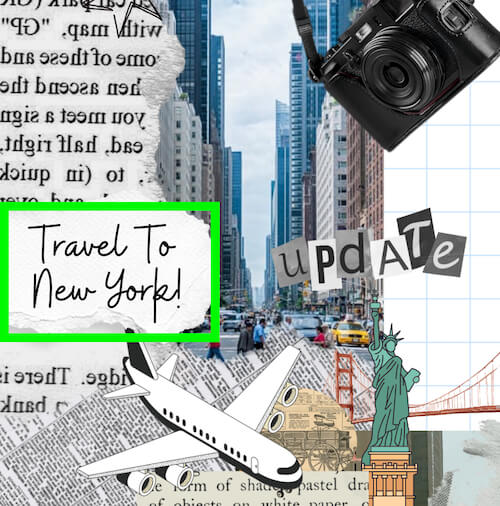 Step 3: Color Palette
Choose a color scheme that resonates with you. The template may not necessarily include colors that match your vision. Now is the time to change that on your vision board.
Review your digital Canva vision board. This is the final step before you can manifest your visions into reality.
Sharing and Keeping Your Vision Board Alive
Sharing on Social Media: The Next Step
The next step after creating your vision board is sharing it. Whether it's a secret board on Pinterest or a short video on other social media platforms, Canva has you covered.
Annual Updates
Consider making a yearly vision board. Updating your board for the next year keeps it aligned with new visions and goals.
Final Thoughts: Vision Board On Canva
You have just crafted a beautiful vision board using Canva in such a variety of ways! Remember, the law of attraction is on your side. Visualizing your best self can make a big difference in achieving your goals.
Now that you've created your own digital vision board, you're one step closer to becoming the person you aspire to be. Keep it visible and let it guide you in the many different ways you can improve your life.
How is your vision board coming along? Show it here in the comments below: