2 Free Ways To Rotate Images, Text And Elements In Canva
In this guide, you will find out how to rotate text, elements, and images in Canva. If you wish to rotate your canvas or change the orientation of your Canva page, you can do that for free or with Magic Switch in Canva Pro.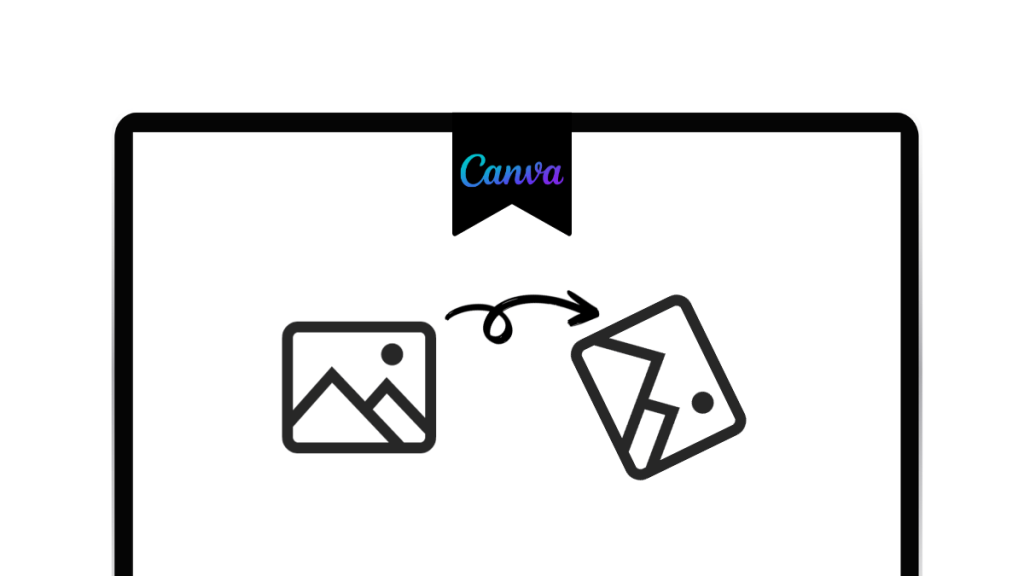 Free Ways To Rotate In Canva
The process of rotating images is the same for text, elements and graphics in Canva desktop and Canva mobile app.
To get started on your new project, open Canva and choose a blank canvas or one of your recent designs. Once you've uploaded your design items, follow these ways and steps:
Method 1: Rotate Handle
Step 1: Select Item
Select an image, text or element by clicking it once.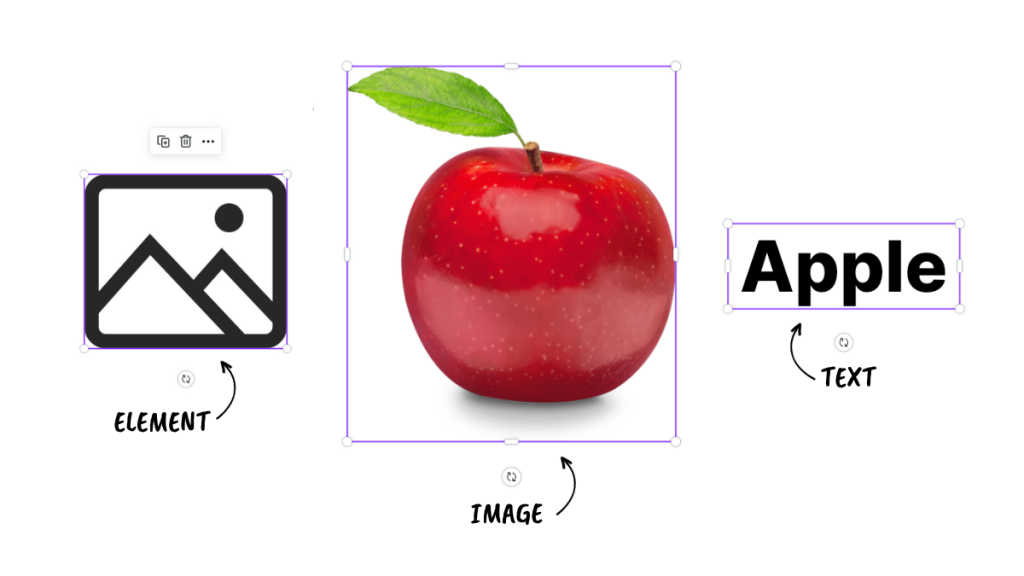 Below your selected design item, you'll see a rotate icon handle or two arrows forming a circle. The handle may appear below or at the side of the item.
When you bring your cursor over the rotate icon handle, the cursor changes to a curved line with two arrows, one on each end.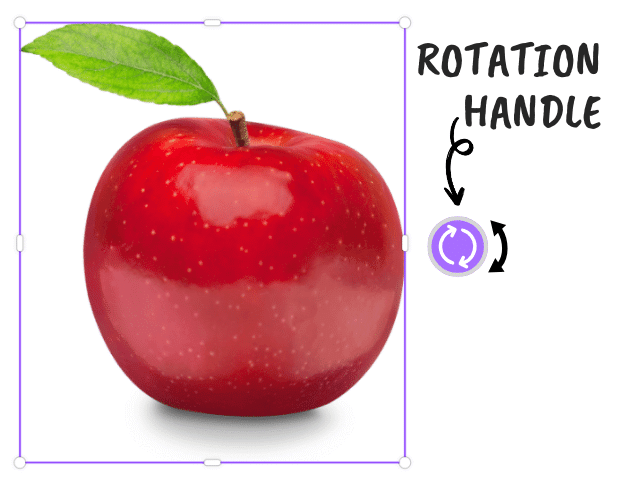 Step 2: Drag Handle
Click and hold the rotation handle and drag it to one side to alter the rotation angle. As you drag, you will see a set of numbers appear next to the handle. That's the angle at which the image, text, or element will be rotating.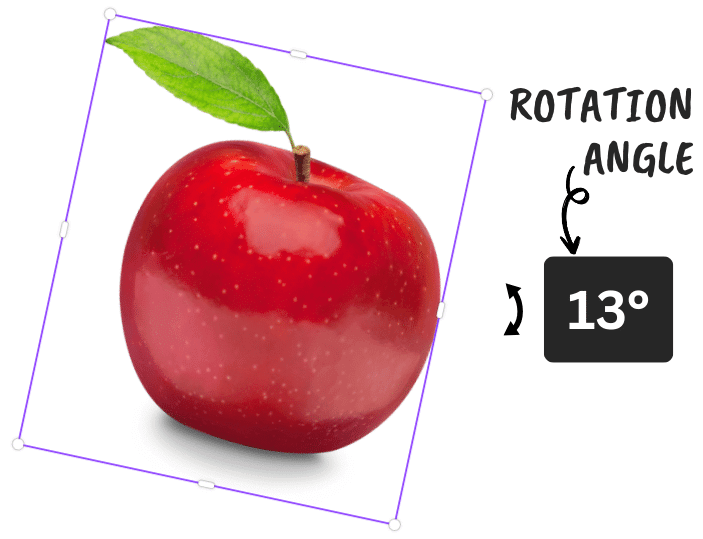 Hold down the Shift key while dragging your cursor to rotate and resize the image or item at the same time.
Step 3: Stop Dragging
Let go of the cursor to stop the item from rotating once you've found the angle you are looking for.
Method 2: Rotate In Position Section
Step 1: Position
First, click your item to select it.
Then, click on the Position button that appears above your canvas.
Step 2: Advanced Section
A panel will appear on the left-hand side.
Make sure you are in the Arrange tab.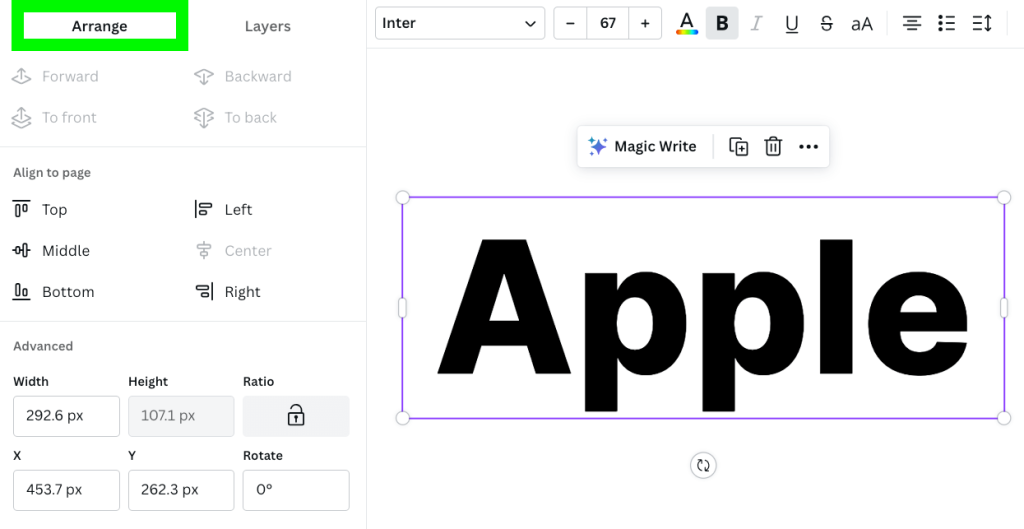 Step 3: Enter Angle Of Rotation
Then, go to the Advanced section, where it says Rotate.
Key in any degree of rotation in the Rotate box. Your item will immediately rotate to the degree value that you've entered in the box.

Rotate In Canva FAQs
How Can I Rotate A Page In Canva?
The best way to rotate a page in Canva is to use the Magic Switch (Only for Canva Pro users) which can be found on the top left-hand side of the menu above your page. Here are the steps:
Click on Magic Switch.
Select Custom Size.
Click once in the Width or Height field box.
Select either Portrait or Landscape to rotate your page.
Click the Continue button for the rotation to take place.
If you are not a Canva Pro subscriber and you wish to rotate a page in Canva, you can also change the orientation of your Canva design for free.
How Do I Mirror Rotate An Image In Canva?
Mirror rotation is often referred to as flipping in Canva. You can mirror rotate or flip an image horizontally or vertically with these steps:
Select the Image: Tap on the image you wish to mirror rotate.
Locate the Flip Option: In the top menu bar, you'll find a dropdown menu. From there, select the flip option.
Choose Flip Direction: You'll usually see two options: flip horizontally and flip vertically. Choose the one that fits your design needs.
How Do I Rotate Vertically In Canva?
Vertical rotation essentially means flipping an element upside down. This can be a nifty feature for special effects or when you're trying to create a mirror effect within your design.
Select Your Element: Be it text, an image, or any other design element, click on it to select it.
Find the Rotation Handle: The rotation handle will appear usually above or sometimes at the bottom of the element.
Turn It Upside Down: Drag the rotation handle 180 degrees to completely flip the element vertically.
Is There A Mirror Option On Canva?
Many Canva users often wonder if they can mirror elements within their designs. The good news is, yes, Canva does offer a mirror option, which is commonly referred to as "flipping." Here are the steps:
Select Your Design Element: Whether it's a text layer, image, or icon, click on it to highlight it.
Access Flip Option: In the top menu bar, look for the flip option. It may also appear in a dropdown menu, depending on whether you're using the desktop version or mobile application.
Choose Direction: You'll have options to flip horizontally or flip vertically. Pick the one that suits your needs.
Why Can't I Rotate An Image In Canva?
If you're facing difficulty rotating an image in Canva, several reasons could be behind it. Below, I outline some common issues and how you can troubleshoot them.
Element Restrictions: Some elements in Canva's library may come with restrictions that limit your ability to rotate them.
Technical Glitches: Occasionally, you might face a minor bug. If you suspect this, try refreshing your browser or restarting the Canva app.
Selected Element: Make sure that you've actually selected the element you intend to rotate. If it's not highlighted, you won't see the rotation handle.
Software Update: If you're using the Canva app, make sure it's updated to the latest version to take advantage of all features, including rotation.
Logout and Login Again: Sometimes, a simple logout and login can fix minor glitches.
Contact Support: If all else fails, Canva's support team is there to help. You can usually reach them through your Canva dashboard.