3 Easy Steps To Publish Canva Website For FREE
In this article, you'll get a step-by-step guide about building a website using Canva, one of the most intuitive graphic design tools available.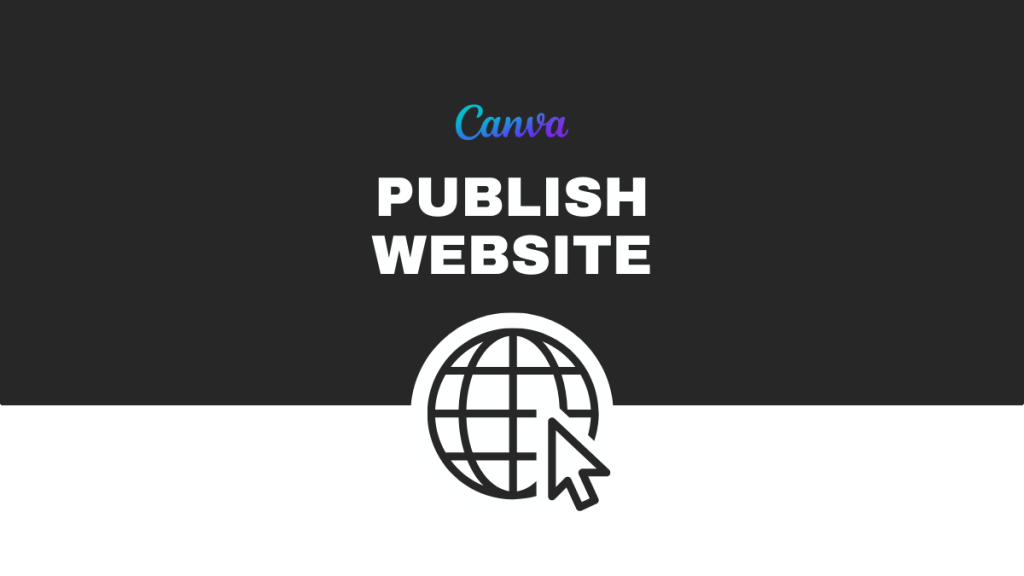 Whether you're aiming for a landing page, a one-page website, or a more complex layout, Canva's website builder has got you covered.
From the endless variety of Canva designs to user-friendly features like a search bar and classic navigation, Canva enables you to build your own website that not only looks professional but also functions seamlessly.
Let's dive into how to publish Canva website, whether it's for your small business, your blog posts, or even your YouTube channel.
Step-By-Step Guide To Publish Canva Website
You can publish your Canva website design by selecting the Publish Website button. You will have to then select which domain you'd like to publish it to. Then, add your website description and click the Publish button.
Here are the detailed steps on how to publish Canva Website:
Step 1: Design And Edit Your Website
Before publishing your Canva website, you'll want to make sure everything is just right. First things first, you should check that your website design is complete.
For that, Canva is a great way to create a professional-looking website without the need for a complicated content management system like a WordPress website.
If you're on Canva Pro, you'll have access to premium templates, but even a free Canva account offers a huge range of free website templates to choose from.
To create a particular template that aligns with your brand's color scheme and color palette, you can use Canva's graphic design tool.
Brand colors, background colors, and brand fonts should be in line with your overall brand kit. For this example, I've selected a Canva website template, customized the text, and changed the template image to my own.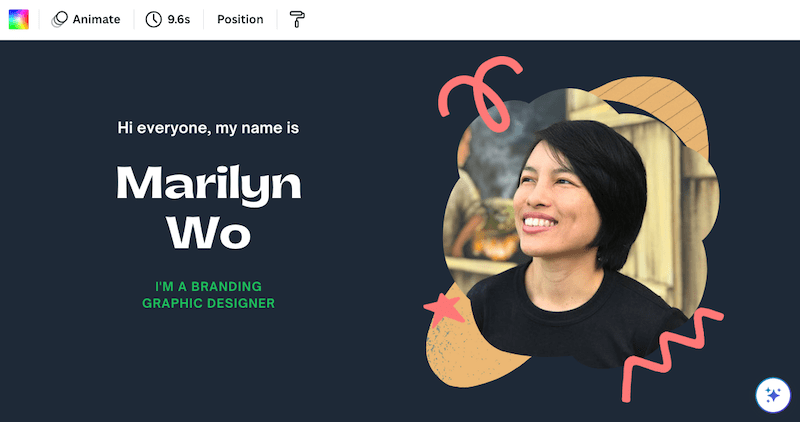 You may want to include Canva features such as YouTube videos, social media graphics, and blog posts. You can also add a contact form for email collection or queries.
Having an email address box is a great place to offer a freebie in exchange for your visitors' contact details. It will go a long way in keeping you connected to your audience, especially if you're a content creator or a small business.
Step 2: Publish Website Button
Before publishing, if you wish to add navigational links to your Canva website, make sure to add the title of each page. The page titles will be the basic buttons that are clickable for you to jump to the respective pages.
To add navigation with page titles, go to your first page, and select Add Notes on the left side or bottom of your page.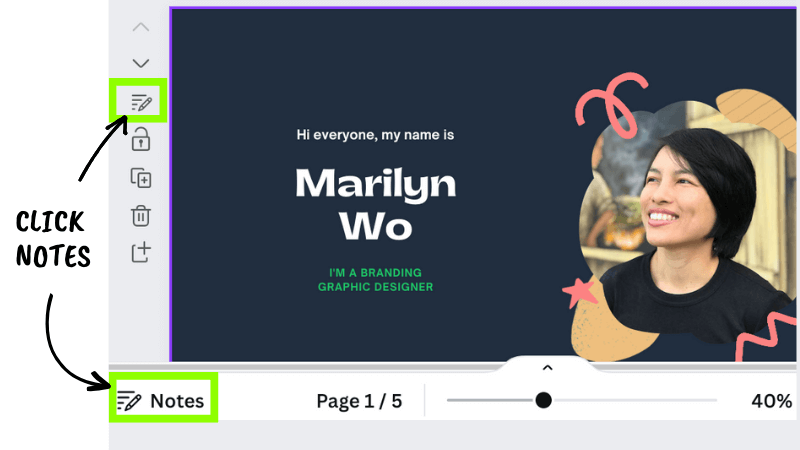 A panel will slide out from the left. Go to the top left section where it says Page 1 – Add page title. Click where it says Add page title and add in your page title or navigation label.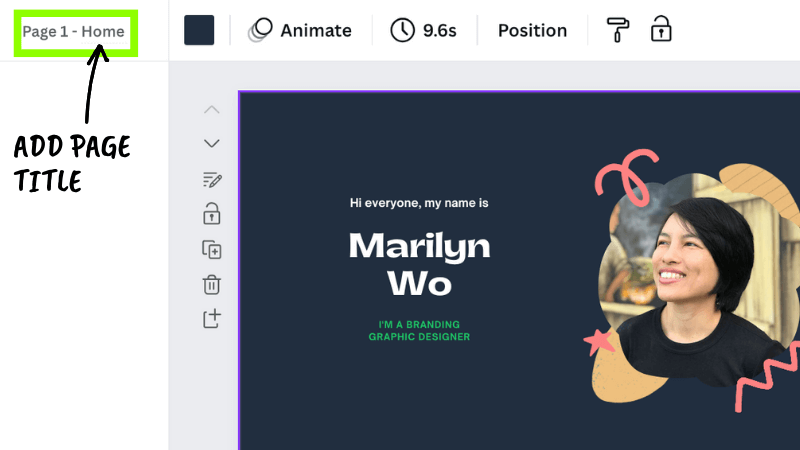 Then, on the top right-hand side, click the Publish Website button.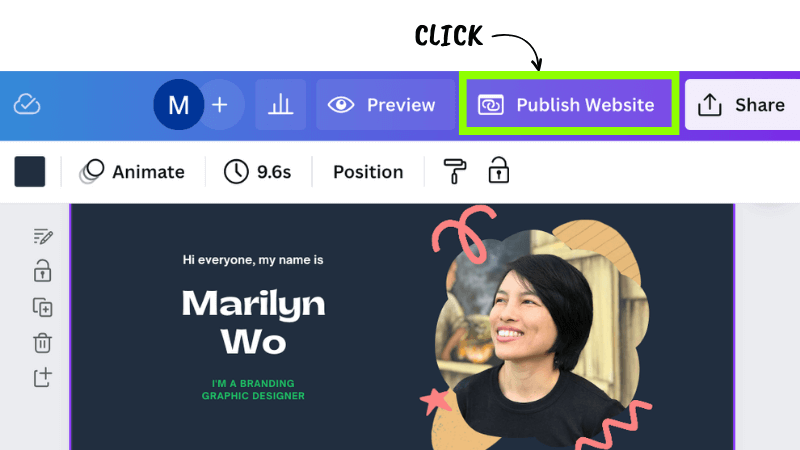 A popup on the right side will appear with several options.
Select the Resize On Mobile option to ensure your website template is set for responsive design to work on different devices, especially for a mobile-first website. It's essential to cater to both desktop and mobile device users.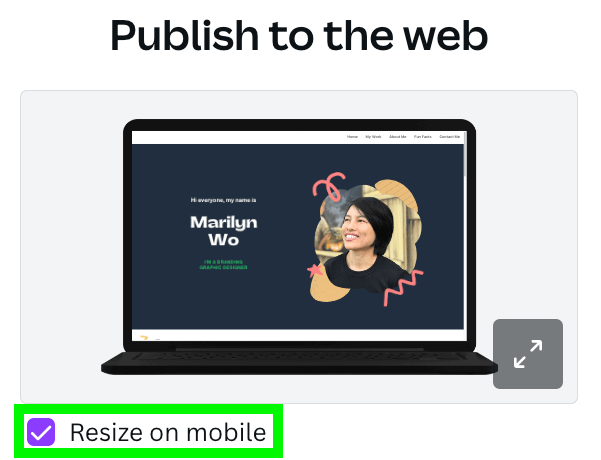 Below that, for classic navigation, select Without Navigation. Or select the With Navigation option which is especially useful for types of websites like a landing page or a one-page website.
In this example, I've selected With Navigation to show you how that looks like.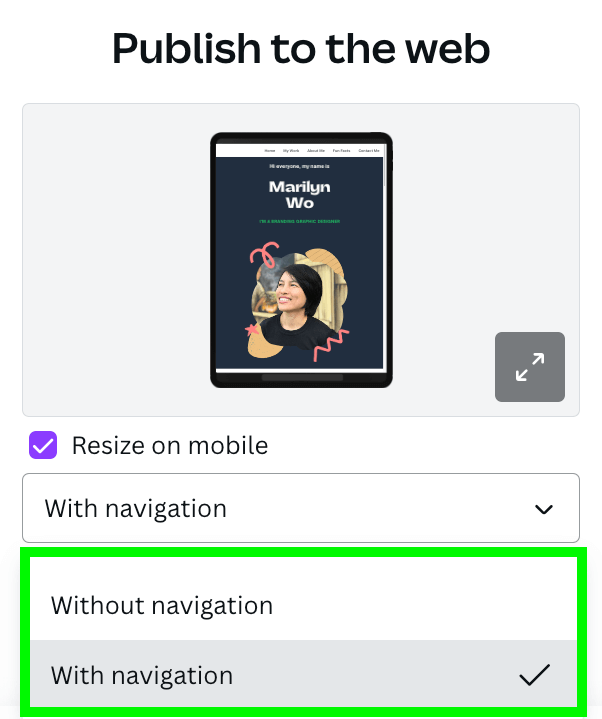 For the domain name, you have these options:
Free Domain — You'll get a subdomain attached to a Canva URL.
Purchase A New Domain — You can purchase a new domain.
Use My Existing Domain — If you already have your own domain, you can link it here.
In this example, I have selected the Free Domain to see my published website first. Then, click the Continue button to go to the next step.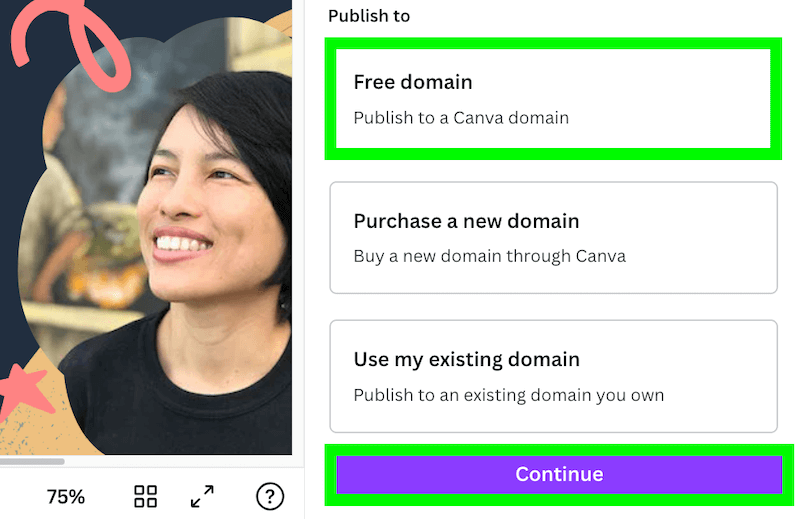 Step 3: Review Your Settings and Website Creation
You'll then be taken to a new page to finalize your website creation settings. If you opted for the free domain, you'll see your Canva site URL would have the word "Canva" in it. This is your opportunity to change the text in the address bar after the forward-slash.
First, click the pencil icon next to it.

Type in your custom text to change your free domain URL in the space provided.

Next is to update your browser tab preview. This is essential for search engines, so choose wisely.
First, click on the pencil icon.

Next, change the text in the box to your custom text or what you want people to see in that tab.

It's a good idea to upload an image preview of your website for the link icon as it is useful when sharing on social media. Simply drag and drop an image that is related to your website into this box.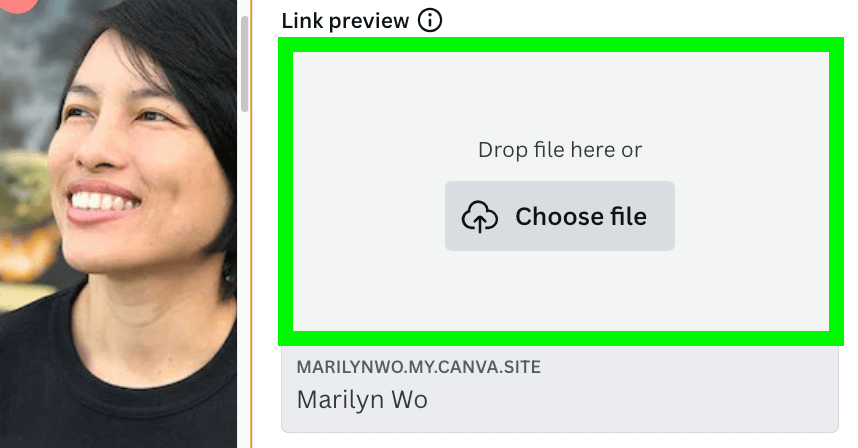 Write a brief website description for Google Analytics. Keep it under 160 characters for optimal search engine display. This is also a good time to insert any legal terms.
Finally, hit the Publish button, which now changes to a share button after the website goes live. From here you can share to Twitter feed, YouTube channel, and other platforms to promote your Canva website.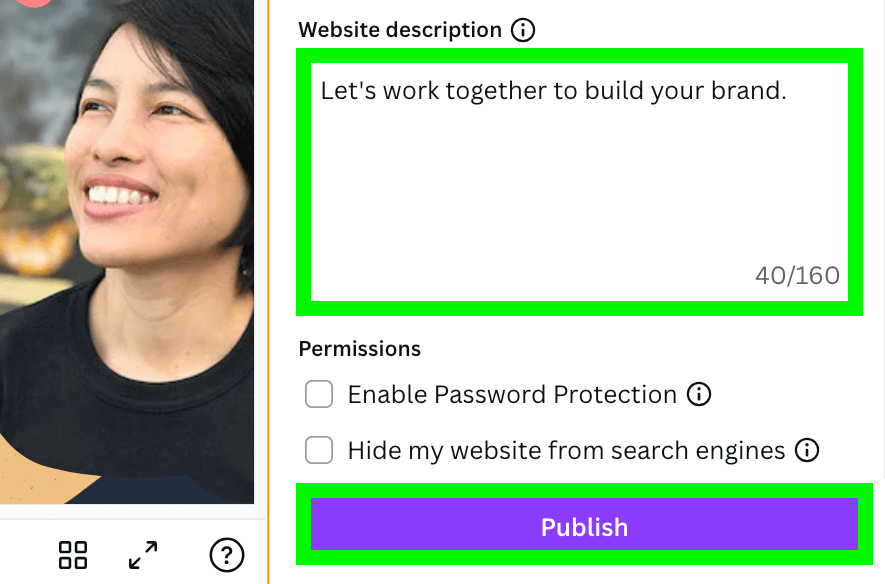 You can check out my Canva website which I've used as an example here.
Final Thoughts To Publish Canva Website
Congratulations, you've now published your own website using Canva's website builder. From here, the next step is to regularly update your web content, maybe add a shopping cart feature if you're selling products, or even embed your email list for marketing.
Whether you're creating a simple website or something more intricate, Canva is a versatile design tool that can get the job done efficiently.
And there you have it! You've walked a long way, and now you're the proud owner of a brand-new Canva website.
Have you created your website with Canva? Share it in the comments below: