3 Easy Steps To Make An Editable Canva Recipe Card
Whether you're a food blogger, a food recipe creator, or a graphic designer providing a Canva recipe card design service for your clients, I've got you covered in this article.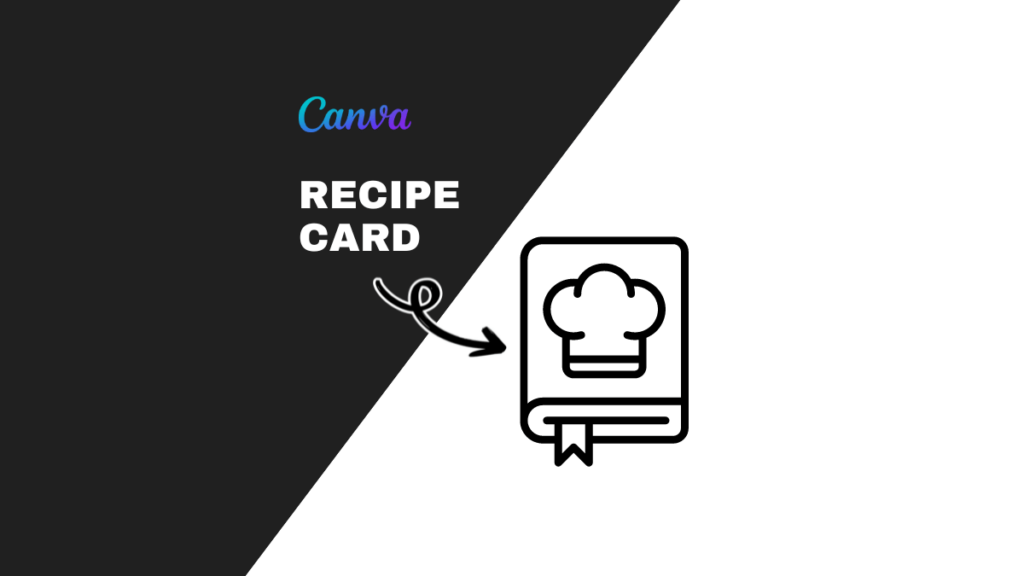 What Are Recipe Cards?
Recipe cards serve as an easy way to document your own recipe cards and share culinary delights.
Canva's user-friendly interface offers a simple process to get this done, making it a great tool not just for professional recipe developers but also for food bloggers and restaurant chefs.
Why Use Canva?
Canva offers several advantages:
Clean Design: The templates have a visually appealing, easy-to-read layout.
User-Friendly Interface: A smooth and intuitive experience for users of all levels.
Page Sizes: Whether you need US letter or another size, Canva has options.
Canva Template vs. Custom Design
Canva Recipe Book and Recipe Card Templates
Search for "recipe card templates" in Canva's search bar. You'll also find options to create an entire Canva recipe book with a cover page, table of contents, and recipe pages. This is a great way to centralize all your recipes.
Going Custom
Creating a new design allows you to bring your own unique flair to the standard recipe card format.
How To Make A Canva Recipe Card?
The quickest way to make a Canva recipe card is to first type in "recipe card" in the template section of the search bar. Next, browse and select a suitable recipe card template. Click the Customize This Template button and edit the recipe card with your own text, elements, images, and colors.
This may prompt you to log into your own Canva account if you haven't already done so. If you don't have an account, you can sign up for a free account using your email address.
If you want a detailed method, follow this step-by-step guide to creating an editable recipe card on Canva:
Step 1: Template or Master Template
Go to the Canva Recipe Card templates gallery. Choose either a Canva template or a blank page template to create your Master template.
There isn't a Master function in Canva like you see in PowerPoint. But you can save your own Canva design as a Master template by labeling it as "Master Template" and saving it in a designated folder in Canva.
Anytime you wish to create a new Canva recipe card, you can duplicate the master template and edit the design and content.
Step 2: Adding Text and Elements
Use text box tools to add your own text and elements like bold text for recipe titles. You can also add your own photos of the dish.
Step 3: Make It Editable
For an editable recipe card, add text boxes where users can insert their own text.
Sharing Your Creation
You've crafted the perfect recipe card and filled it with mouth-watering details and captivating images, and now you're ready for the next big step.
That is, distributing your recipe cards to reach a broader audience, showcase your skills, and even grow your culinary brand.
In the top right corner of the page, click on the Share button and you'll find options to share, download, or publish your design. You can also share a direct link to your Canva template via email or social media platforms.
Your recipe card or end product can be downloaded as a PDF instruction file or a PNG file.
How To Choose the Right Canva Recipe Card Template
Picking the suitable recipe card template is not just about aesthetics; it's also about functionality and how easily the recipe can be followed.
Whether you're planning to share these cards on social media platforms or compile them in your own recipe book, the template serves as the foundation for your culinary creativity.
1. Consider Your Target Audience
Before diving into the selection process, think about your target audience. Are you a recipe developer catering to professional chefs, or are you a food blogger aiming to attract home cooks? Your audience will impact the template you choose.
2. Accessing Canva's Recipe Card Library
The first step in the selection process is to access Canva's extensive library of recipe card templates.
If you don't have an account, you can create one for free using your email address.
Use the Search Bar
Once you're logged in, head to the search bar at the top of the page. Select the Template tab. Then type "recipe card" into the search bar to find a variety of templates.
Save Your Favorite Templates
As you browse Canva recipe card templates, there are so many designs, you may get a bit too overwhelmed. You don't need all of them, but you don't wish to lose sight of some of them as well.
Since you only need design templates that suit your target audience, you can save your favorite templates to your Canva Starred folder to shortlist them or keep them for future reference.
While scrolling down the templates page, roll your cursor over each template that may work well for you. Select the outlined star icon on the top right-hand corner of each template. Once you click it, the star icon gets filled with a yellow solid color.
Go to the left-hand side panel menu, and click on the Starred option to access your Starred folder for all the templates you've saved.
3. Reviewing Templates
Check Page Sizes
Canva offers different page sizes, including US letter. Make sure to select the size that suits your needs.
Examine Design Elements
Look at the color schemes, text boxes, and other design elements to decide which template fits your vision.
4. Preview and Customization
Before settling on a template, you can preview it to see how your recipe will look.
Customization Options
Canva allows you to add your own text, and images, and even customize the color scheme and fonts. Try to envision how your own recipe cards will look after customization.
Ease of Use
Canva's user-friendly interface means that even those with no prior design experience will find the platform easy to navigate.
Assess Usability for Special Occasions
Some templates are geared toward special occasions like holidays or birthdays. If you're looking for something specific, narrow down your choices accordingly.
Terms of Use and Licensing
Always check the terms of use when selecting a Canva template, especially if you plan to use it for commercial purposes like promoting a restaurant.
Compatibility with Other Projects
Matching with Your Recipe Book
If you're planning to compile these into a Canva recipe book, you'll want to choose a template that is consistent with the book's overall design.
Social Media Sharing
Some templates are optimized for sharing on social media platforms. If that's your goal, keep an eye out for these.
Bonus Tips for a Standout Recipe Card
Special Occasion Themes
Choose themes that match a special occasion for an extra touch.
Meal Planner Inclusion
Include this recipe card in a meal planner for a more organized approach to cooking.
Terms of Use
Always check the terms of use when using Canva's resources, especially when planning to distribute your recipe cards widely.
Final Takeaway: Canva Recipe Card
Creating an editable recipe card in Canva is a great way to contribute to your own cookbook or share recipes in a more organized and beautiful way.
Whether you have prior design experience or not, Canva is a graphic design platform that is so resourceful, that it makes the process pain-free and rewarding.
Canva Recipe Card Frequently Asked Questions
Does Canva Have A Recipe Book Template?
Yes — Canva does offer a variety of recipe book templates that are perfect for both amateur and professional chefs, food bloggers, and recipe developers.
These templates come with different page sizes, design schemes, and even special features like a table of contents. They offer a great tool for anyone looking to compile their recipes into a cohesive, beautiful end product.
You can access these by logging into your Canva account and using the search bar to find "recipe book templates."
How To Make A Custom Recipe Card?
Creating a custom recipe card in Canva is a simple process that doesn't require any prior design experience. Here's how:
Log into Your Canva Account: If you don't have one, sign up for free using your email address.
New Design: Go to "Create a Design" and choose a blank page template or use the search bar to find recipe card templates for a head start.
Design Elements: Add text boxes for recipe titles, ingredients, and instructions. Make use of Canva's design elements like shapes, lines, and icons to enhance your card.
Personal Touch: Add your own photos or choose from Canva's vast image library.
Font and Color: Customize the font styles, sizes, and colors to match your branding or theme.
Review: Before finalizing, review your design for any errors or omissions.
Download and Share: Once you're satisfied, download your design as a PDF or PNG file, ready for printing or sharing.
Canva Recipe Card
How To Make Editable Recipe Cards?
Creating editable recipe cards allows your audience to input their own text, which is ideal for templates you plan to distribute. Here's how you can make your recipe cards editable:
Choose a Template or Blank Canvas: Log in to your Canva account and decide whether you want to use a pre-designed template or start from scratch.
Add Fixed Elements: These are elements like headers, borders, and graphics that will not be edited by the end-user.
Editable Fields: For areas where you want users to add their text, place text boxes with placeholder text. This can be instructions like "Enter Ingredient Here" or "Describe Preparation Steps."
Save As a Template: Once the design is complete, save it as a template. This makes it easier to create new, editable cards in the future.
Sharing Options: Share your editable template with your audience. Canva allows you to share a direct link to your design, which can then be edited by anyone with the link.
How Do I Make A Printable Card In Canva?
Here are the steps to make a printable card in Canva:
Log In or Sign Up: Access Canva by logging into your free account. If you don't have an account, you can create one with your email address.
Find a Template: Use the search bar to find a card template that suits your needs. Canva offers a myriad of options for various occasions and purposes.
Customize: Add your own text, images, and other design elements to make the card unique.
Review and Preview: Before printing, always preview your card to ensure it looks just the way you want.
Download: Once you're satisfied with the end product, download the card. You'll have the option to save it as a high-quality PDF, which is ideal for printing.
Print: Use your home printer to print the card, or take the downloaded PDF file to a professional printing service.
Does Canva Make Folded Cards?
Yes — Canva does provide the capability to create folded cards. However, it's worth noting that these designs are generally done on a two-page layout to represent the front and back of the card. You will have to manage the folding yourself post-printing.
Select a Template: Start by selecting a folded card template or creating a design from scratch.
Design the Front and Back: The first page you design will represent the front and back covers of the folded card. Add images, text, and other design elements as desired.
Design the Inside: For the interior of the card, create a new page in the same design project and add your inner card elements there.
Download as PDF: Once you've completed your design, download it as a PDF with the "Print" option selected for best quality.
Printing and Folding: After printing, you'll need to manually fold the card along the intended creases to create the finished product.
How Do I Create A Digital Recipe Book In Canva?
Here's how to create a digital recipe book in Canva:
Log Into Canva: Access your Canva account or sign up for a free account using your email address.
Search for Recipe Book Templates: Canva offers a variety of recipe book templates with different themes and layouts. Select one that suits your style.
Add Recipes: You can manually input recipes, or if you already have them in digital format, you can easily copy and paste them into the text boxes.
Personalize: Add your own photos, content, and choose fonts, and customize colors to make the recipe book truly your own.
Interactive Elements: To make your digital recipe book more engaging, consider adding clickable links, perhaps to different sections like 'Appetizers', 'Main Courses', and 'Desserts'.
Download: Once you're satisfied with your digital recipe book, download it as PDF Standard.
Share: Your digital recipe book is now ready to be shared via email, social media platforms, or even as a downloadable link on your food blog.
Can I Sell Digital Products Made From Canva?
Yes — you can sell digital products made from Canva, but there are certain conditions you need to meet. According to Canva's terms of use, if you're planning to sell your designs, you have to ensure that the elements you use are labeled for commercial use.
Always double-check the licensing for each individual asset you incorporate into your design. In other words, make sure you're not using elements that are only free for personal use if you plan on selling your digital product.
What Is Legal To Sell From Canva?
The legality of selling your Canva creations largely depends on the licensing agreements of the elements you use at the time of publishing.
Canva offers a variety of assets—images, fonts, templates—that come with different licensing options. The terms may range from personal use to commercial use.
One-Time Use Elements: Some elements are only licensed for one-time use and cannot be sold.
Free for Commercial Use: Always look for elements that are explicitly marked as "Free for Commercial Use" if you plan on selling your design.
Purchased Elements: If you've bought an element through Canva, check its license to see if you can use it in products you wish to sell.
Original Content: Any content that is entirely your own can certainly be sold.
Canva Pro: The Pro account does offer more extensive commercial licensing for assets, making it a more suitable option for serious commercial endeavors.
In any case, always read Canva's terms of use and individual asset licenses carefully to ensure you're adhering to the rules.
Is Selling Canva Designs Legal?
Selling your designs from Canva is generally legal as long as you adhere to Canva's terms of use and the specific licensing of the assets you've incorporated into your design at the time of publishing.
Violating these terms could result in your account being suspended or legal action being taken against you.
Modify Templates: It's advisable to significantly modify Canva's templates if you intend to sell them. Simply changing a few elements may not be sufficient.
Licensing: Always opt for assets that are licensed for commercial use. Pay attention to whether you are allowed to sell the end product as is or if modifications are necessary.
Due Diligence: Regularly review any changes in Canva's terms of use to ensure you're up to date with their policies.
By following these guidelines and being diligent about the assets you use, you can legally sell your Canva designs. However, if you're ever unsure, it may be beneficial to consult with a legal advisor to ensure that you're fully compliant with all regulations and terms.
Is It Legal To Use Canva And Sell On Etsy?
Yes — it is generally legal to use Canva to create designs and sell them on Etsy, but there are important guidelines and terms of use that you must follow.
Before selling any design you've made on Canva, you should double-check that all the elements you've used are labeled for commercial use at the time of publishing.
Each asset—be it an image, font, or template—comes with its own licensing terms. Make sure you're abiding by these terms to stay in the clear.
Can You Use Canva To Sell On Etsy?
Yes — Canva is a popular tool among Etsy sellers for creating digital and printable products. From social media banners to printables, the platform offers a plethora of design options ideal for the Etsy marketplace.
However, it's essential to use assets that are allowed for commercial use. If you are a Canva Pro user, you'll have access to a wider array of commercially licensed assets, which can make the process easier and more robust.
How To Use Canva To Sell On Etsy?
Create Your Design: Utilize Canva's user-friendly interface to create your product.
Review Licensing: Make sure all elements in your design are free for commercial use or you have purchased the appropriate license at the time of publishing.
Download: Once your design is complete, you can download it in a format that suits your needs—PNG, JPG, or PDF, for instance.
Upload on Etsy: Follow Etsy's guidelines for listing a product, and upload your Canva design.
Can You Sell Things Made On Canva Free?
Yes — you can use the free version of Canva to create designs and sell them, but your options for commercial use elements may be more limited compared to Canva Pro.
You will need to ensure that every element you use is available for commercial use under a free license. If it isn't, you'll either have to purchase the correct license or refrain from using that specific element in your design that you intend to sell.
Also, if the element is available for free but has limitations like one-time use, it should not be used in products that will be sold.
Is Selling On Canva Profitable?
Yes — selling digital products created through Canva can be profitable, but your success depends on several factors. These include the quality of your designs, the target market, and your marketing strategies. Here's what to consider:
Unique Designs: Offering innovative and unique designs that stand out in a saturated market can increase your sales.
Marketing Efforts: Promoting your products on social media platforms or through paid advertising can significantly affect profitability.
Licensing: Make sure to use assets that you're legally allowed to use for commercial purposes, as any legal issues can negatively impact profits.
Understand Your Audience: Knowing what appeals to your target market can help you create designs that are more likely to sell.
Pricing Strategy: Your profitability also depends on how you price your items. Too high might deter buyers, while too low may undermine your profits.
Volume vs. Margin: Selling lower-priced items in higher volumes can sometimes be more profitable than selling fewer high-priced items.
Can I Legally Use A Logo Made On Canva?
Yes — you can legally use a logo made on Canva for your business or personal brand, but there are some guidelines to follow:
Commercial Licensing: Make sure that all the elements you've used in your logo are free for commercial use or that you've purchased the appropriate licenses.
Uniqueness: It's a good practice to modify Canva's templates significantly to create a unique logo, as numerous people have access to the same templates.
Trademark Concerns: Before finalizing and using your logo, it's wise to check that it doesn't infringe on any existing trademarks.
Terms of Use: Always consult Canva's latest terms of use to ensure you're following all legal stipulations.
Can I Use Canva Designs For Print On Demand?
Yes — Canva designs can be used for print-on-demand services, but again, there are caveats related to licensing:
Licensing: Just like with selling on Etsy or creating a logo, ensure that each asset you use is licensed for commercial use.
Originality: Try to create original designs that are significantly different from Canva's ready-made templates, as these are accessible to anyone using Canva, making your product less unique.
Quality: Make sure to download your designs in the highest quality and in the format best suited for printing. This ensures the end product meets customer expectations.
Print-On-Demand Guidelines: Always adhere to your print-on-demand platform's specific requirements and guidelines to avoid any issues.
Terms of Use: Regularly consult Canva's terms of use to make sure you're in compliance with any updates to their licensing agreements.
By paying careful attention to licensing, originality, and quality, you can legally and successfully use Canva for various commercial purposes, from creating a logo to launching a print-on-demand business.