Easy Steps To Hyperlink Anything In Canva For Free
In this guide, you will learn everything you need to know about how to hyperlink in Canva on anything for free.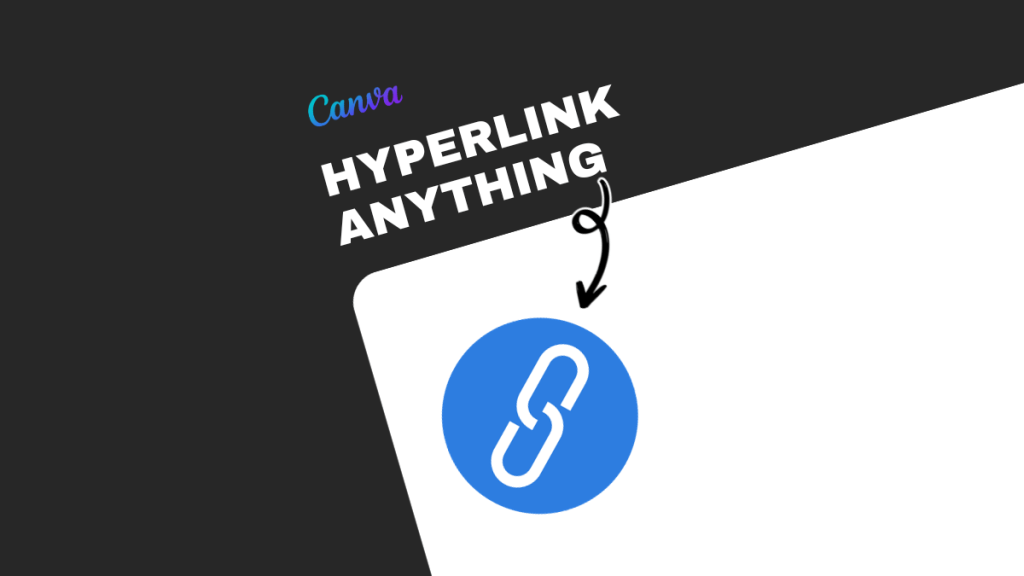 Can You Hyperlink in Canva?
Yes — you are able to hyperlink anything you want in your Canva design to other pages or add clickable links to your Canva designs with a link tool.
You can also export your Canva design as a PDF file to your device with the hyperlink still clickable outside of Canva. You can also create email links to open in email providers, how cool is that?
What Can You Hyperlink in Canva?
Adding hyperlinks to your text, images, videos, and graphics in Canva has been made so easy! It used to be the case that there was no way to hyperlink an individual element, rather you had to hyperlink the entire element.
Now, you can hyperlink anything in the Canva desktop web app, from an image to a text box, to a letter in a text box!
The downside is, that you can't hyperlink backgrounds and animated graphics like stickers, but you can use a hack for that. As for videos, you can create a Canva video and add hyperlinks inside.
But you can't hyperlink a video element, because it's meant to play as a video. If you add a hyperlink to it, it will redirect you to another page instead of playing as a video.
Elements you can hyperlink in Canva:
The entire text box
One or more letters, numbers, or words within one text box
Lines & shapes
Charts
Photos and images
Graphics
Tables
Frames
Grids
Stick with me and in this guide, you will learn to hyperlink in Canva in no time.
How to Hyperlink in Canva?
In this example, I will show you how you can hyperlink an element to make it like a button on a website.
Here are the steps to hyperlink on Canva desktop app:
1. Select the Element to Hyperlink
Once you are logged into your Canva account, create a new design or open a recent design that you've done.
Have your location or destination URL or link ready. Then, select the item on your Canva design you'd like to add the hyperlink to. You know your item is selected if there is a blue box surrounding it.
In this example, I would like to add a hyperlink to the button with the text: "Join Now!".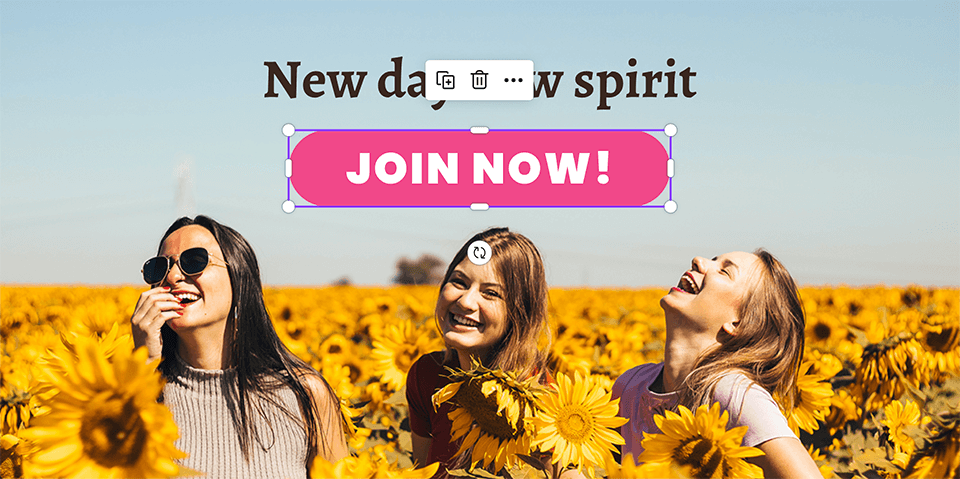 2. Select the Chain Link Icon
With your design element or item selected, next, select the button on the upper right corner of the Canva browser with an icon that looks like a chain link 🔗.
If you don't see the link button, select the three dots found either just above the element or find them on the options bar just next to the "Animate" button. The three dots are meant to say, "click to see more…"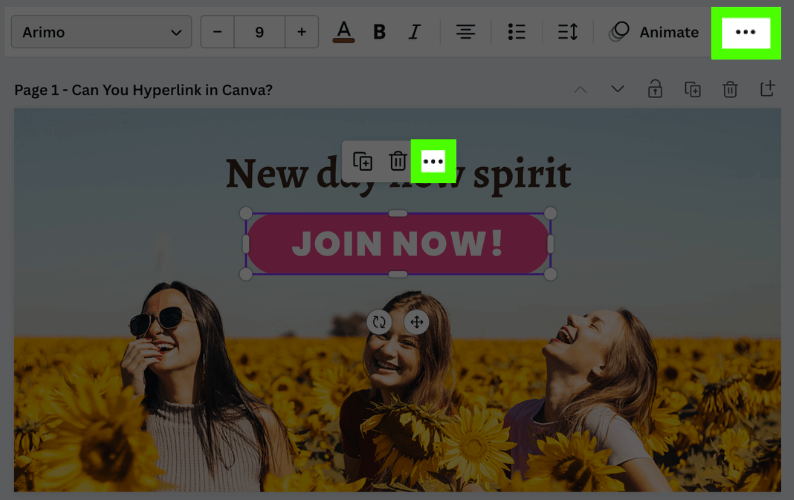 Next, select the Link option or chain link icon from the drop-down menu.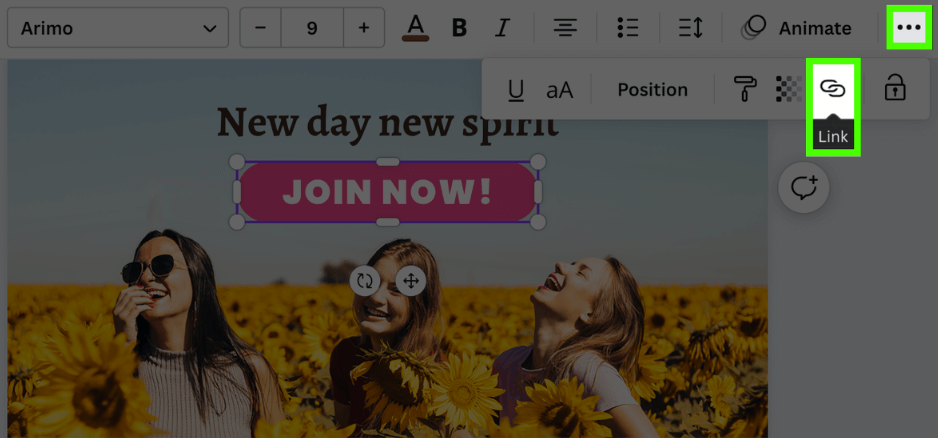 A second way to select the Link option is to right-click with your cursor on the selected element. A drop-down menu will appear. Select the Link Tool from there.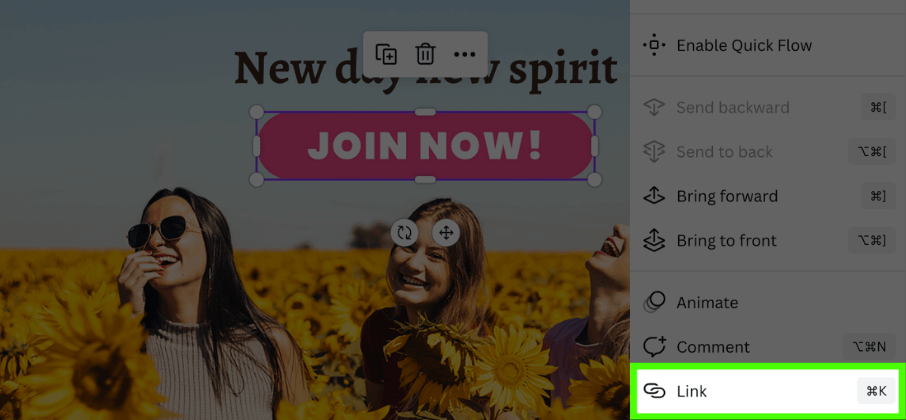 The third way is to use the keyboard shortcut Command key, ⌘ together with the letter K.
3. Enter the Hyperlink Location
Once the chain link icon is selected, a search box will appear for you to enter your hyperlink location or where you'd like to link it.
You can do the following to make a hyperlink in Canva:
Type in the website URL of the location in the search bar and press enter
Browse and select another page from the same document in the drop-down list
Browse and select another recent Canva design from the drop-down list
Link to any email address by typing in the desired email address will do.
Then, press enter on your keyboard.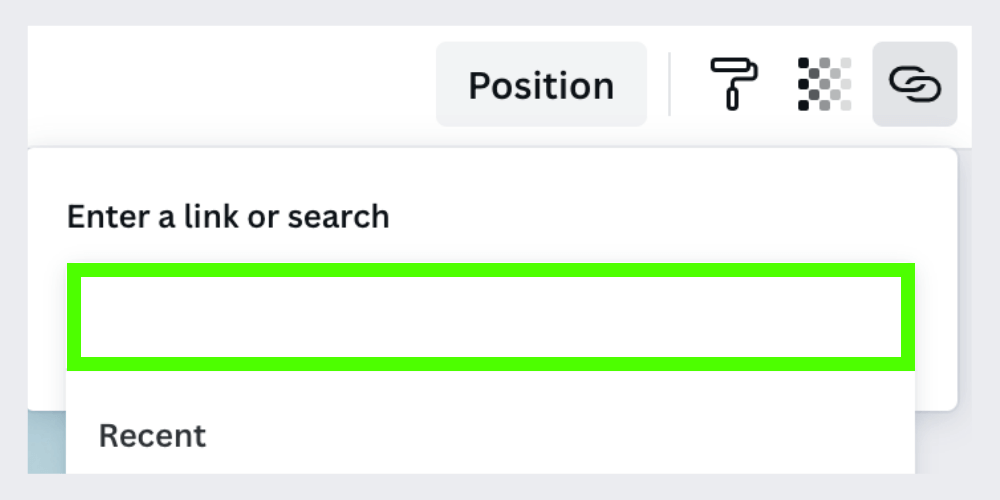 Although you've added the hyperlink, you won't be able to see the outcome in your Canva design. Clicking your hyperlinked element inside Canva won't redirect you to your desired location.
You will have to export it to either a PDF file, a video format, or a presentation format for the hyperlink to be clickable.
Can You Hyperlink In Canva FAQs
Can You Hyperlink a Background in Canva?
It's great to know you can hyperlink just about anything in Canva. However, when you select your background image, color, or an element that's been made a background, you don't see the chain link icon option.
In this case, there's no way to hyperlink a background in Canva. You will have to change the background to a non-background first before making it a hyperlink.
Here's how to hyperlink a background in Canva:
Select the background
Right-click and select "Detach image from background". Now your background becomes a regular image or graphic that could be reduced in size
Adjust it to make it the size you want or as big as your background space
Before positioning it to the back of all elements, hyperlink it to the location you desire by selecting the chain link icon and entering the location address.
Then position it to the back and it will turn into a background again, this time with the hyperlink you've wanted.
Can You Hyperlink a Sticker or Animated Graphic in Canva?
If you add a sticker or animated graphic to your Canva design and try to hyperlink it like how you do it on your text and graphic, you will not find the chain link icon option.
This means you aren't able to hyperlink them directly with a link tool just like how you do it on text and images.
In this case, you will have to use a workaround by adding an element over it and adding the hyperlink to the element instead.
Pro Tip on How to Hyperlink a Sticker in Canva
Select the Elements button on the left-side menu
A range of elements will appear in a pull-out menu. Select the square shape from the Lines and Shape section.
Drag the square shape over the sticker layer
While the square shape is selected, right-click and select the chain link icon
Add your hyperlink address in the dropdown search box.
Can You Put a Hyperlink in a JPEG in Canva?
You can put a hyperlink in a JPEG or PNG image in your Canva design, but for it to be clickable and working, you will have to publish or export it as either a presentation, a PDF file type, or as a Canva website.
If you were to hyperlink any element in Canva and publish or export it as JPEG or PNG, you will find that it is not clickable when you open the JPEG file outside of Canva.
To highlight text in a Canva design, first, select the desired text box on your design by clicking on it once. Next, select the effects option on the top menu and you will see a range of text effects appear in the left column. Select the Background button. Now your text is highlighted with a highlighter effect.
You can easily erase on Canva by first selecting your image. Then select the Canva Background Remover tool which will first remove your image background. Then select the Erase brush to erase any part of your image or the Restore brush to retrieve back any erased area of your image.
Some common reasons why is hyperlink not working on Canva could be due to where you are testing the hyperlink, which is how Canva works. It could be due to an incorrect or incomplete web address. Or maybe your internet just decided to be uncooperative for a moment.
Yes! You can now add an email hyperlink to anything in Canva. With your Canva design opened, select any text, image, or graphic you want to hyperlink. Select the chain link icon and inside the search bar, type in your email address such as "email@domain.com". Then, press the enter or return key on the keyboard. This will do!