3 Easy Steps To Change Orientation in Canva Pro + Free in Canva?
In this tutorial, you get to learn how to change orientation in Canva. Let's dive in!
Steps To Change Orientation In Canva Pro
The best way to switch between portrait and landscape orientation of your canvas on Canva is to first click on the Magic Switch button and select Custom Size.
Then, click inside either the Width or Height box and select the orientation you want in the drop-down options below.
This is for Canva Pro users only. I also show you how you can change orientation in Canva if you are using the free version.
For step-by-step details, here's how you can change your design's orientation on this popular online graphic design tool that is part of Magic Studio:
Step 1: Magic Switch
Start by launching your desired project on Canva's home page. Whether it's a new design or an existing design file, Canva makes it a simple process to change dimensions.
In this example, I would like to change the landscape design of the featured image used in this blog post to a portrait mode. I can then use this portrait design for social media graphics.
On the editor page of the current design, click the Magic Switch button on Canva's toolbar at the top of the page. This feature is one of the handy Canva hacks that make design orientation changes a breeze.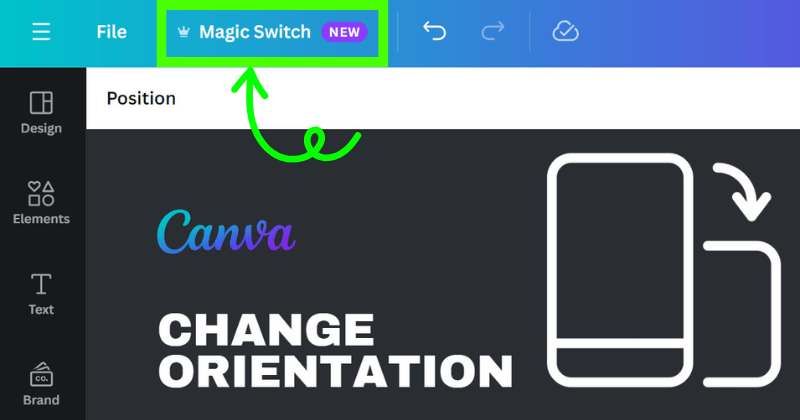 In the Magic Switch button's dropdown menu, navigate to the Browse By Category section, and select Custom Size. This allows you to input custom dimensions for a tailored design orientation.
If you have a specific canvas size in mind, you can select an option here right away.
Step 2: Change Orientation
Click into either the Width or Height field box, and a drop-down menu will appear, presenting options for landscape mode (horizontal orientation), portrait orientation (vertical orientation), or custom dimensions. Select your desired orientation here.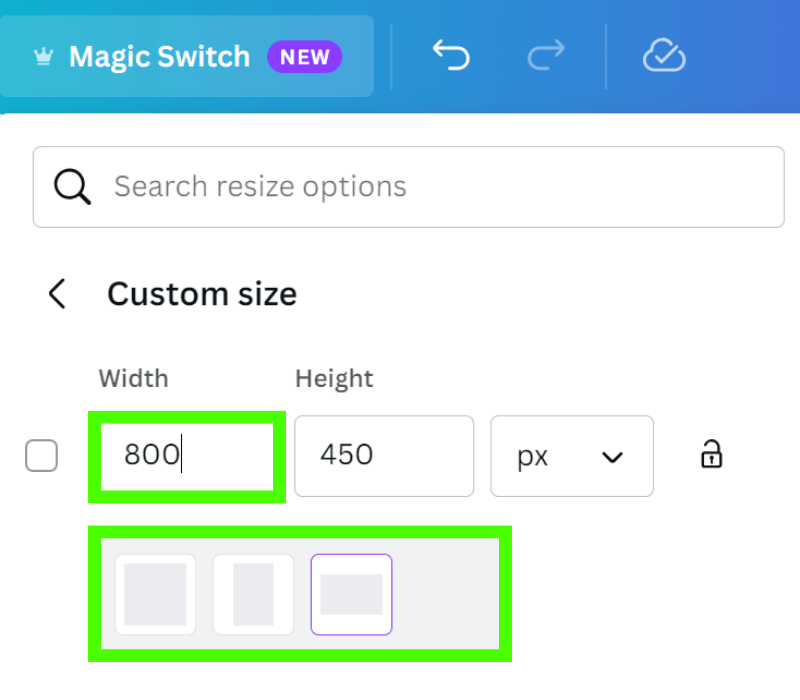 Click the Continue button and a preview will emerge showing how the change in orientation will look like. This visual confirmation is part of Canva's user-friendly design process, allowing you to see the adjustments in real time.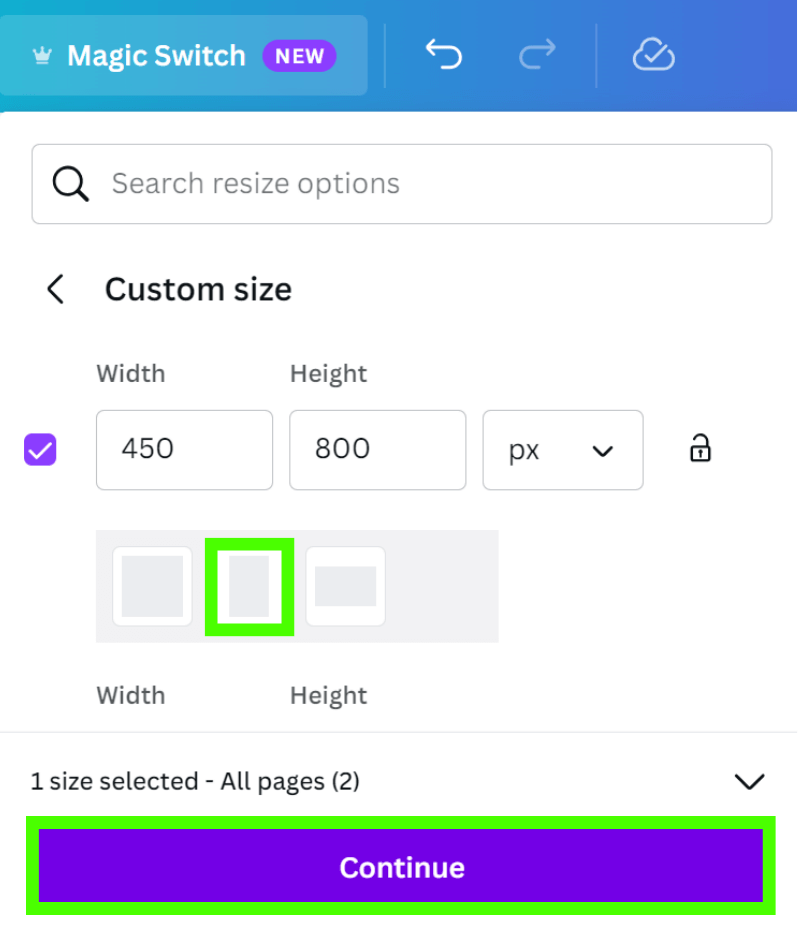 You will then have the option to either Copy & Resize or to Resize This Design. Selecting Copy & Resize will create a new Canva design page with a different orientation while choosing Resize This Design will alter the orientation of your current Canva design.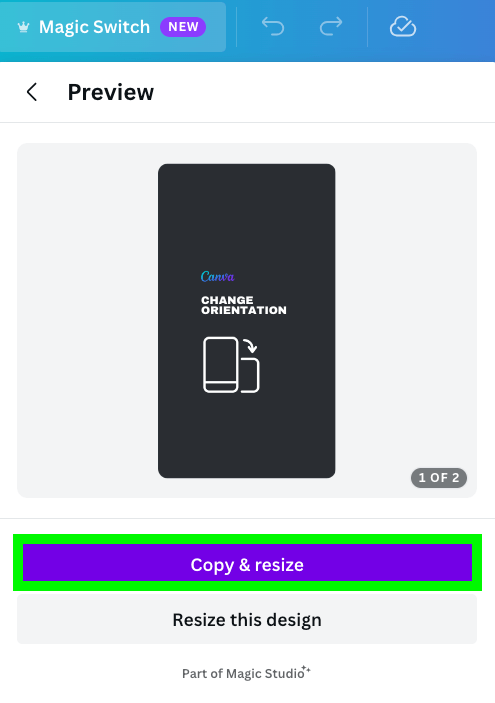 Be mindful that if you choose Resize This Design, Canva will not save your original design and your previous design orientation will not be available after the change.
In this example, I've selected the Copy & Resize button to keep the original version.
Step 3: Adjust and Save
Another drop-down will let you know that the orientation change is completed and you can click the Open button to see the new design.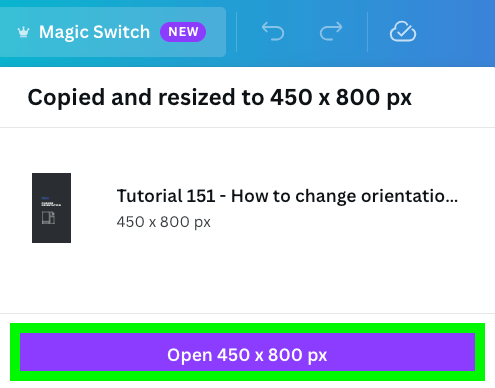 Now with the new orientation applied, you can reposition your design elements to fit the new layout. Whether you need to adjust the positioning of your graphic, text box, or any other design elements, everything can be moved and resized to fit the new orientation.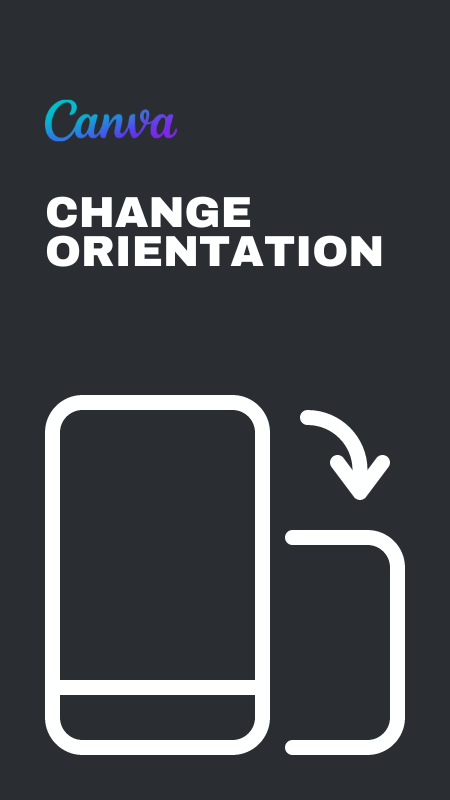 Once satisfied with the new orientation and layout, save your design. Canva provides various export options, such as PNG, JPEG, and PDF for web and print use.
So, the next time you're working on a landscape poster or a vertical-oriented social media post, remember, that adjusting the orientation of your design in Canva is just a few clicks away. And with a Canva Pro subscription, you can access even more useful tools to enhance your design process.
Steps to Change Orientation In Canva For Free?
You can also change the orientation of your canvas on Canva for free by starting a new Canva design size or a new orientation of your project. Then copy and paste your design from the previous canvas to the new page.
From there, you can adjust and rotate images and elements to fit your new Canva page orientation.
Go through the following steps on how to do that if you don't have a Canva Pro subscription:
Step 1: Open A New Blank Canvas
With the original Canva design, leave it open in Canva. Then, go to the Canva home page and click on the Custom Size button on the top right-hand corner just below the menu bar.

You will see a drop-down menu appear with empty boxes. Type in the Width and Height values of your new orientation in the boxes.
Click on the Create New Design button.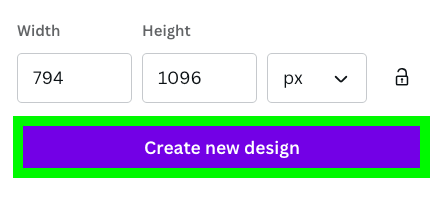 Step 2: Copy Your Design
Next, go back to the tab where your original design with the previous orientation is located. Select all the elements you have on the document or canvas by using the keyboard shortcut Command + A on a Mac.

Or Ctrl + A on Windows.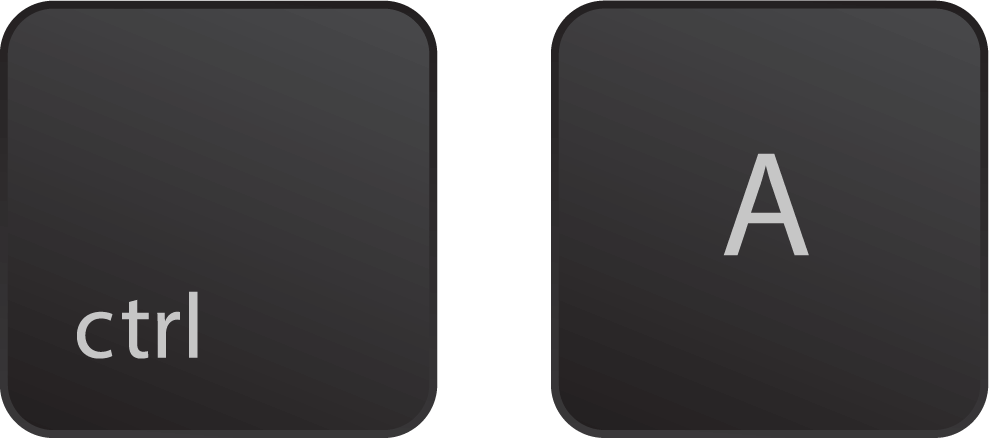 You have now selected all the elements and you will see boxes appear around each element.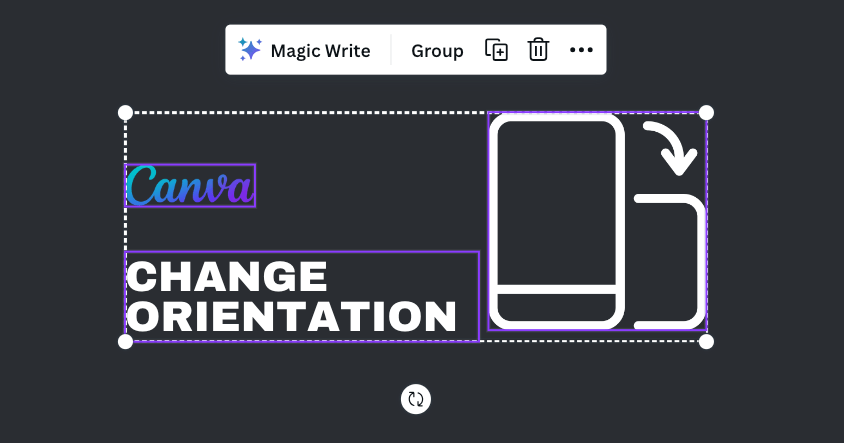 Then, right-click and select the Copy option to copy everything on your design.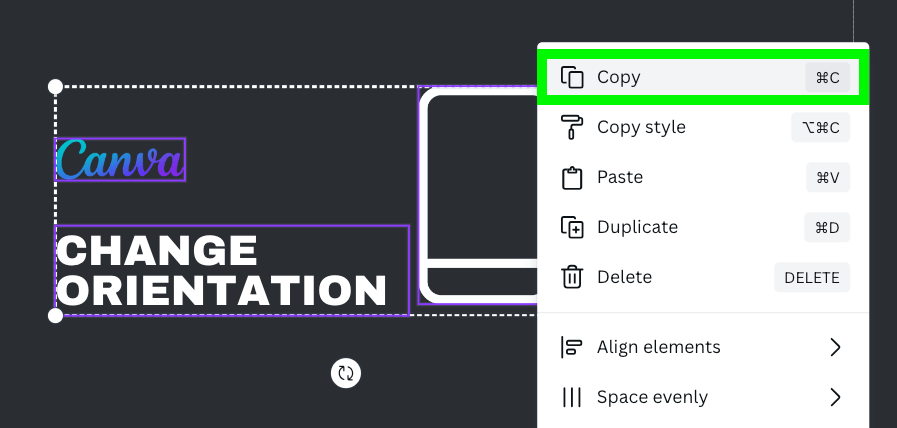 Step 3: Paste Into Document With New Orientation
Go to the empty canvas with the new orientation. Right-click with your cursor on the canvas and select the Paste option in the pop-up menu.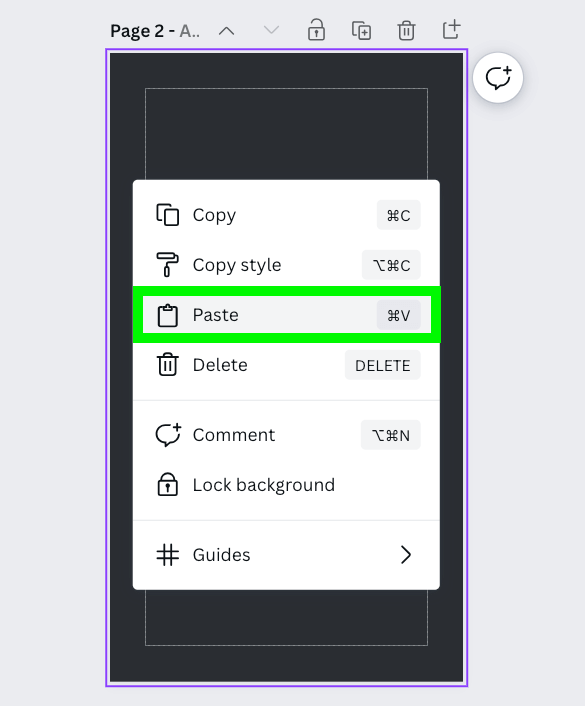 You can also use a keyboard shortcut by pressing Command + V on a Mac.

Or Ctrl + V on Windows.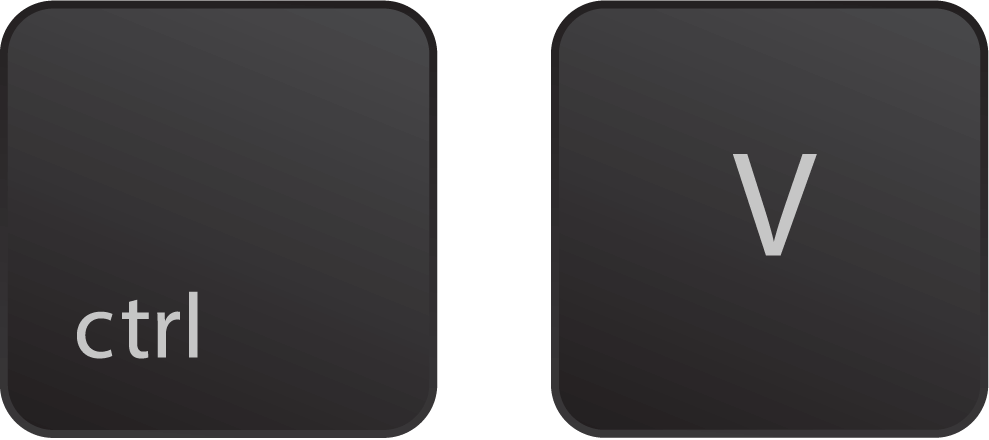 You will see your design and all elements you've copied appear in the new canvas with the new orientation.
Most likely you will have to adjust your elements or even rotate images with the rotate handle.
If your original design happened to have a background color or image, that will not be included in the new canvas.
You will have to go back to the original design to take another step of copying the background separately. Then, do the same thing of returning to the new canvas to paste it in.
Final Thoughts: Change Orientation In Canva
By following these steps, you'll find that changing the orientation of your canvas in Canva is an easy task, whether you are on a web browser or using a mobile app.
The platform's intuitive design makes it the easiest way to alter the design orientation, ensuring your social media posts, business cards, or any other type of design are always visually appealing.
If you find yourself doing this often, a Canva Pro subscription might be a worthy investment for access to additional features and useful tools. So, the next time you need to change page orientation, you know the steps to make it happen effortlessly.