3 Easy Steps To Change Background Color Of A Canva Design
This article gives you the steps to change the background color of the page on your Canva design (not the background of your picture in Canva).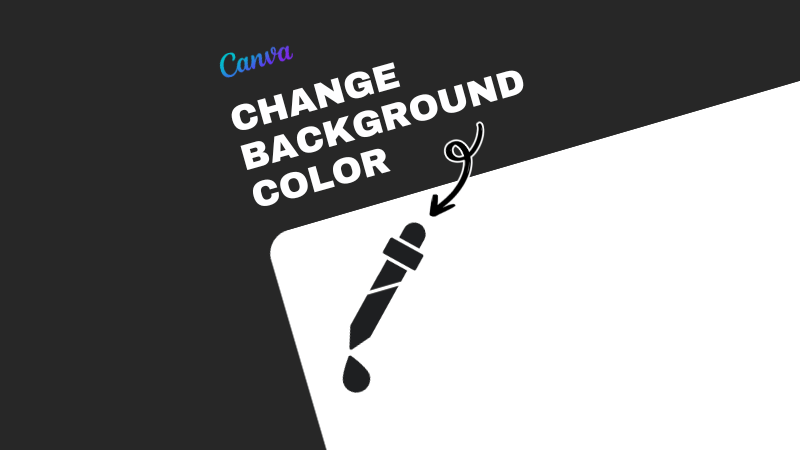 3 Things About Choosing The Right Background Color
First, it's crucial to understand that how your design works depends on the colors you use, including your Canva background color.
That means you need to know three things:
1. Color Fundamentals Of Color Palette
Grasping the basic concept of color theory is the foundation for all your designs. Canva offers plenty of options to pick the right color palette, from solid colors to complex backgrounds.
Each color sets a specific tone and emotional response, whether it's the color of an image or the background of a photo.
If you're aiming for a professional look, blues and grays might be your go-to. For excitement, think reds or oranges.
Having a Canva Pro account gives you access to the Brand Kit, where you can set and keep your brand's color palette for consistency across all your designs.
2. Ensuring Readability and Accessibility
It's not just about the aesthetics; readability is a crucial factor. The color of the text against your chosen background color should be high contrast to ensure legibility.
Options like white text on a dark background often work best. Canva provides various font styles that might interact differently with your background.
Plus, built-in features even allow free account users to check the accessibility of color choices, ensuring your design is readable by everyone, including those with color vision deficiencies.
3. Brand Consistency Across Platforms
Whether you're designing for your YouTube channel, creating an Instagram post, or any other social media graphics, maintaining brand consistency is key.
Your logo design and color choices should align with your brand's established guidelines.
This consistency enhances brand recognition, and with Canva, it's easier than ever to stick to these guidelines while still having the creative freedom to experiment with tints and shades.
How To Change Background Color On Canva
Now that you know the fundamental dos and don'ts of choosing a background color, let's look at what you should be doing with your design on Canva.
Although there isn't a background tab for you to change the background color of your Canva design, it's not too complicated to get this done.
Here are 3 simple steps to changing the background color on Canva:
Step 1: Open a New Design
Log into your Canva account, or sign up for a Canva Pro account for more features. Click on the Create A Design button and choose your preferred dimension.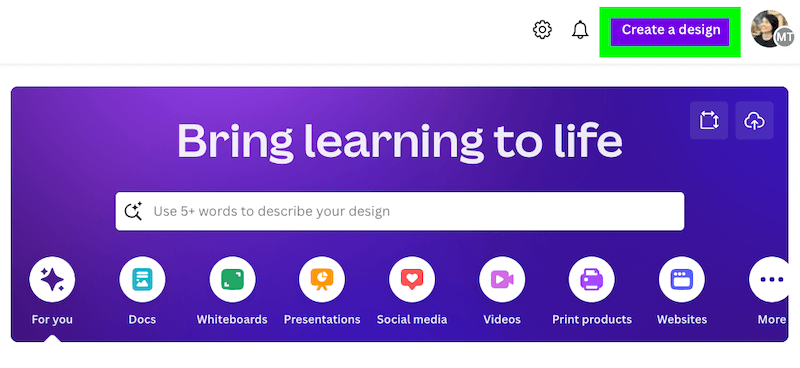 With your design created or existing design opened up, bring your cursor to the background color.
Click on the background color once.
Go to the Canva editor toolbar, and click on the color tile.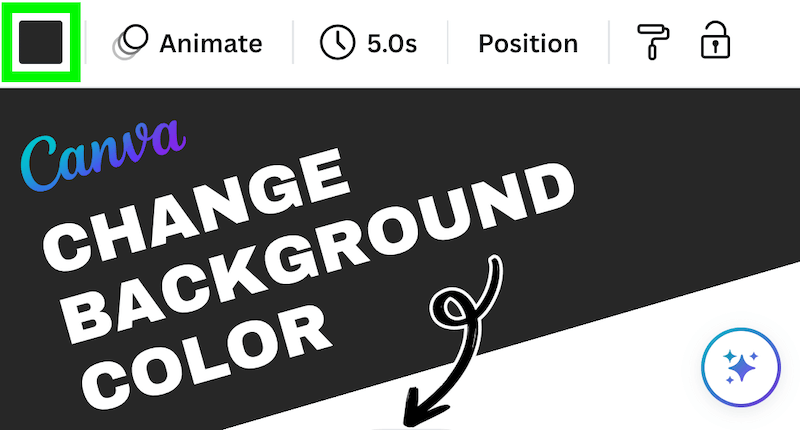 You will see a variety of color options appear in the panel on the left-hand side of the screen.
Step 2: Choose A Color
Canva would have picked out your document colors and you can see them in the Document Colors section. You may wish to change your color to any of these preset background colors so that it matches the elements on your existing document in Canva.
Or, you may wish to change your background color to any of the ones in your Brand Kit if you are a Canva Pro user.
Otherwise, you can change the Canva background color to any of the colors in the Photo Colors section or the ones in the Default Colors section.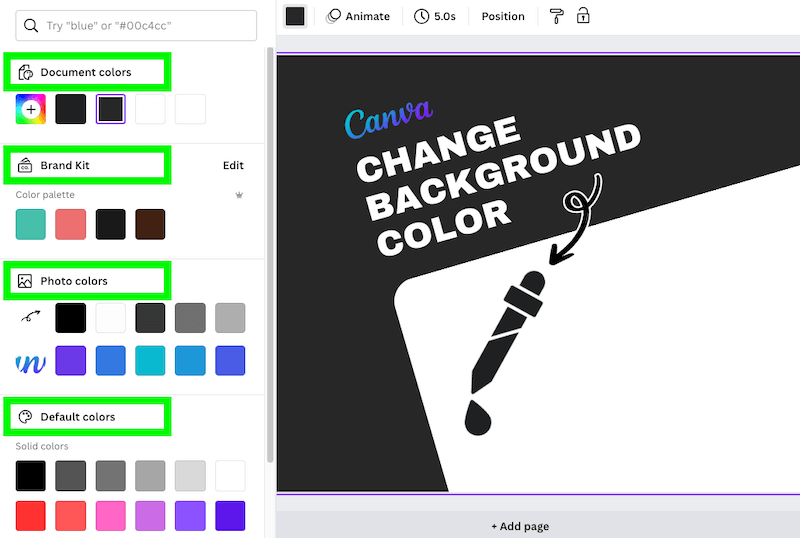 To see the result of your Canva background color change, just click on any of the color tiles in the left panel.
Your background color will change to the one you've selected in real-time.
If none of the colors work for you, you can pick a custom color by selecting the rainbow-colored tile in the Document Colors section.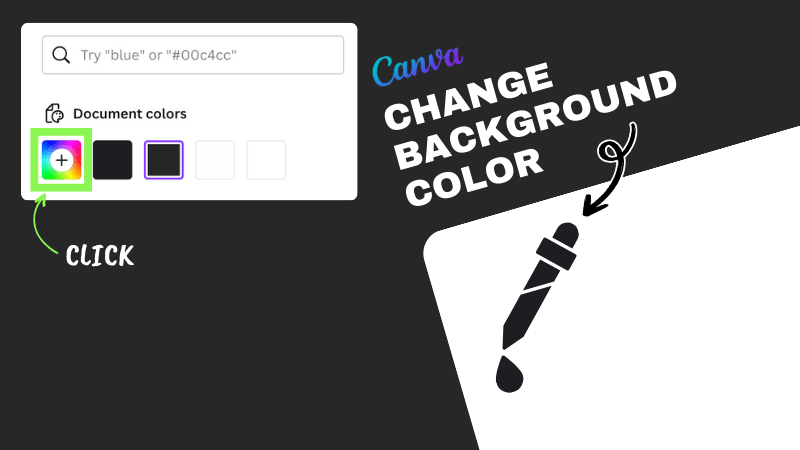 A drop-down menu that looks like a color box will appear. Toggle the tint sliders to select your preferred color tone.
If you want to pick a color from your design to maintain consistency, select the color picker icon and bring it to your design, click once for it to change your background color to the one you've selected.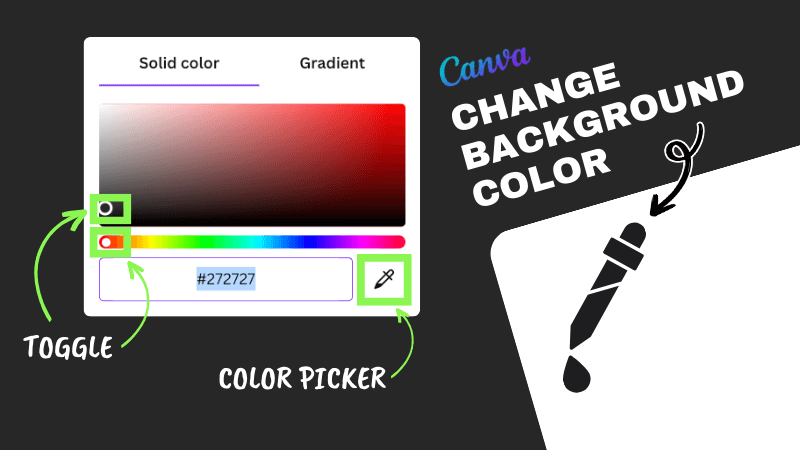 Did you know you can use more than one color in your background?
If a solid color isn't doing it for you, go for a gradient background.
If you want a two-tone or gradient color, click on the Gradient tab. Click on the first colored tile to toggle the color you want in the drop-down panel. Click on the second colored tile to select another color to create the gradient effect.
You can add a third gradient color by clicking on the plus + button, and selecting another color. Repeat this step as many times as you want to add more gradient colors to your background.
Below the Gradient Colors section is the Style section with a range of gradient styles. Pick the one you want by clicking on any of the Style buttons once. The background color style on your canvas will change in real-time.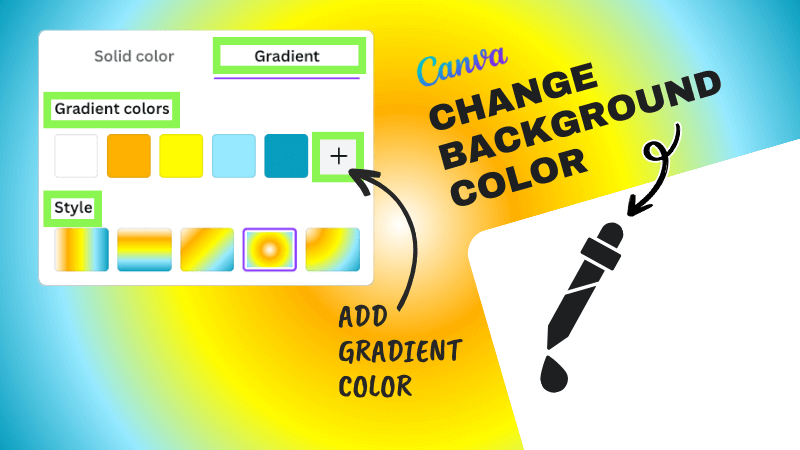 You can also use the search bar to explore different backgrounds or to find pre-designed templates that fit your needs. This is also a great way to discover gradient options.
Step 3: Change All Pages
If your design is only on one page, your background color is now successfully changed. But if you have more than one page and wish to change the background color of all pages, there is one more step. And you don't have to do this one by one.
To change all backgrounds in one shot, make sure to select one color or gradient color from the left-side panel, go to the bottom, and click on the Change All button.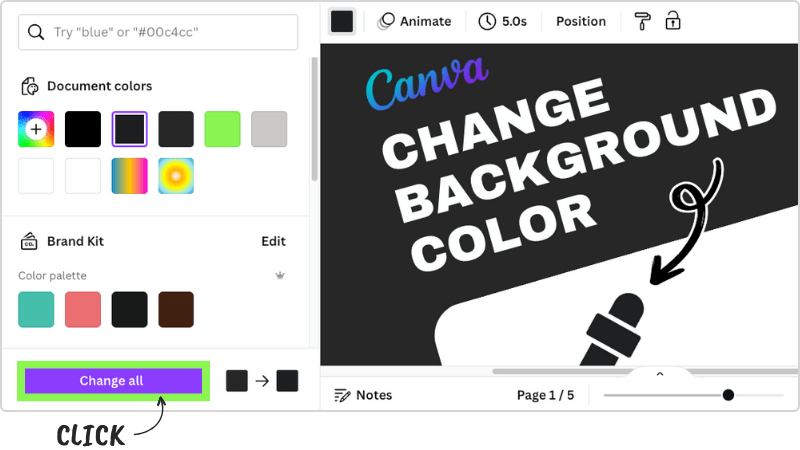 The background color of all your Canva pages will be changed at the same time immediately.
Canva offers additional customization options. For instance, use the Background Remover tool to get a transparent background, or edit the photo background through the edit photo option on the left sidebar.
Once you're happy with your new background, go to the file type options and save your work as formats like an SVG file. Remember to check the aspect ratio and background of your image to ensure it fits your needs.
Next Steps and More Canva Tips
Now that your background color is set, you can go ahead and add more to your design, be it for an Instagram post, a YouTube channel banner, or any other project.
Here is a short list of where you can get your hands on useful Canva tips:
So what are your next steps? Let me know in the comments!