3 Easy Steps To Create The Best Canva Seating Chart
In this article, you'll learn the steps you need to know about creating a Canva seating chart for various occasions, from weddings to educational settings. You can use your own fonts and add frames to create your design.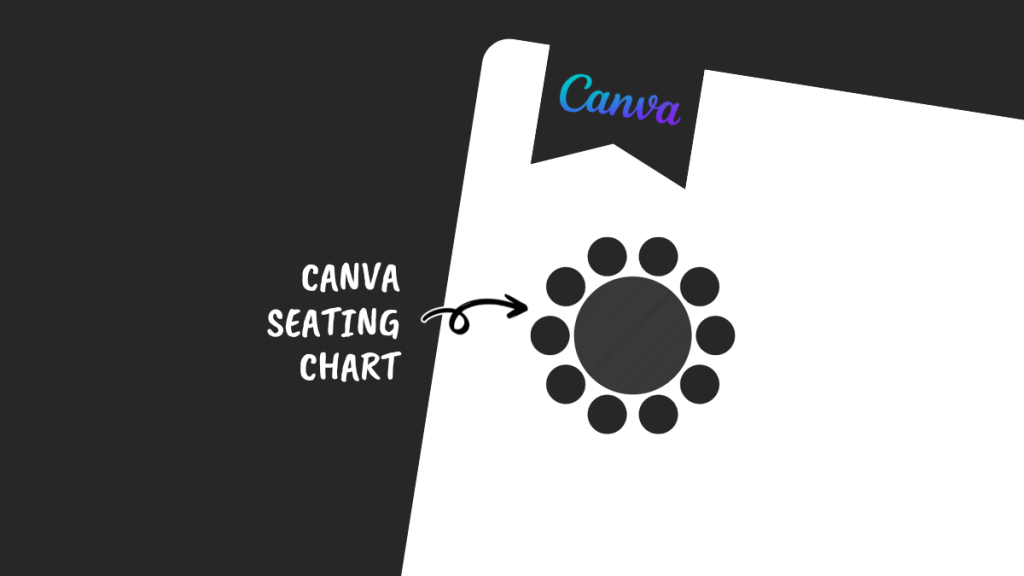 Why Use Canva for Seating Charts
Creating a seating chart for your wedding reception or an educational event can be cumbersome.
However, Canva comes to the rescue with its user-friendly features, customizable Canva wedding seating chart templates, and editable classroom seating chart templates.
It allows you to create a digital file that can be shared across multiple platforms.
Easy Steps To Create A Canva Seating Chart
The easiest way to create a Canva seating chart is to first type in "Seating chart" in the search bar on the Canva homepage. Browse the hundreds of seating chart templates click on one that you wish to use and click on the Customize This Template button.
Next, select the Elements button on the left side menu panel to add any graphics to beautify the template. Remove anything that is not relevant and change text fonts according to your liking.
If you need more details, see the following for a step-by-step guide on making your Canva seating chart:
Step 1: Plan and Prepare
Compile Your Guest List
First things first, you need to compile your guest list. Knowing each guest's name and other necessary details are crucial for making an effective seating chart.
This step is the foundation of your seating chart project and can be kept in a Google Sheet for easy access and editing.
Decide On The Dimensions
Before moving on to the actual design, decide on the dimensions your seating chart will have. This could vary depending on whether it's for personal use or a larger event like a wedding reception. This sets the stage for what comes next.
Step 2: Get Down to Designing
Open a New Canvas in Canva
Navigate to Canva's homepage and click on "Create a Design". Here, choose "Custom Dimensions" to input the dimensions you've decided upon.
Template or Scratch — Your Choice
You have two options here:
Using Templates: Navigate to the "Templates" tab on the left sidebar. Canva offers a variety of templates, including wedding seating chart templates and editable classroom seating chart templates.
Start Fresh: For those who want a more personalized touch, use a blank canvas to build your seating chart design from scratch.
The Foundation and Functional Elements
Draw Tables and Chairs: Use the "Elements" tab to draw tables and chairs.
Pathways and Place Cards: Use lines to indicate pathways and add placeholders for place cards or escort cards.
Room Labels and Key: Especially useful for large events like wedding receptions, adding room labels and a key can make your seating chart much more functional.
Step 3: Finalize and Share
Personalize With Text Boxes
Click on the "Text" tab on the left and drag and drop the style you want. Then, type in each guest's name and table numbers. Make sure the font size is visible and appropriate for all viewers.
Add Decorative Elements
Personalize your seating chart by adding picture frames, social media icons, or any other elements that fit your theme. Think of it as a DIY project where creativity can run wild.
Download, Print, or Share Digitally
Once you're satisfied, download your seating chart as a digital file in the format that suits you best, whether it's PDF, JPG, or PNG. Canva offers a variety of download options suitable for printing or digital sharing.
Final Thoughts: Beyond Weddings and Classrooms
Seating charts are not just for weddings or educational settings. They can be useful for any event where organization is key.
With Canva's wide array of templates and easy-to-use design elements, creating a seating chart can become more than just a task; it can be a fun DIY project that adds a personal touch to your event.
You can now create a seating chart that's perfect for your needs, be it a wedding, a classroom setting, or any other gathering.
Canva Seating Chart: Frequently Asked Questions
Is There A Table Template In Canva?
Yes — Canva does offer table templates, but not in the traditional sense that programs like Excel or Word do. There isn't a specific "Table" tool where you can define rows and columns instantly; instead, Canva provides several pre-designed table layouts as part of its template collection.
To find these, follow these steps:
Open your Canva workspace.
Click on the "Templates" tab on the left-hand sidebar.
Search for "Tables" or related terms like "Charts."
You'll find various templates that include table designs, which you can then customize to fit your needs. These are especially useful for creating visually appealing tables in presentations or infographics.
How Do I Distribute Rows In Canva?
While Canva doesn't have a built-in feature to automatically distribute rows like Excel, there are ways to get around this limitation for an organized look.
Here's how you can distribute rows manually:
Create the First Row: Use the "Elements" tab to make your first row with rectangles or lines. If you're using text, place a text box above or inside your shape.
Duplicate the Row: Select the row (or group of elements forming the row) and click the "Duplicate" button.
Drag to Position: Manually drag the duplicated row to its new position.
Align Rows: Use Canva's alignment tools to make sure all rows are perfectly aligned.
Although it's a bit more work, manually distributing rows allows for greater customization in terms of aesthetics.
How Do I Add A Table In Canva For Free?
Here's how you can add a table in Canva for free:
Open Your Project: Go to Canva and open the design you are working on or create a new one.
Navigate to Elements: On the left-hand sidebar, click on "Elements."
Search for Grids or Shapes: You can either use a grid element as a base for your table or use individual shapes to create cells.
Place and Resize: Drag the Canva grid or shapes into your canvas and adjust the size according to your needs.
Add Text: Click on the "Text" tab and add text boxes for each cell to input data.
Customize: Change colors, adjust lines, and add any additional elements to make your table fit your design.
Duplicate: For additional rows or columns, duplicate the shapes and drag them to the appropriate positions.
Align: Use alignment tools to ensure everything is evenly spaced and aligned.
Can I Copy A Word Table Into Canva?
Yes — While you can't directly copy-paste a table from Word into Canva and retain its table format, there's a workaround. You can take a screenshot of the table in Word and then upload this image into your Canva design. Follow these steps:
Screenshot the Table: Take a screenshot of your Word table. On a Windows machine, you can use the Snipping Tool or Snip & Sketch. On a Mac, you can use Shift-Command-4.
Save the Image: Save the screenshot in an accessible folder.
Go to Canva: Open your Canva design.
Upload the Image: Navigate to the "Uploads" tab on the left sidebar, then upload the screenshot you took.
Place the Image: Once uploaded, click on the image to place it into your design. You can then resize or move it as needed.
This method won't allow you to edit the table within Canva, but it's a quick way to bring a Word table into your design.
Where Can I Find My Template In Canva?
Here's where you can find your template in Canva:
Go to Canva Homepage: Visit Canva's main page where you'll find all your designs.
Navigate to "All your designs": This is generally the default view where you'll see all designs you've worked on, including saved templates.
Use the Search Bar: If you've got numerous designs, utilize the search bar at the top to find your template quickly.
Filter Your Designs: Click on the "Filter" button and choose "Templates" from the dropdown to show only your saved templates.
Your saved templates should appear in a grid format, ready for you to click and edit as needed.
How Do I Add A Table Grid In Canva?
Canva doesn't have a built-in feature for adding traditional table grids like in Word or Excel, but you can manually create one. Here's a step-by-step guide:
Open Your Canva Design: Navigate to the design you're working on or start a new one.
Head to Elements: On the sidebar, click the "Elements" tab.
Search for Lines or Shapes: Type "lines" or "shapes" into the search bar.
Create Columns: Drag a vertical line element onto your canvas and place it where you want your first column to end. Duplicate this line as many times as needed to create additional columns.
Create Rows: Now, search for a horizontal line and place it where you want your first row to end. Duplicate this line as many times as needed for additional rows.
Align the Grid: Use the alignment tools to ensure all lines are evenly spaced and straight.
Once your grid is ready, you can add text, colors, and other elements to complete your table.
How Do I Create A Grid Layout In Canva?
You can follow these steps to create a grid layout in Canva:
Open Canva: Navigate to your Canva dashboard and choose the type of design you want to create.
Access the 'Elements' Tab: Click on "Elements" on the left-hand sidebar.
Search for 'Grids': Type "Grids" into the search bar at the top of the Elements tab.
Select a Grid: You'll find multiple grid options, from simple one-box grids to more complex arrangements.
Place the Grid: Click on the grid of your choice to add it to your canvas.
Adjust Size and Position: Drag the corners or sides of the grid to adjust its size, or drag it around to reposition it.
Add Content: Simply drag and drop images, text, or other elements directly into each grid box.
You've now created a grid layout that can be customized further to fit your specific needs!
How Do I Make A Table With Rows And Columns In Canva?
Creating a table with rows and columns in Canva is a manual process, as it doesn't have built-in table functionalities like Word or Excel. However, you can still create a table fairly easily. Here's how:
Go to Your Canva Design: Open the Canva design where you want to insert the table.
Find the 'Elements' Tab: Click on "Elements" in the left-hand sidebar.
Choose Your Shapes: Use shapes like rectangles or lines to represent the rows and columns.
Draw Columns: Drag a vertical shape to create a column, adjust its size as needed, and then duplicate it for more columns.
Draw Rows: Drag a horizontal shape to create a row, adjust its size, and then duplicate it for more rows.
Align Properly: Use the alignment tools to make sure your rows and columns are evenly spaced and aligned.
Add Text: Go to the "Text" tab to insert text boxes into each cell.
Can I Do Excel In Canva?
The simple answer is no; Canva is not designed to perform spreadsheet functionalities or calculations like Excel. Canva is primarily a graphic design tool and doesn't support Excel formulas or any kind of data manipulation that you can perform in a typical spreadsheet software.
However, you can upload tables, charts, or graphs created in Excel as images into your Canva designs.
If you have data in Excel that you want to showcase in a visual format like an infographic or presentation, you can certainly do so by taking a screenshot of your Excel data or saving it as an image, and then uploading it to Canva.