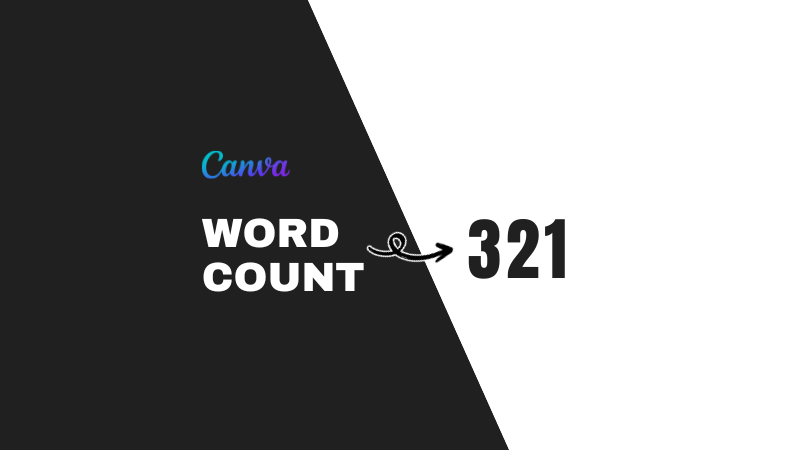 Ready Discover Can Canva Do Word Count And How?
You've come to the right place! If you've ever wondered, "Can Canva do word count?" the answer is YES.
As a graphic designer since 2005 and an avid user of Canva since 2012, I have leveraged this platform for everything from social media graphics to infographics. Canva has become one of my absolute favorite platforms I love using for creating marketing assets swiftly.
I've explored Canva from its Canva Pro features to the depths of the Canva Docs tool, and now I'm ready to share all my Canva insights with you.
Being able to do word count is crucial, whether you're crafting content for a social media post or designing a template for a client. With platforms like Microsoft Word, the process is straightforward.
But what about Canva, if it can do word count, how do you do it? Let's get started with this step-by-step guide.
Can Canva Do Word Count?
YES — Canva can do word count in Canva Docs. It only includes the word count feature in the Docs section. This might prompt the question — "Is this the only way to do word count in Canva?".
Good news! There are different ways to do word count in Canva beyond the Docs section.
Can Canva Do Word Count And How?
How To Do Word Count In Canva?
Here are the different ways and a step-by-step guide on how to do word count in Canva:
1. Using Canva Docs for Word Count
Canva Docs merges the graphic design prowess of Canva with the practicality of document creation tools like Microsoft Word. Here's how you can harness it for word count:
Step 1: Launch Canva Docs
Launch Canva and go to the Docs segment or initiate a new document employing Canva Docs.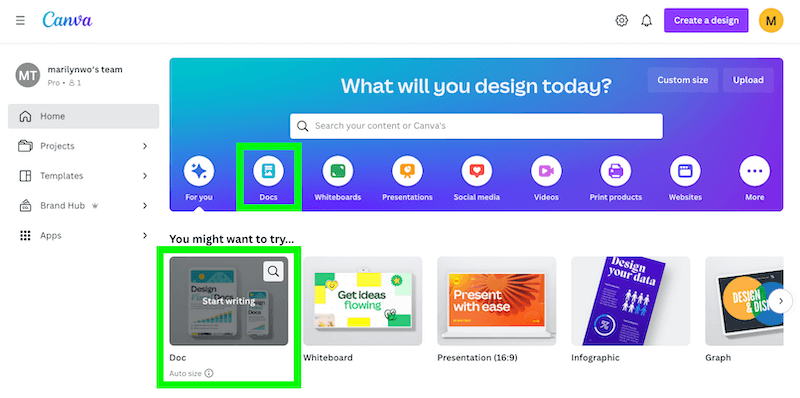 Start creating your content within Canva Docs.
If importing an external file, such as a Word document or a pdf document, make sure it's in a compatible format.
Click on Create A Design button on the top right-hand side of the Canva dashboard.

Then, select Import File at the bottom of the drop-down panel.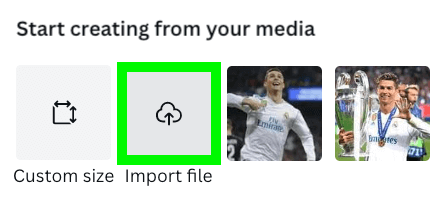 Can Canva Do Word Count And How?
Step 2: Insights
After your content opens up in Canva Docs, tap on the Insights button at the top right side within the editor toolbar. It is represented by a statistics or bar graph icon.

Can Canva Do Word Count And How?
Step 3: Get Word Count
From the ensuing menu, pick "Statistics" or "Word Count" (terminology might fluctuate based on updates).
A compact window or sidebar will surface, exhibiting the word count, characters, and a wide range of other statistics about your content.

Can Canva Do Word Count And How?
Final Thoughts: Word Count In Canva
Now that you're familiar with the word count feature in Canva and its numerous other offerings, designing should be a walk in the park!
Canva not only offers a wide variety of design tools but also ensures that every design, be it a simple social media post or a comprehensive report, stands out.
The versatility of Canva, from its rich content editor to the myriad of templates available, ensures that your content is always top-notch.
Word Count In Canva: Frequently Asked Questions
How To Do Word Count Outside Of Canva?
I know, you may not wish to open your file or transfer your design to Canva Doc just to do a word count. Since there isn't a way to do the word count in Canva design workspace, the other way is to find third-party apps to help. Here are different ways you can do the word count not in Canva:
1. Copy-Paste into a Word Processor
If you're more comfortable with conventional methods like Microsoft Word:
Step 1: Highlight the text you aim to count in Canva.
Step 2: Utilize the right-click menu or Ctrl/Cmd+C to copy the highlighted text.
Step 3: Open a word processor like Microsoft Word.
Step 4: Paste the copied text (Ctrl/Cmd+V).
Step 5: Click on Review in the top menu and select Word Count
And while you're at it, don't overlook Canva's feature-packed rich content editor, which can elevate the quality of your designs, whether it's a social media graphic or a detailed infographic.
Can Canva Do Word Count And How?
2. Use an Online Word Count Tool
Step 1: Highlight and copy the text from Canva.
Step 2: Open your browser and search for an "online word counter."
Step 3: Choose a site like Word Counter or any other.
Step 4: Paste your text into the provided text box.
Step 5: The tool will instantly display the word count.
3. Utilizing Note-taking Apps
Step 1: Copy the desired text from Canva.
Step 3: Create a new note and paste the text.
Step 4: Look for the word count feature (usually in the options or settings) to view the count.
Can Canva Do Word Count And How?
4. Browser Extensions
Step 1: Search your browser's extension or add-on store for a word count tool. Examples include Word Counter Plus for Chrome.
Step 2: Install the desired extension.
Step 3: Once installed, return to your Canva design and highlight the text.
Step 4: Use the browser extension (usually by right-clicking) to view the word count for the highlighted text.
Each of these methods has its own merits, so choose the one that fits best for your workflow!
Can Canva Do Word Count And How?
Is the word count feature in Canva Docs available in the free version of Canva?
Yes, the word count feature in Canva Docs is available in the free version of Canva. It has a rich content editor that's accessible to all users, including those on the free plan.
Canva Docs is designed to provide basic document creation functionalities, and the word count is one of its essential features. However, Canva offers both free and premium (Canva Pro) versions, with the Pro version offering additional features and assets.
While the word count is available in the free version, it's always a good idea to check Canva's latest updates or their official website for any changes to their feature offerings.
Can You Write In Canva?
Yes, you can write in Canva! Canva is a graphic design platform that allows users to create a wide range of visual content, and text is a significant component of that. Here's how you can write in Canva:
Open or Create a Design: Once you're logged into Canva, either open an existing design or start a new one based on your needs.
Text Tool: On the left side of the screen, you'll see a "Text" tab. Click on it to see a variety of pre-made text templates or the option to add plain text.
Add Text: Click on "Add a heading", "Add a subheading", or "Add a little bit of body text" to add respective text elements to your canvas.
Edit Text: Once the text is on your canvas, click on it to edit. You can type in whatever you want. Using the toolbar at the top, you can also adjust font style, font size, color, alignment, and more.
Drag and Drop: Click and drag the text box to place it wherever you want on your design.
Additional Features: Canva also offers features like text spacing, bullet points, and text effects to further enhance your content.
Writing in Canva isn't limited to just adding words. You can get creative with various fonts, colors, and effects to make your text stand out and complement your design.
Can Canva Do Word Count And How?
What Can't You Do In Canva?
While Canva is a powerful graphic design tool, especially for non-designers, it has its limitations. Here's what you can't do in Canva:
Advanced Photo Manipulation: Unlike tools like Adobe Photoshop, Canva isn't suitable for advanced photo editing or manipulation. You can't do things like advanced retouching, creating complex photo composites, or working with layers in depth.
Vector Designing: While Canva allows users to use and customize vector elements, you can't create intricate vector designs or illustrations from scratch like you can in Adobe Illustrator.
Offline Editing: Canva is primarily a web-based tool. Although they have mobile applications, you need an internet connection to create and edit designs.
Advanced Typography: Canva provides basic text editing capabilities, but for intricate typography work or font creation, specialized software would be more appropriate.
Complex Animations: Canva offers some animation features for designs, but it's not a replacement for advanced animation or video editing software.
Raw File Editing: Canva doesn't support editing in RAW image formats commonly used by professional photographers.
Extensive File Export Options: While Canva allows for exports in standard formats like JPG, PNG, GIF, and PDF, it doesn't offer a wide range of format options, color profiles, or advanced export settings.
3D Modeling or Rendering: Canva is a 2D design tool, so you can't create or edit 3D models or renders.
Advanced Plugin or Extension Integration: Unlike some design software, Canva doesn't support the integration of third-party plugins or extensions to add extra functionalities.
Full Control Over Licensing: While Canva offers a range of stock images, elements, and music, not all of them are free, and licensing restrictions might apply. Users need to be cautious when using these assets, especially for commercial purposes.
Can Canva Do Word Count And How?
What Is Canva Allowed To Do?
Canva is a versatile graphic design tool that provides users with a wide range of functionalities to create various types of visual content. Here's what Canva is allowed to do:
Template Usage: Canva offers thousands of professionally designed templates for presentations, social media posts, flyers, business cards, infographics, and more. Users can easily customize these templates to fit their needs.
Drag-and-Drop Designing: The platform features a user-friendly drag-and-drop interface, making it easy for users to design even without prior design experience.
Stock Images & Elements: Users can access a vast library of stock photos, illustrations, icons, and other design elements, both free and premium.
Text & Typography: Canva has a wide array of fonts, and users can also upload custom fonts. It offers text effects such as shadows, outlines, and spacing adjustments.
Color Customization: You can utilize a color wheel, create custom palettes, or apply gradient effects to backgrounds and other design elements.
Upload Custom Elements: Users can upload their images, graphics, and other design elements for personalized designs.
Collaboration: Canva allows for real-time collaboration. Multiple users can work on the same design simultaneously, making it great for team projects.
Animations: Canva provides the capability to animate designs or specific elements within a design for more engaging content.
Download & Share: Users can download their designs in various formats (JPEG, PNG, PDF, GIF) and even share them directly to social media platforms or via a link.
Brand Kit: Canva Pro users can set up a brand kit, which stores their logos, colors, and fonts for consistent branding across designs.
Resize Designs: With Canva Pro, designs can be automatically resized to fit different platforms, saving time and effort.
Content Scheduling: Canva Pro offers a content scheduler, allowing users to plan and schedule their social media posts directly from Canva.
Printing: Users can order prints of their designs directly from Canva, including business cards, flyers, t-shirts, and more.
Learning & Tutorials: Canva offers a range of tutorials, courses, and design challenges through Canva Design School to help users improve their design skills.
Magic Resize: A feature available to Canva Pro users, Magic Resize allows for easy resizing of a design to fit different formats or platforms.
This is just a snapshot of Canva's capabilities. The platform continually evolves, adding new features and tools to better serve its user base. While it's exceptionally versatile for many users, especially non-designers, it's essential to understand its terms of use and licensing agreements, especially when utilizing stock content or exporting designs for commercial use.
Can Canva Do Word Count And How?
What Can Canva Do?
From social media posts to detailed reports, Canva offers a plethora of options. Their Magic Write AI tool ensures your text fits perfectly within your design. Canva's rich content editor makes content creation a breeze. For educators, the Canvas Gradebook and assignment submission features seamlessly integrate grading and feedback.
With Canva Templates, even a beginner can produce designs that look professional. Canva offers a wide array of templates,
each tailored to fit various needs, be it a social media post or an intricate presentation. With Canva's rich content editor, you can easily manipulate text box properties, change font size, add page numbers, and more.
Making the Most of Canva Templates
Whenever you're designing on Canva, it's not just about placing text and images. It's about creating a narrative. The platform offers a myriad of Canva templates that designers and non-designers alike can use. From social media graphics to business presentations, there's a template for almost every need. These templates are easily customizable, allowing you to change the font, image, and even infographics to suit your needs.
Additional Features of Canva
Apart from word count, Canva offers a multitude of other features. The Canvas Gradebook is instrumental for educators to keep track of grades, while assignments can be seamlessly integrated. If you're an instructor or part of an academic institution, features like graded discussion, quiz questions, and Canvas course creation might pique your interest. Furthermore, keeping up with Canvas release notes ensures you're always in the loop about new features or any known issue.
Designs in Canva range from simple text layouts to complex graphics. The platform offers a wide range of graphics and stock images, enhancing the aesthetic of any design. With Canva Pro, users get access to an even wider array of features and assets. And if you ever run into any issues or need inspiration, related articles and tutorials are just a click away on the Canvas site.
Whether you're designing a PDF document, word document, or even a social media post, the font size, image placement, and even the word limit are crucial. And for those who like to incorporate data, integrating Google Sheets is a breeze.
With Canva, you're not just getting a graphic design tool. You're getting a comprehensive platform that caters to a wide range of needs. Whether you're a graphic designer, a student, or a business professional, Canva has something for everyone.