Is Canva Website Only One Page?
Wondering Is Canva Website Only One Page?
You've come to the right place! In this article, you'll learn everything you need to know about creating a website with multiple pages using Canva.
Since the Canva website builder was launched in 2022, more than 2 million websites were created with Canva. And that was only in the closed beta program, not yet opened to the public.
So is the Canva website only one page?
No and Yes — You can create a website with multiple pages, up to a maximum of 5 website pages for free users and unlimited for Canva Pro users using a workaround, as Canva doesn't have a native function to create multiple-page websites for now.
Not sure how to go about it? This guide will walk you through the process, step by step, ensuring you have all the tools and knowledge to create a multi-page website on Canva. From the basics to pro tips, we've got you covered. Let's dive in!
Is Canva Website Only One Page?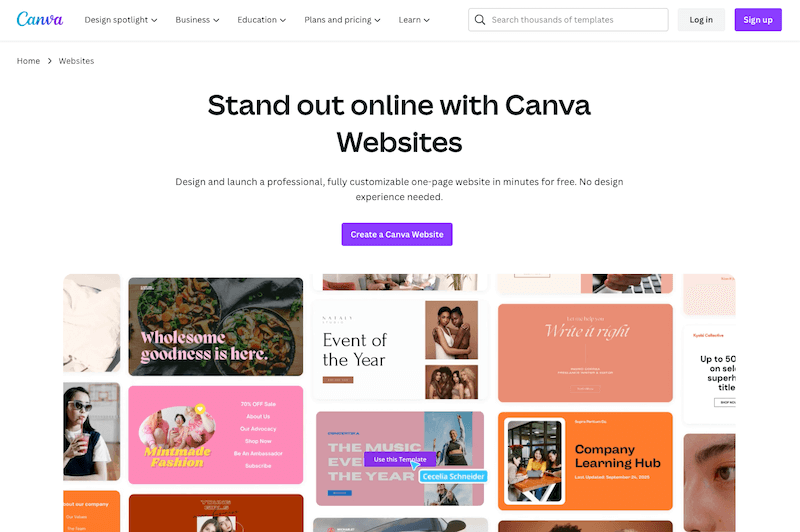 The native Canva website builder can only set up one page. Although there isn't a button to quickly set up more website pages, Canva isn't limited to one-page web designs because you can use the existing functions to create them.
One of the features that make Canva stand out is its user-friendly interface which makes it easy for anyone to create beautiful designs. It comes with a variety of customizable templates, an array of design elements, and a drag-and-drop interface that makes it easy to design a website.
The Canva website builder is a game-changer for those who want to create a website but lack coding skills even without a multiple-page website builder. You can also collaborate with your team to work on your website in real-time.
Before you give up and hop to other website builders like WordPress, Squarespace, or Wix, check out how you can create a Canva website with multiple pages from this guide. You won't regret it!
Is Canva Website Only One Page?
How To Create Canva Website With Multiple Pages
You can create a website with Canva without rocket science knowledge. You don't need to know any HTML, CSS, or JavaScript. Everything is visually based, meaning you can see the changes as you make them.
Here are the steps to create websites with multiple pages on Canva:
Step 1: Create Your Homepage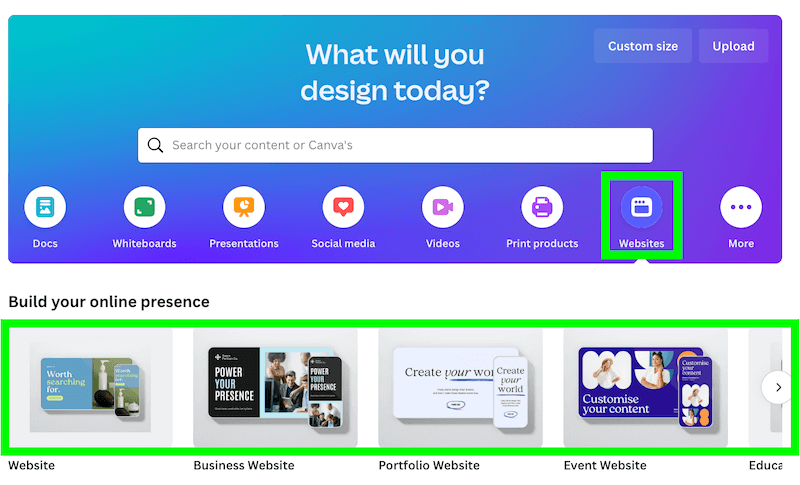 In the Canva dashboard, select the Website design type from the Canva dashboard. You'll be presented with a variety of website templates to choose from. Select one and you can see more section designs within one template.
Select a template that aligns with your vision for your website and make it your own. You can change the text, colors, fonts, and images. You can also add other design elements like shapes, lines, and icons. Just drag and drop the elements onto your design.
Click the + Add a new page button located at the bottom of the Canva design interface to add more content to the first page of your Canva website design. This will be your homepage.
In this example, I've applied all the given website template pages to my homepage.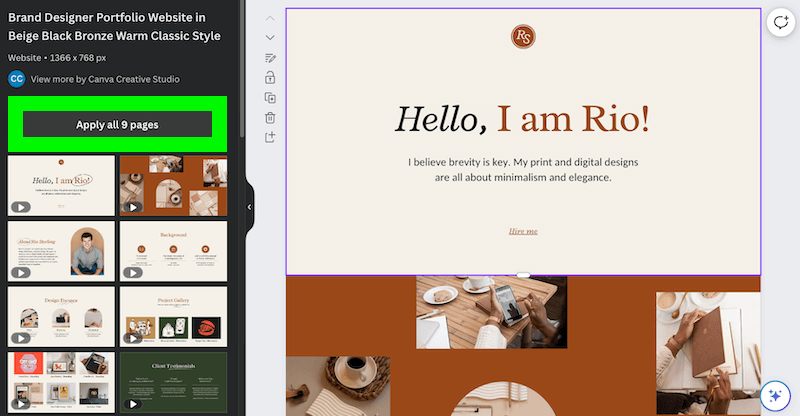 Step 2: Add New Inside Pages
To add a new page to your website, repeat Step 1 by going to the Canva dashboard and creating a new website design. This will create a new blank page in a new Canva design page. You can then add content to this page just as you did with the first page.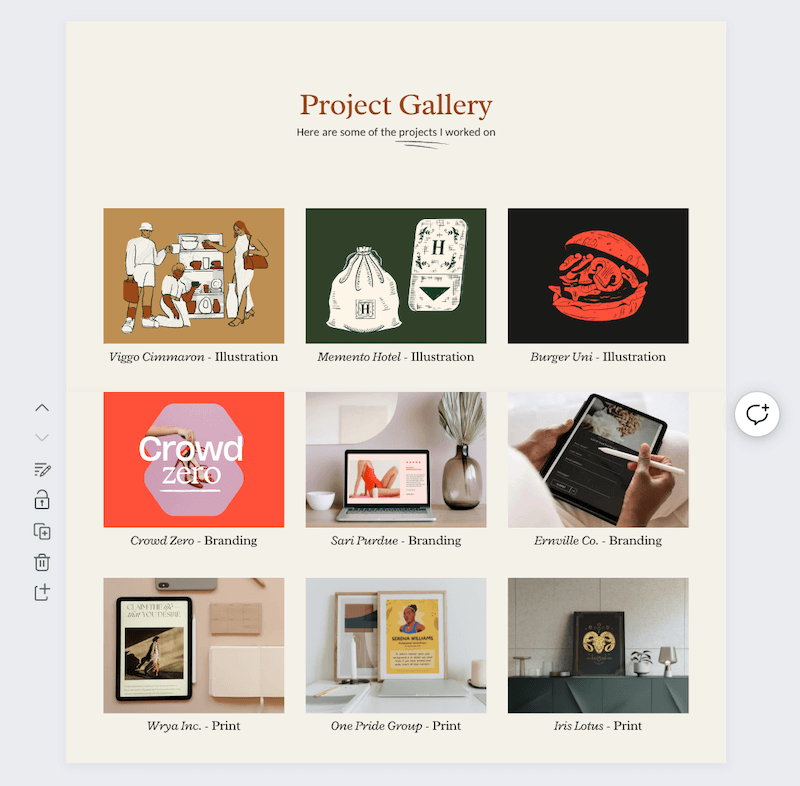 You have now created a second inner page for your website. Do the same to set up more inside pages, such as About, Contact, and Services pages. Once you have created all the inside pages you need, move on to the next step.
Step 3: Publish Websites
To create a multiple-page website in Canva, you will have to link all the inside pages together. In my example, I will be using a Canva domain name, which means, there will be "Canva" in my URL. In this case, I will have to publish all pages first so that Canva will generate these URLs for me.
Go to your homepage, and in the top right-hand corner, click the Publish Website button.
Select the domain option under the Publish To section and click the Continue button. In this example, I choose the Free Domain provided by Canva.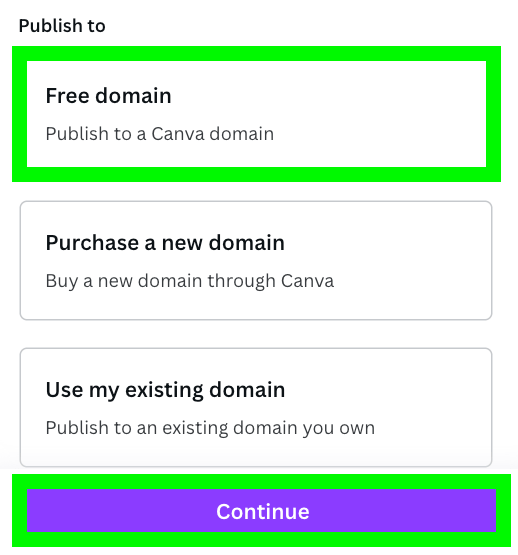 In the Review Settings, hit the Publish button.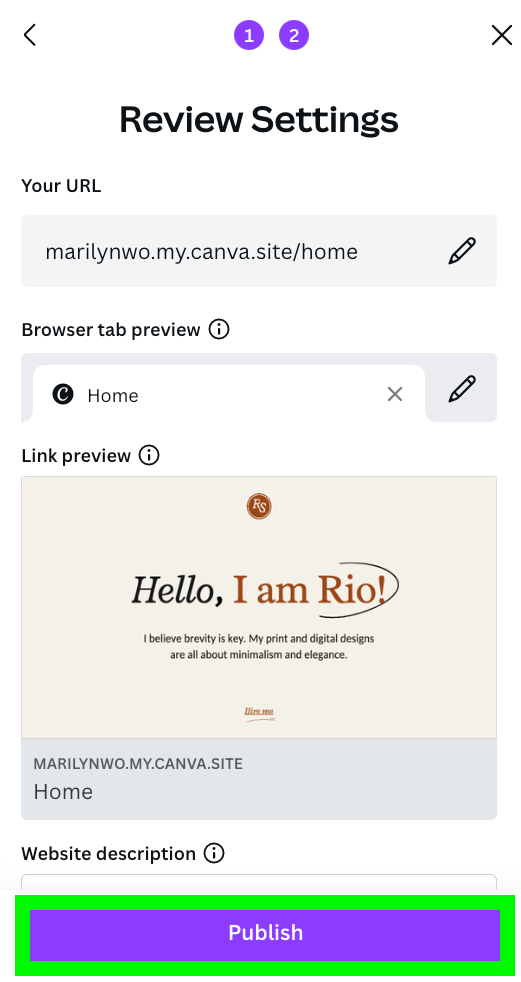 A notification pops up to say "Your website is now live".
Repeat this with the other inner website pages you've created in Canva so that you will have the URL links to add to each page.
Step 4: Create Multiple-Page Website
Next, create your own custom links by using shapes or text with a fancy font and the Canva hyperlink function. Go to your homepage and add the link elements.
In this example, the Canva template already has the link element ready for me. But it's not yet linked to the inside page.
To do that, select your element and click on More, represented by three dots in the popup options toolbar.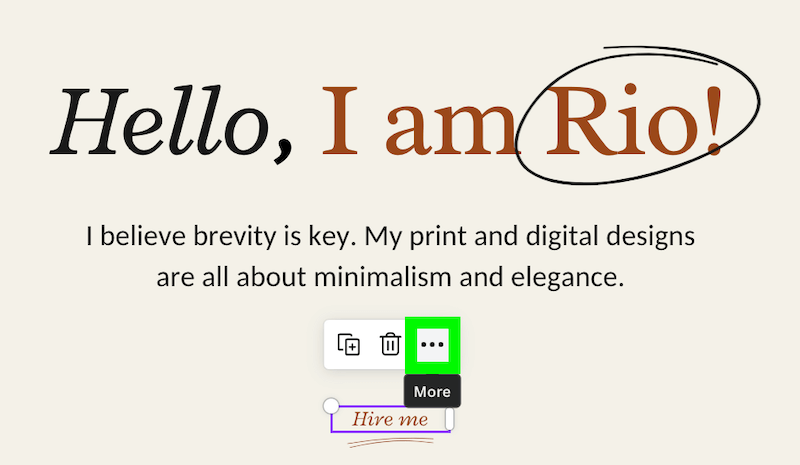 In the drop-down menu, select Link.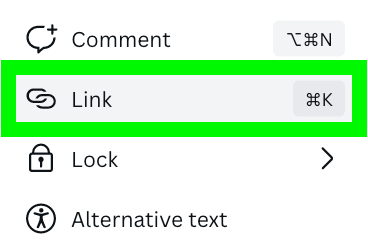 Click once in the space provided and a list of pages will appear in the drop-down. Select the website page that you want this custom link element to link to.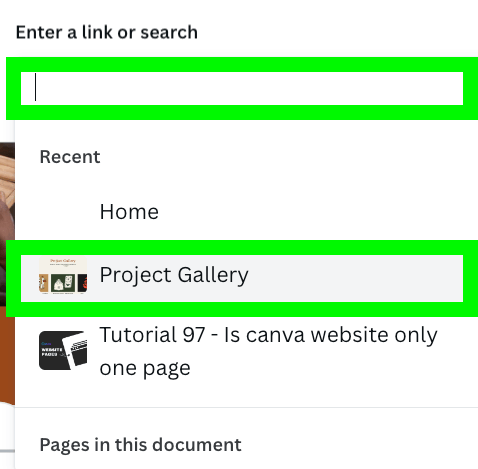 Once people click on your link element, they will be taken to the page you've linked it to.
Repeat this step on other link elements to the inner website pages you've created in Canva.
Is Canva Website Only One Page?
Best Tips for Designing a Website on Canva
1. Keep It Simple
One of the golden rules of design is to keep it simple. Don't overcrowd your website with too many elements. Use white space effectively to make your content stand out.
2. Be Consistent
Consistency is key when it comes to design. Make sure to use the same fonts, colors, and design elements across all pages of your website. This will give your website a professional look and feel.
3. Use High-Quality Images
Images play a crucial role in web design. They not only make your website visually appealing but also help to communicate your message. Make sure to use high-quality, relevant images in your design.
4. Design for Your Audience
Always keep your audience in mind when designing your website. Your design should resonate with your target audience and meet their needs.
5. Limited Interactivity
If you need advanced interactive features like e-commerce or user accounts, Canva may not be the ideal choice.
6. Mobile Responsiveness
Make sure to preview how your site looks on different devices, as Canva's responsiveness can sometimes be limited.
Is Canva Website Only One Page?
Canva Website: Frequently Asked Questions
Can A Canva Website Have Multiple Pages?
Yes and No — You can create multiple pages in the Canva website builder by creating new Canva design pages and linking them together. But Canva doesn't have a native function to create multiple-page websites yet. This feature is still in progress.
How Do Websites On Canva Work?
Creating websites on Canva is an intuitive and user-friendly process. You start by selecting a template or designing from scratch. Canva's drag-and-drop interface allows you to add text, images, videos, and other elements.
Although Canva is primarily known for graphic design, you can share or embed your design as a website. It's ideal for creating landing pages or simple web presentations. Remember, it might not replace a full-fledged web development tool, but it's perfect for quick, visually appealing pages.
How Do I Add A Page To My Canva Website?
Adding a page to your Canva website is a breeze. Here's a step-by-step guide:
Open Your Design: Start by opening the project you want to add a page to.
Find the 'Add Page' Button: Usually located at the bottom of the design interface, next to the existing pages.
Click 'Add Page': Simply click this button, and a new blank page will appear in your project.
Design Your New Page: Utilize Canva's design tools to customize your new page just as you would with any other page.
Reorder if Necessary: You can click and drag pages to reorder them if needed.
Save and Share: Don't forget to save your changes, and you're all set!
What Type Of Website Is Canva Com?
Canva.com is an online design platform that enables individuals and businesses to create stunning visual content with ease. It's designed to cater to both design novices and professionals.
With a vast array of templates, fonts, images, and other design elements, Canva allows users to create everything from social media graphics and presentations to print materials and web designs.
The platform emphasizes simplicity and accessibility, making the design process seamless and enjoyable.
Is It Good To Make A Website In Canva?
Yes — Creating a website or landing page in Canva can be an excellent choice for specific purposes. If you need a visually appealing page without requiring complex functionalities, Canva can be the perfect tool. It's user-friendly and doesn't require any coding skills.
While it may not replace specialized web development platforms for complex sites, it offers a quick and attractive solution for simple web projects, portfolios, event pages, or small business landing pages.
Is There A Better Website Than Canva?
The question of whether there's a "better" website than Canva depends on your specific needs and preferences. Canva excels in providing easy-to-use design tools for non-designers, offering a broad range of templates and design resources.
For more complex graphic design tasks, professional designers might prefer tools like Adobe Illustrator or Figma. For website building, platforms like WordPress, Webflow, Wix, or Squarespace might offer more comprehensive features.
What Is A One Page Website?
A one-page website is a single-page site that contains all the necessary information within one HTML page. Navigation links usually jump down to different sections of the page, rather than loading new pages.
This design can create a streamlined, user-friendly experience, particularly for portfolios, landing pages, or showcasing specific products or services. The one-page design often emphasizes aesthetics and simplicity, providing users with a smooth scroll or transition through the content.
Can I Use Canva For My Business Website?
Yes — Canva is a versatile tool that can be used to create visuals for a business website. You can design logos, banners, infographics, advertisements, and even simple landing pages or web presentations.
While Canva might not be the go-to solution for a complex e-commerce or highly interactive site, it's perfect for crafting visually appealing content that can enhance your business's online presence. Many small businesses and entrepreneurs find Canva to be an invaluable resource.
What Is The Difference Between Canva App And Canva Web?
Canva is available both as a web platform and a mobile app. Here's how they differ:
Canva Web: Accessed through a web browser, Canva's web version provides the full range of features and design tools. Ideal for in-depth design work, it offers more extensive functionality and customization options.
Canva App: The mobile application offers the convenience of designing on the go. While it includes many of the same features as the web version, it may have some limitations in terms of advanced tools and functionalities. It's ideal for quick edits, on-the-fly creations, or simple designs.
Both versions synchronize with your Canva account, ensuring a seamless experience across devices.
Is Canva A Software Or Website?
Canva is both a web-based platform and a downloadable software in the form of a mobile app. You can access Canva through a web browser, where it functions as a cloud-based design platform, or you can download the Canva app to your mobile device for on-the-go access.
In both forms, Canva provides an extensive range of design tools, templates, and resources that make creating visual content accessible and enjoyable, whether you're a design novice or a seasoned professional.