4 Easy Ways To Delete Artboard In Illustrator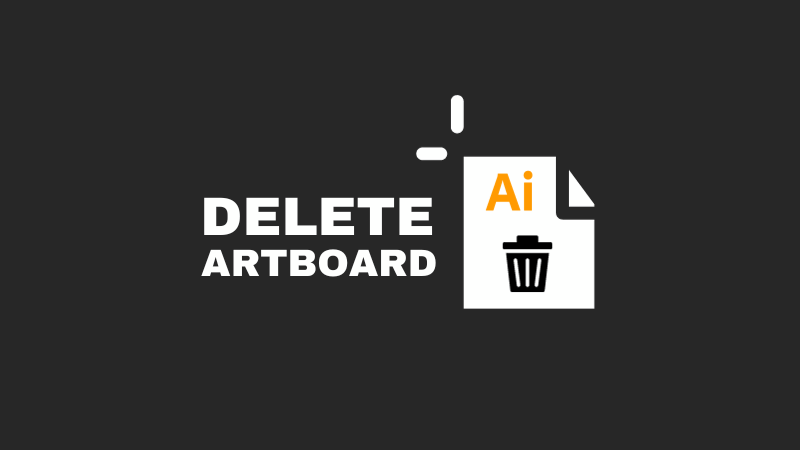 You've come to the right place! In this article, you'll learn everything you need to know about deleting an artboard in Adobe Illustrator. How do you know this is the best, most complete guide?
I've been a graphic designer since 2005 and used Adobe Illustrator for years, and I can assure you that Illustrator is a go-to platform for creating any design, be it vectorized rasterized designs or typography.
How Illustrator artboards work makes your design process smoother and faster 100X than many other vector design programs. They offer different options, like changing the size of the artboard through the Artboard Options Dialog Box or even making multi-page files in a single document.
You can also easily add artboards within the given artboard size limit. You can also move artboards around or hide selected artboards.
Ready to discover the various ways on how to delete artboard in Illustrator? Let's dive in!
The Artboard Panel & Tools Panel
Adobe Illustrator allows a flexible number of artboards, but keep in mind your system capabilities when juggling different artboards of different sizes.
Once inside your Illustrator document, you'll notice the Artboard Panel and the Tools Panel. The Artboard Panel displays all your artboards, and it's situated at the bottom of the panel. The Tools Panel contains your Artboard Tool, Selection Tool, and more to help you manipulate artboards and anchor points.
Ways To Delete Artboard In Illustrator
The easiest way to delete an artboard in Illustrator is to first make sure you have more than one artboard. Then, use keyboard shortcut Shift + O and use the Artboard Tool cursor to click on the artboard. Press the Delete key.
Deleting an artboard is a straightforward process, and you can do it in simple steps in these various ways:
Method 1: Artboard Tool
Activate the Artboard Tool in the Tools Panel.
Click on the specific artboard or selected artboard you want to delete.
Use the Delete Key or Delete Button on your keyboard.
Method 2: Artboard Panel
Open the Artboard Panel from the menu options.
Locate the artboard's name at the bottom of the Artboards Panel.
Click the Trashcan Icon to remove unwanted artboards.
Method 3: Keyboard Shortcuts
Use the keyboard shortcut Ctrl + Shift + O to activate Artboard Mode.
Select the Artboard Tool.
Press the Delete Key to remove the artboard.
Method 4: Control Panel
The Control Panel also gives you a drop-down menu to manage artboards, which includes a delete option.
1. Open the Control Panel by selecting Window > Control.
2. Use the keyboard shortcut Ctrl + Shift + O to activate Artboard Mode.
3. On the right side of the new artboard button, click on the trashcan in the Control Panel to delete artboard.
How To Delete Artboard In Illustrator?
Deleting Multiple Artboards
You can delete multiple artboards at once; just hold down the Shift key while selecting different artboards.
Additional Tips: When to Use Each Method
Artboard Tool: For more visual control.
Artboard Panel: For managing multi-page files and new names for artboards.
Control Panel: When you need more advanced options.
Common Pitfalls: How To Avoid Them
Accidental Deletion: Double-check to ensure you've selected the correct artboard.
Loss of Work: Save your Illustrator project before you start deleting an artboard.
A Note on Privacy: IP Address & Personal Data
Don't worry, deleting artboards has no bearing on the storage of your IP address or personal data like your email address. Adobe Illustrator CC focuses on your product decisions without compromising data.
Final Thoughts: Deleting Artboards In Illustrator
By now, you should be a pro at deleting artboards in Adobe Illustrator. You've explored different methods and picked up some additional tips. Now go ahead, declutter your Illustrator workspace and make your design process more efficient!
How To Delete Artboard In Illustrator: FAQs
How Do I Get Rid Of Artboards?
Sometimes, your Illustrator project can get cluttered with too many artboards, affecting your design process. Getting rid of unnecessary artboards can help streamline your workflow.
Three Simple Ways To Get Rid of Artboards
Using the Artboard Tool: Select the Artboard Tool from the Tools Panel, click on the artboard you wish to delete, and press the Delete Key.
Using the Artboard Panel: Navigate to Window > Artboards to open the Artboard Panel. Click on the artboard's name and hit the Trashcan Icon at the bottom of the panel.
Keyboard Shortcuts: Activate the Artboard Tool by pressing Shift + O, click the artboard you want to remove, and press the Delete Key.
Caution: Double-Check Before Deleting
Ensure you're deleting the correct artboard to avoid losing any critical elements in your Illustrator project.
How Do I Delete All Empty Artboards In Illustrator?
Here's how you delete all empty artboards in Illustrator:
Manually via the Artboard Panel: Open the Artboard Panel, and individually select each empty artboard. Confirm they are empty and hit the Trashcan Icon.
Utilize the Layers Panel: Open the Layers Panel and go through each artboard layer to ensure it's empty. Then, proceed to delete it either by the Artboard Tool or Artboard Panel methods.
Batch Deletion
Adobe Illustrator doesn't natively support batch deletion of empty artboards. However, you can script this action if you are comfortable with coding (more on this later).
How Do I Delete An Artboard In Illustrator Script?
Here's how you delete an artboard in Illustrator script:
To delete an artboard using a script, you can use JavaScript like this:
var idoc = app.activeDocument;
idoc.artboards.remove(0);  // This will remove the first artboard
Executing the Script
Save this script in a text editor as a .jsx file.
Go to File > Scripts > Other Script in Illustrator.
Navigate to your saved .jsx file and run it.
Limitations and Cautions
Be cautious when using scripts to modify your Illustrator project. Always make sure you have a backup before running any script.
How Do You Isolate Artboard In Illustrator?
Here's how you isolate an artboard in Illustrator:
Methods to Isolate an Artboard
1. Use the Navigator Panel
Open the Navigator Panel by going to Window > Navigator.
Use the drop-down menu to select the specific artboard you want to focus on.
2. Zooming In
Activate the Zoom Tool from the Tools Panel or simply press Z on your keyboard.
Click on the area of the artboard you want to isolate.
3. Leverage the Layers Panel
Go to Window > Layers to open the Layers Panel.
Locate the specific artboard layer and hide all other layers by clicking the eye icon.
Bonus Tip: Use Artboard Options
Right-click on the selected artboard and go to Artboard Options. Adjust the Background Color to something different to further isolate your artboard visually.
Why Can't I Delete An Artboard?
Here are common reasons why you can't delete an artboard:
Common Reasons and Solutions
Only One Artboard in the File
Problem: If the Illustrator file consists of a single artboard, you can't delete it.
Solution: Add a new artboard before attempting to delete the original one.
Artboard Contains Important Elements
Problem: Sometimes, Illustrator prevents deletion to protect elements within the artboard.
Solution: Move these elements to another artboard or delete them if they're not needed.
Artboard is Locked
Problem: Artboards can be locked in the Layers Panel, preventing deletion.
Solution: Unlock the artboard by going to Window > Layers, finding the locked artboard, and clicking the lock icon.
Issues with Permissions or Software Glitches
Problem: Rarely, you might encounter a software bug or permissions issue that prevents deletion.
Solution: Try closing and reopening the Illustrator file or rebooting the software.
Last Resort: Check the Artboard Panel
Go to Window > Artboards and attempt to delete from the Artboard Panel. If all else fails, it may be an issue that requires further troubleshooting or even a reinstall of Illustrator.
Why Do I Have Multiple Artboards In Illustrator?
Here are reasons why you have multiple artboards in Illustrator:
Reasons for Multiple Artboards
Template Files
If you opened a template or an existing Illustrator file, it might have multiple artboards already configured.
New Document Dialog Box
While creating a new file, you might have entered a number greater than one in the "Number of Artboards" field in the new document dialog box.
Duplicating Artboards
In the course of your project, you might have accidentally duplicated artboards, leading to multiple instances.
Imported Files
Importing vector files or multi-page PDFs can also generate multiple artboards.
How To Manage Multiple Artboards
If you find the multiple artboards distracting or unnecessary, you can easily merge them into one or delete the extras. Refer to the Artboards Panel (Window > Artboards) to manage your artboards efficiently.
Where Is The Artboard Tool In Illustrator?
The Artboard Tool is your gateway to managing the workspace in which you create your designs. It lets you add, delete, and rearrange artboards, thereby optimizing your design process.
Locating the Artboard Tool
Main Toolbar
The Artboard Tool is usually located in the main Tools Panel on the left-hand side of the Illustrator interface. It looks like a square with crop marks at the corners.
Keyboard Shortcut
You can also activate the Artboard Tool by pressing Shift + O on your keyboard.
Customize Toolbar
If for some reason you can't locate it in the main toolbar, go to Edit > Toolbar and drag the Artboard Tool back into your Tools Panel.
Further Customization with the Control Panel
After selecting the Artboard Tool, additional options will appear in the Control Panel at the top of the screen. Here you can change the size of your artboard, rotate it, and access many other features.
---